Picking out a snowboard is not an easy task. So many different factors play into the decision. Is it for backcountry powder or park? Do you go with asymetrical shape or get one with gnarly tail? Camber vs Rocker… Stiff or flexy? I faced a similar problem when trying to decide which vape I liked best when snowboarding.
I've spent the entire 2016 and first two months of 2017 snowboarding seasons traveling to some of the best snowboard spots around to put these vaporizers to the test. The first stop was Mt. Tremblant in Montreal, Canada. Other notable stops were Mammoth, California while the rest of the testing was conducted locally at Big Bear, California.
Let me give a quick introduction to these 5 vapes for those users that have never heard of some of these vapes.
Grasshopper
Grasshopper – $175 – Hands down most compact, however the sleek design comes at a cost: battery life! The average battery life for each of my GH batteries is a measly 2 bowls. If you're like me and vape several bowls throughout a full day of riding then in reality you're taking a GH + 3 or 4 batteries.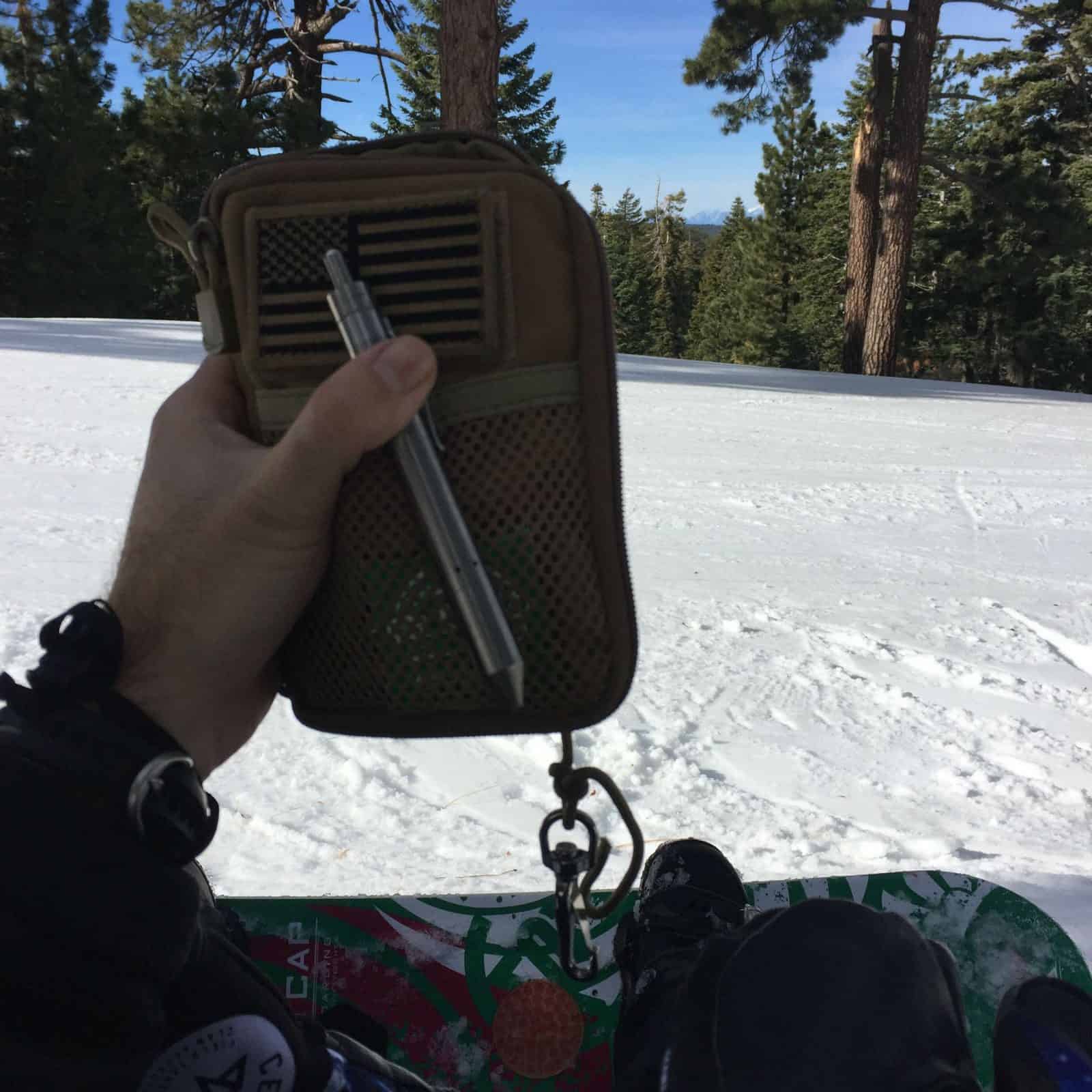 Davinci IQ
Davinci IQ – $274.95 This compact unit has a nice weight to it. It felt like a solid unit in my hand. One of my favorite features was the bright LED which I could easily see without removing my goggles. Other notable features are a fast heat up time, compact design, removable batteries, and a built in stir stick.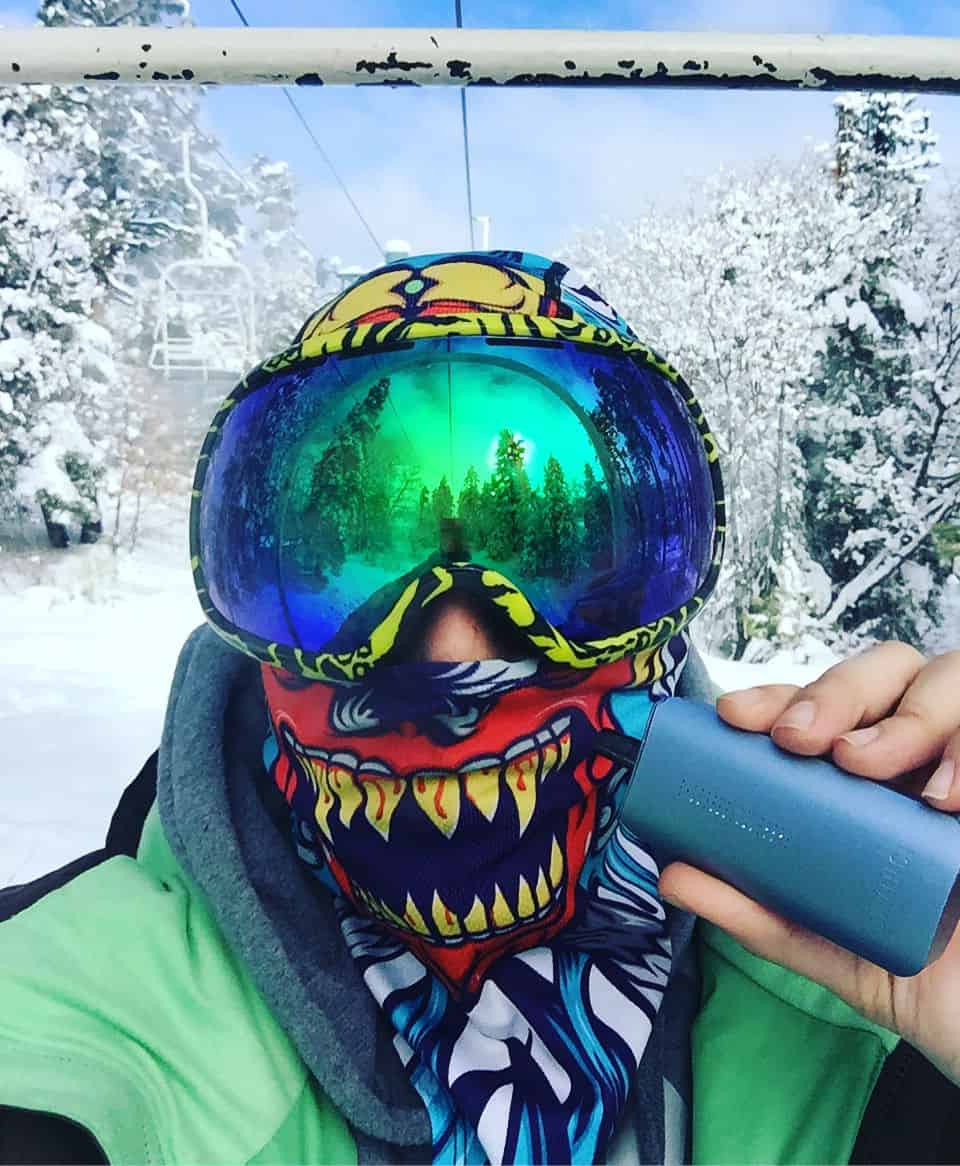 FireFly 2
FireFly 2 – $329 – A convection vaporizer with one of the best tasting vapor out of the 5 I tested. This is a on-demand vape that lets users take one or two hits on the go without having to use up the entire bowl. Features a relatively compact design, removable batteries, and outstanding vapor quality.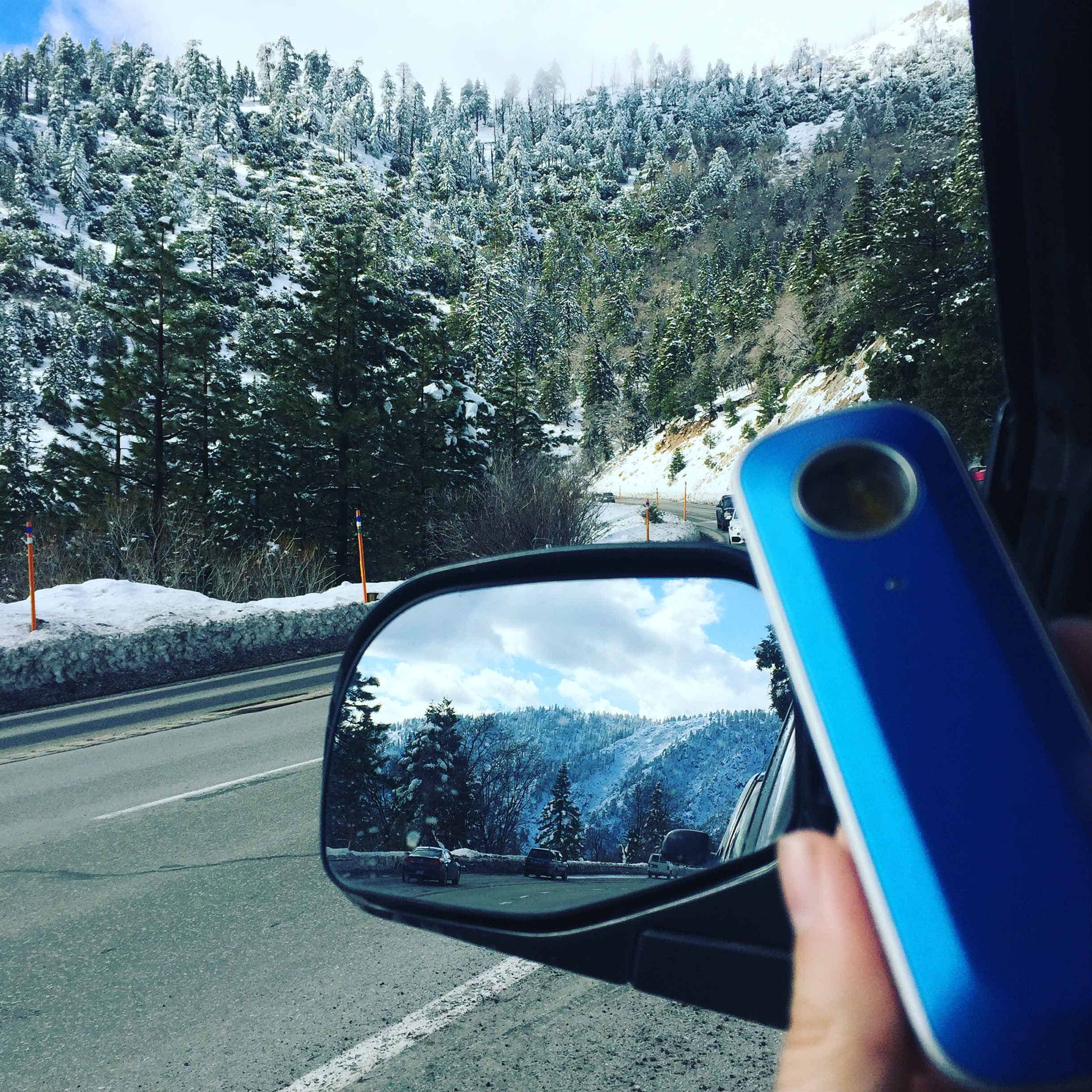 Pax 2/Pax 3
Pax 2 – $199 / Pax 3 – $274.99 When I started testing vapes for this article the Pax 3 was nonexistent. So for that reason I decided to combine this into a Pax 2/Pax 3 option since they are both essentially the same vape with different internal components. For those that have never encountered the Pax 2 or Pax 3 vaporizers it is a compact conduction vape that has a single button which controls everything.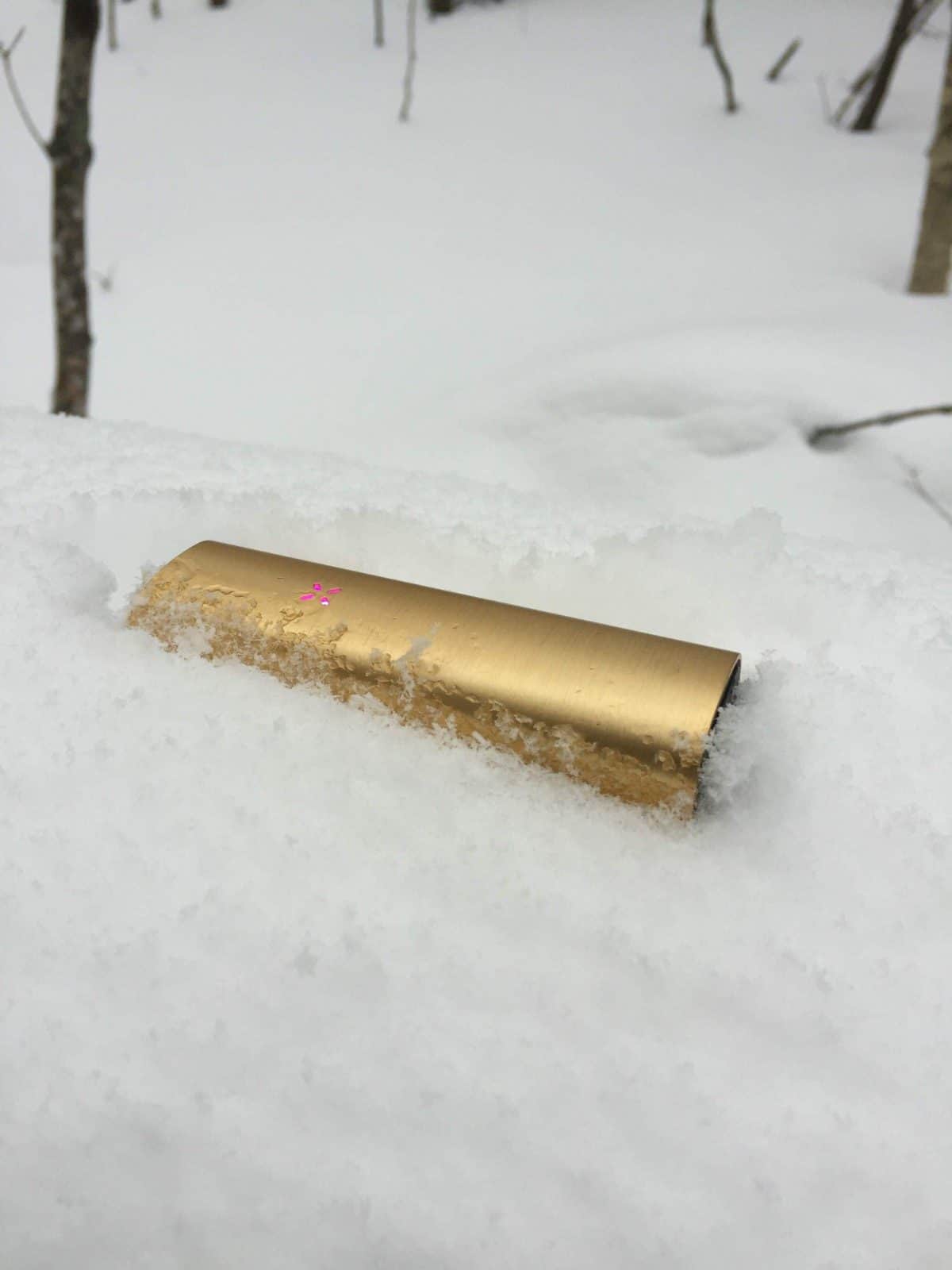 Crafty
Crafty – $339 a vape that has survived purely off word of mouth and solid German engineering. The
Crafty Vaporizer is the more compact little brother to the well known Mighty Vaporizer. This vape features a decent size bowl, built in stirrer/packer, and is a mix of conduction / convection with a taste that can't be beat by any of the other vaporizers I reviewed for this.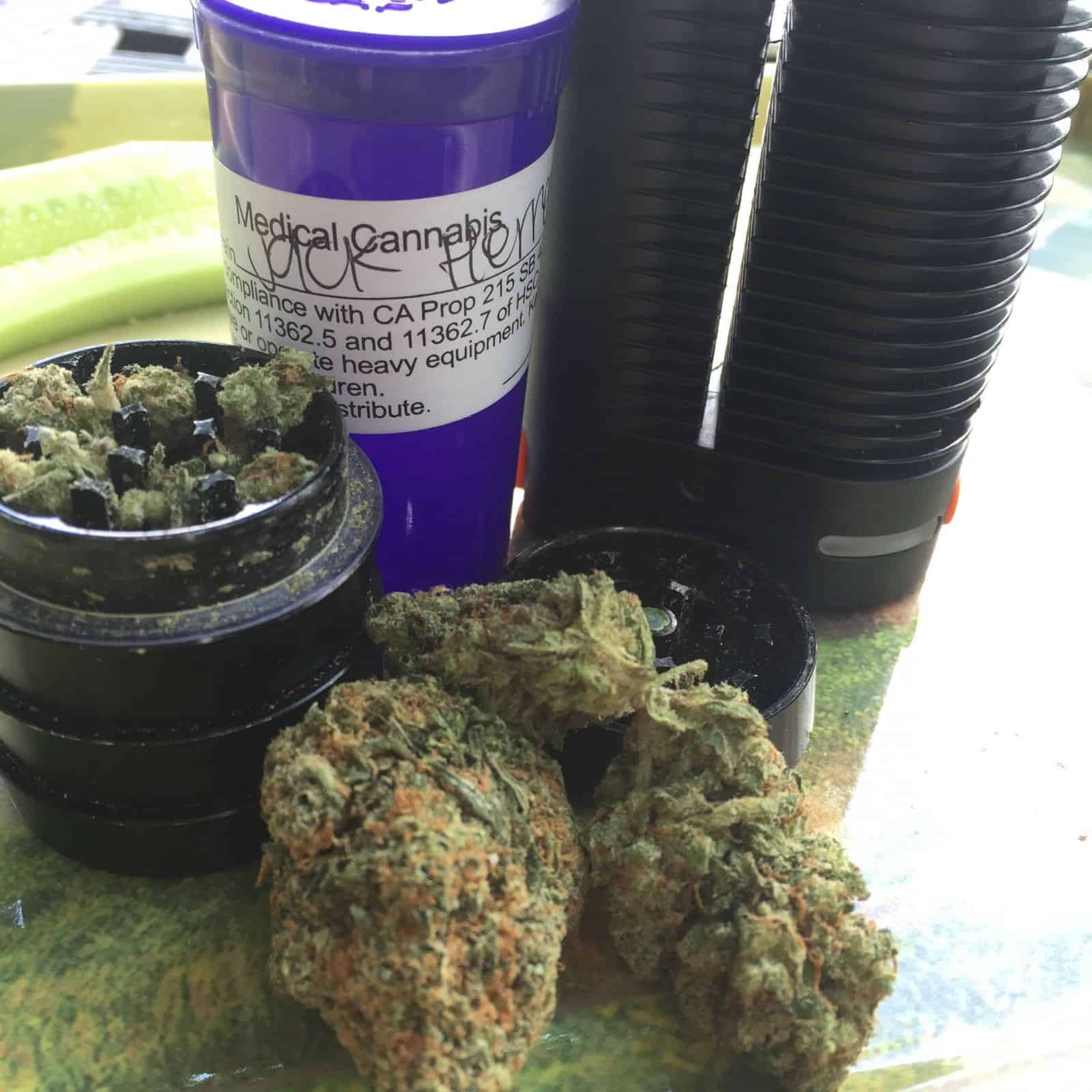 Conclusion
Grasshopper The most compact vaporizer on our list. That sleek design comes at a cost: battery life. I was getting 2 sessions per full charge. So plan on carrying at least one extra battery. I carried my battery in a doob tube, but that sort of defeats the purpose of having a sleek design.
The GH tastes great, but after a while the mouthpiece will get so hot that it burns your lips. I found this out the hard way.
As your main vaporizer the GH might not be the most practical vape, however I found myself taking the GH with me on almost every trip, often times as a backup vape. This allowed me to have a bowl tucked away that I could, one handed, fully consume in less than a minute.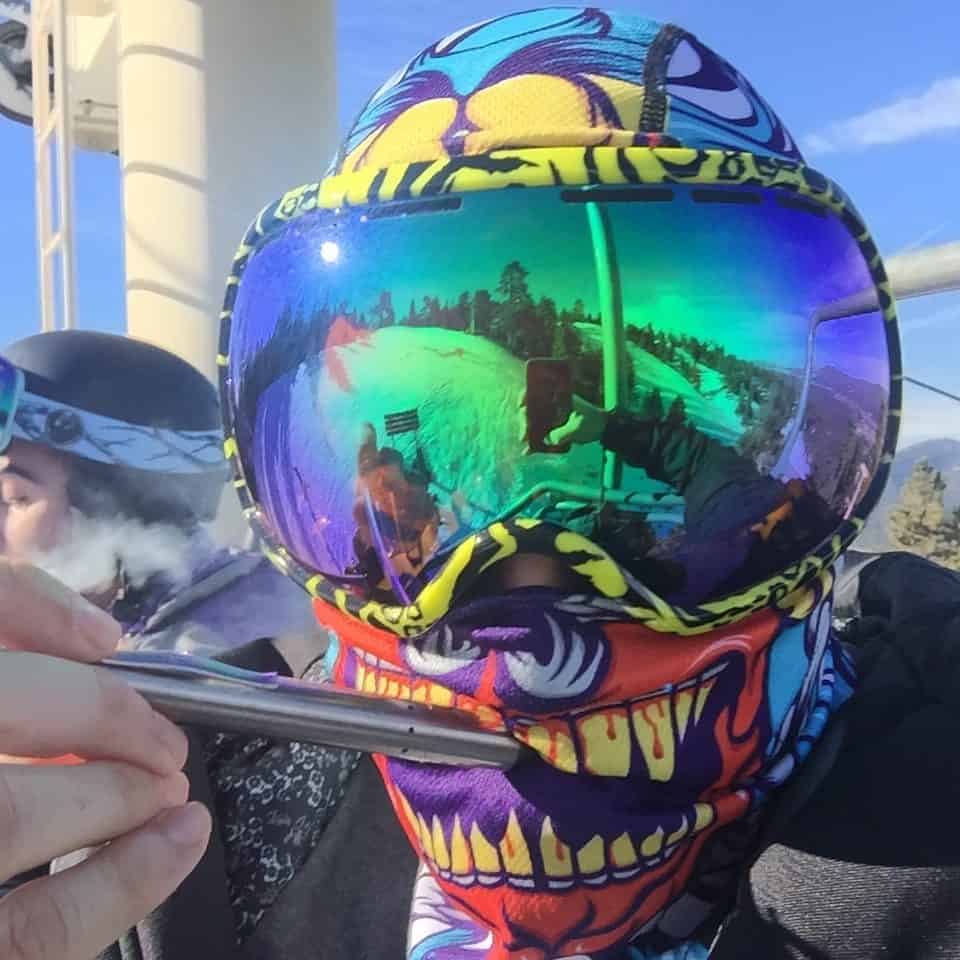 Davinci IQ – $274.95 Some may write off the IQ right off the bat because it is a conduction vaporizer. To me conduction vaporizers have some positives to them. For starters they tend to have better battery life, and I find myself stirring them less often.
Out of all the conduction vaporizers I used, the IQ was the best tasting conduction vape. The IQ tastes great, heats up fast, has a built in stirrer stick, and a pretty large bowl size. I also greatly appreciated the fact that I could read the bright LEDs without taking off my goggles. That was an issue I was having with the FireFly 2.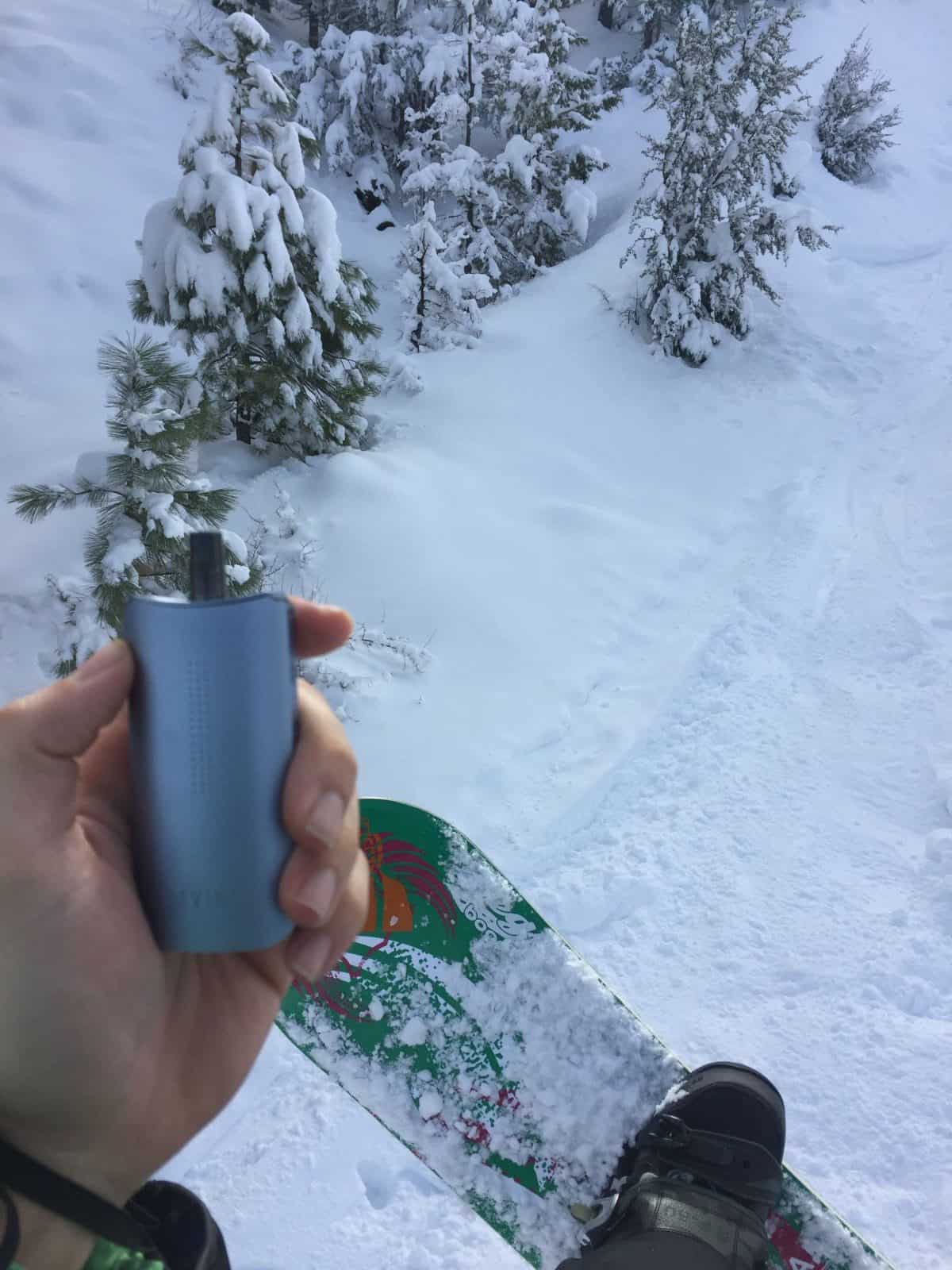 FireFly 2
FireFly 2 – $329 Although this vape is one of my personal favorite vaporizers off the slopes, it had some drawbacks to using it on the mountain. Normally my thumb and index finger are all that's supporting this vape. This becomes a problem when wanting to use it on the chairlift during a windy day. The last thing I want to do is lose a vape that costs as much as my snowboard.
If you enjoy unclipping your bindings and making your way to a secluded spot in the woods, the FireFly 2 will be one of the most enjoyable vapes you could have at your side. One complaint I had was the indicator light was hard to see when I had goggles on. This further reinforced my view that the FF2 works best when taking a break from riding. In addition to coming with a second battery, it's a good idea to have some alcohol pads to clean throughout the day.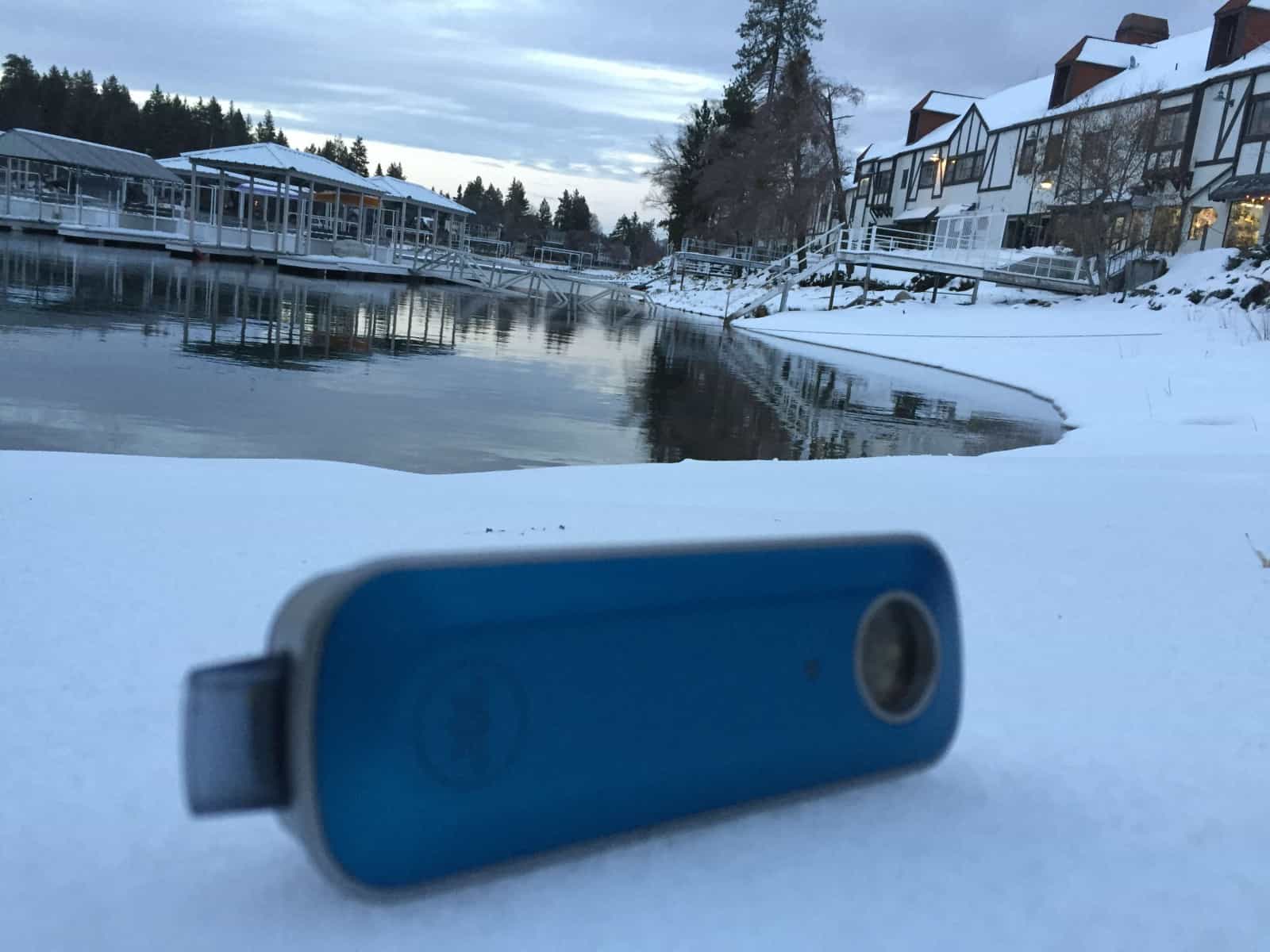 Pax 2 – $199 / Pax 3 – $274.99 is very convenient to use while snowboarding, however the taste wasn't anywhere near as good as the other vaporizers. Although it didn't have a removable battery, battery life was never an issue for me. A fully charged Pax easily lasted  an entire day of riding. Both the Pax 2 and Pax 3 felt solid in my hand, and were used on the chair lift with full confidence. One thing I will mention, at higher temps I was getting a slight popcorn aftertaste. If your main concern is a compact vape, that you could use with one hand, the Pax 2 is for you. If you prefer to vape concentrates you might want to go with the Pax 3, but if you're mainly using cannabis the Pax 2 provides the most bang for your buck on this list.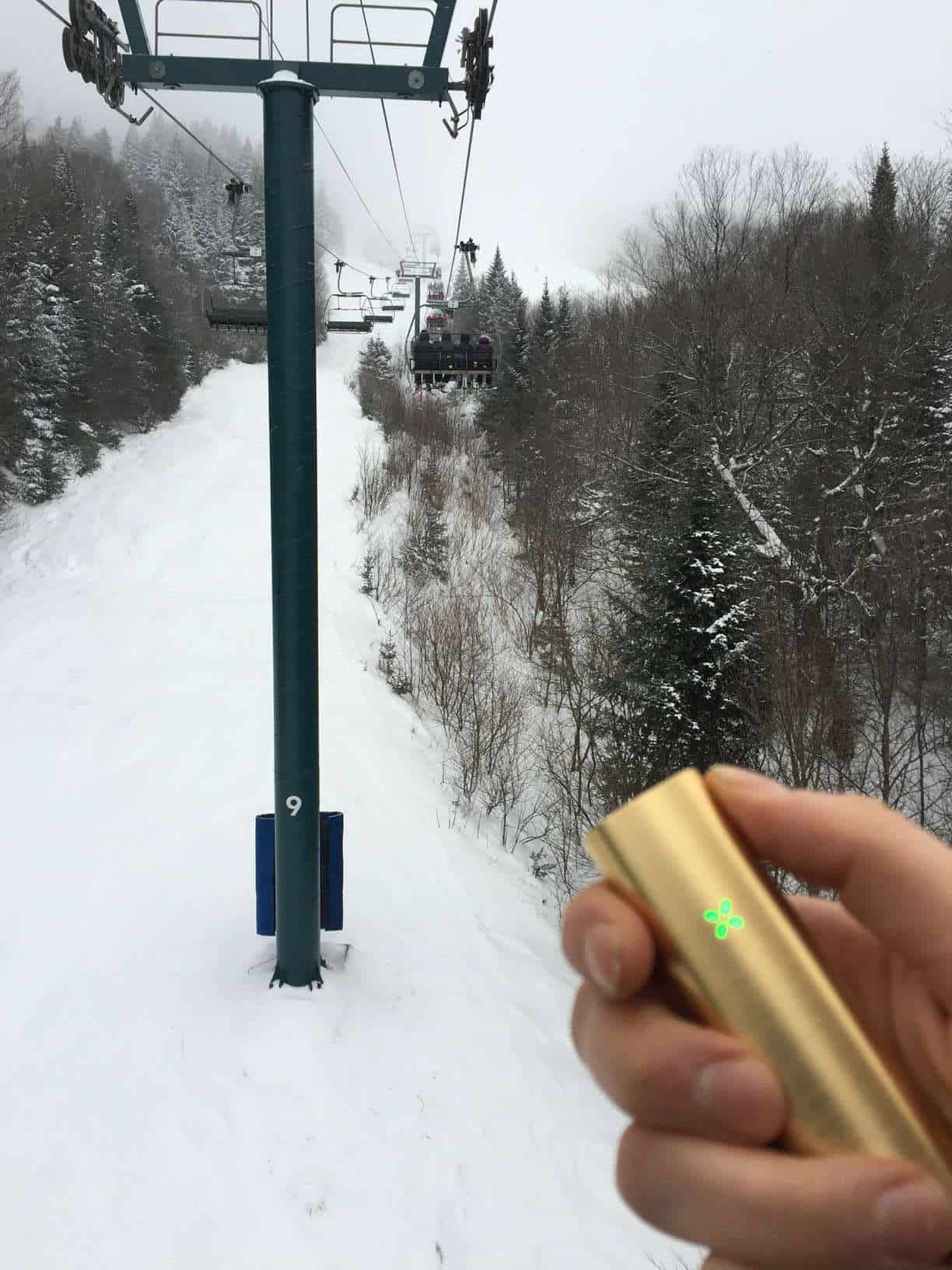 Crafty – $339 had the longest heat up time, yet had the greatest tasting vapor out of the 5 we tested. I routinely vaped the Crafty on the chairlift on the windiest of days with full confidence. The shape of the Crafty allowed me to have a full grip around it and use it with one hand. One trick I came up with was to turn it on while I waited in line for the chairlift to have it turn green by the time it was my turn to get a lift. Be careful not to have it in your pocket while it's on, it gets hot!
Personal Favorite Vape Setup
My personal favorite experience was to have the Crafty as my main vape, and the Grasshopper as a second backup for quick hits while riding. I had a lot of fun testing these vapes, and writing this article. If you made it down this far please leave a comment sharing your experience with vaping while snowboarding. Which setup did you go with? I promise you it will make my day 🙂
If you found this guide helpful enough to share, please tag us @420vapezone and I promise you I will share your post. Thank you so much for stopping by, have a wonderful day!