Testing every aspect of a vape is an arduous process of running several ounces of weed through the unit. Troy is currently meticulously testing the DaVinci IQ. Before we go any further, I would just like to make it clear this is not a review of the IQ. This is merely my (George's) first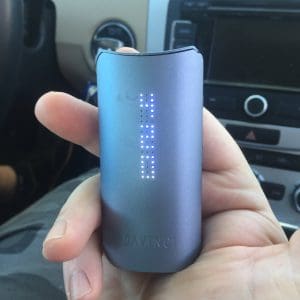 impression after using it for the first time.
First Impression
Troy and I met up for lunch and naturally vaped a few bowls using the DaVinci IQ to enhance the experience. The very first thing I noticed about the DaVinci IQ was the weight and feel. It felt heavy, a good kind of heavy, the kind of weight that conveys quality. It's the equivalent feeling one gets from slamming a Mercedes door shut compared to slamming a Camry door.
Another feature that caught my eye was how tiny this little vape was. It was shorter than the Pax yet wider in girth. I think DaVinci nailed it on the size. The pictures online don't do this vape justice.
The user experience on the DaVinci IQ blew me away. It's like DaVinci took my favorite features from the most popular vapes, and combined them to create the IQ. There's a nifty stirring stick conveniently hidden out of view, replaceable batteries, and the nicest bowl I've ever used! Never once have I had such a pleasant experience stirring a bowl mid session. There's a wide enough chrome platform next to the bowl to remove all the flower, then repack effortlessly thanks to the funnel like shape around the bowl piece.
Favorite Feature
Almost forgot to mention one of my favorite features: the temp display. Some vaporizers have weak displays. Weak displays are impossible to read while wearing sunglasses or snow goggles. The IQ stands out from by pack by using a powerful LED light grid display. The LEDs are quite bright, and also give it quite the futuristic look.
One small feature I didn't like, others might, was the loud buzz the vibration made when the bowl was ready. The vibrate feels like it's at a solid 9/10 in strength, I personally prefer a softer vibrate. Would be cool to see future versions of this vape allow users to set how strong they want the vibration.
Be sure to follow us on Twitter (@420vapezone) to find out when we release our full review of the DaVinci IQ. Leave us a comment if there's any specific feature or detail you would like to know about the IQ.