Welcome to our new weekly update series. We'll pick the best news nugs of the week and serve them right here – top shelf, private reserve style.
NFL draft contender tweets video of him hitting a fucking GAS MASK BONG, 13 minutes before the start of the draft.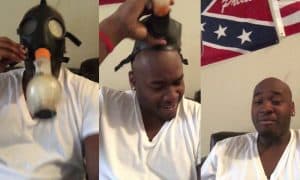 Apparently his account was hacked or something. But the footage is out and the proof seems pretty clear. The bong appears to be made out of acrylic, not glass 🙁
A quick google search turned up www.gasmask-bong.com – pretty cool for $30. It doesn't seem very convenient, but it'd look cool on the wall. Oh the footage – that's what you want. Hit up youtube. The footage keeps getting taken down.
As for Laremy, you're cool in our book. But you should look into vaporizing – it's significantly healthier.
DEA actually approved some cannabis testing for PTSD
We already knew that the DEA will decide on rescheduling cannabis by mid-year, but we haven't been very optomistic. The DEA has a history of being a bunch of dicks when it comes to cannabis. Just last November the DEA Chief called marijuana as a medicine 'a joke.'
So now out of the blue they're giving the go ahead to test cannabis as a treatment for PTSD. Did DEA Chief Chuck Rosenberg finally try cannabis? Or perhaps a little searching on the altavista.com?
Regardless, it's progress, and whaxy has all the important details about the testing.
Walgreens acknowledges the medical marijuana scene!
This is huge, Walgreens put up some legit content about medical marijuana. It's not the content that's remarkable though, it's the fact that they're standing with us instead of against us. It's a brand taking a bit of a risk, and hopefully starting a trend.
This is a movement. The negative stigma of cannabis use is decaying. Great work everyone.
MMJ-vape.com update
We've created some new testing methods, methods that no one else has touched. We're working on them and refining them.
We're also working on some video content for the Sidekick vaporizer.
There's a bunch of new vapes sitting here to review too, who wants to come over and help?