I quit my job to pursue my passion for dry herb vaporizers and medical cannabis products.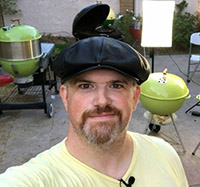 Passionate cannabis enthusiast, full-time creator, grower, reviewer
I've always been passionate about cannabis, even growing up in IL where weed was super illegal at the time. I knew from a young age that this plant is a way of life.
After a crazy 20-year career in the dot-com space, I quit my job to pursue my own passions. Now I create content about topics I'm passionate about – like cannabis vapes and Weber grills
I test and compare cannabis products to help people make better buying decisions.  I own them all and I produce in-depth vape reviews and comparisons to help others have the best cannabis experience – without smoke.
Dry Herb Vapes are my specialty – these are
vapes for weed
Choosing the best dry herb vaporizer can be daunting. There are a lot of great vapes available and each delivers a unique vapor experience. Some vapes are fast and powerful while others are slow and gentle. There are micro-dosing vapes as well as megadosing.
There are hundreds of TERRIBLE vapes on the market. 
I've put together this list of the best dry herb vaporizers for every budget and for every type of cannabis user. With 100+ vapes on my shelf, if I could only keep one – it would be the Mighty+.