Ball vapes are the bleeding edge of vape technology and are considered the strongest vaporizers available. These dry herb vapes can get you higher than smoking and provide quite a few benefits over the other best desktop vaporizers.
Ball vapes hit hard and fast without compromising on flavor.
No more slow hits, ball vapes can crush a bowl in one hit.
Ball vapes will get you higher than other vaporizers!
The effects of ball vaporizers are stronger than smoke.
Vapor from these vapes is closer to dab vapor than other dry herb vapes.
Check out my top picks for the best ball vapes in 2023 below and hit me up in the comments with any questions.
How are Ball Vapes Different?
Ball vaporizers extract THC and cannabinoids from the dry herb quickly using extremely hot air with high airflow. 
Ball vapes have an open airflow and an extremely potent, terpene-rich vapor.
A "Ball Vaporizer" comes from the literal use of glass or ruby balls within the heater.
The balls exponentially increase the convection heaters' surface area, resulting in quick, thick vapor without loss of flavor.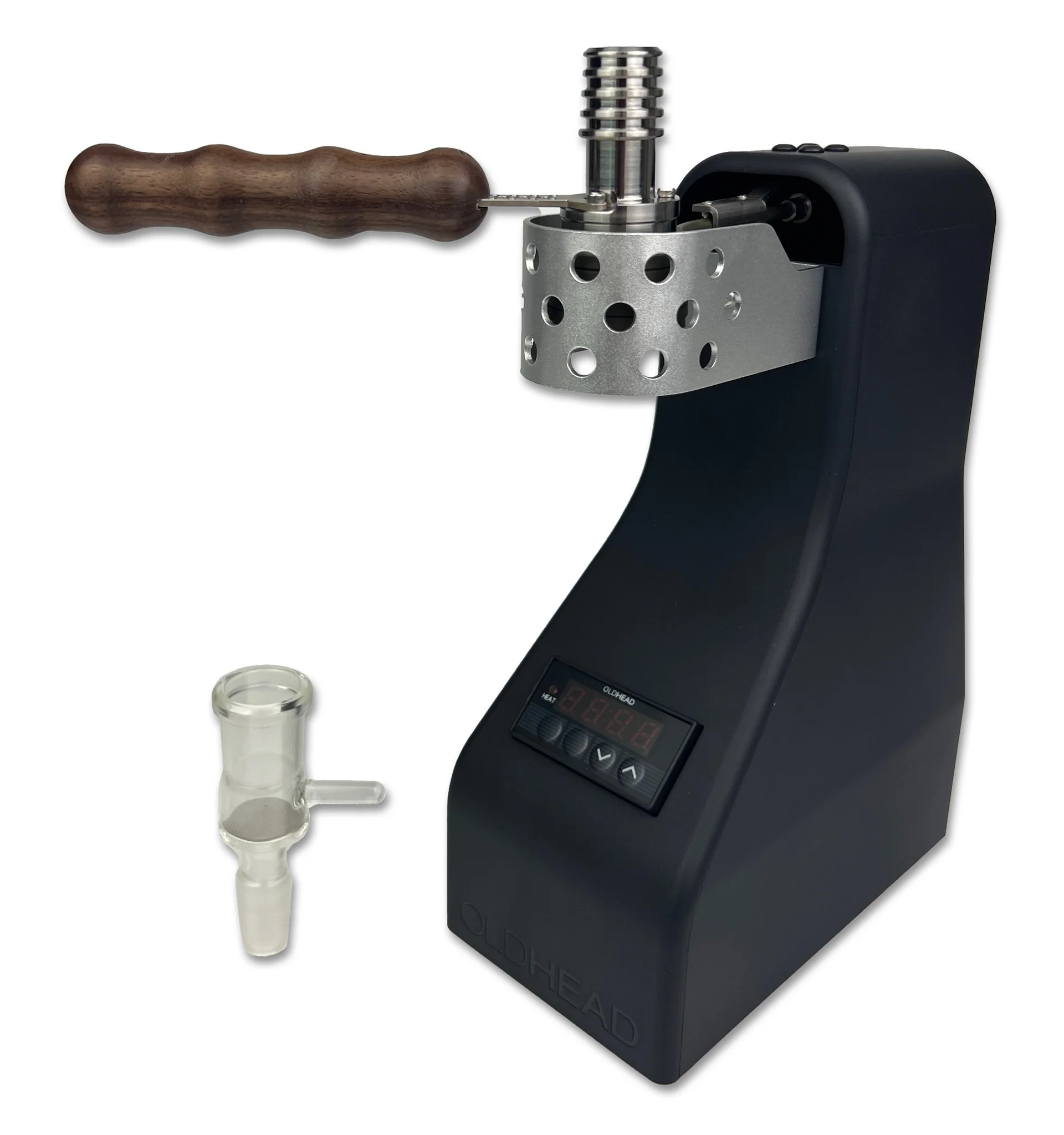 Benefits: Cordless ball vape holds heat for several minutes. Also heats a standard 25mm quartz banger for dabs!
Features: Thick titanium walled head for heat retention, 52 ruby terp pearls inside for massive convection power
The cordless Terp Hammer has been a life-changing addition to my desk. The newfound freedom of no tangly wires to worry about has absolutely improved my quality of life. Removing the PIDs and cables from my desk opened up so much more room to work and move. The Dab Ready and Terp Hammer have earned the #1 Best Desktop of 2023 for its ability to quickly switch between dabs and dry herb due to its 25mm standard coil heating.
The Terp Hammer itself hits as hard as most injector-style ball vapes, but it's not quite as fierce and responsive as the PID-powered ball vapes. 
After updating my Terp Hammer to 3mm balls, it hits harder and is less of a power compromise. 100% reach test winner.
I believe that cordless ball vapes are the future and the Terp Hammer is only the beginning. The Dab Ready and its stationary coil design have opened up a whole new branch of innovation for other makers to build off.
Best Corded/PID Ball Vapes
Ball vapes are still evolving and we're still in the early stages of the revolution! PID powered ball vapes have led the power race for the last year because PIDs and 20mm barrel coils are relatively easy to acquire and the format works well for ball vape heads that interface with bongs.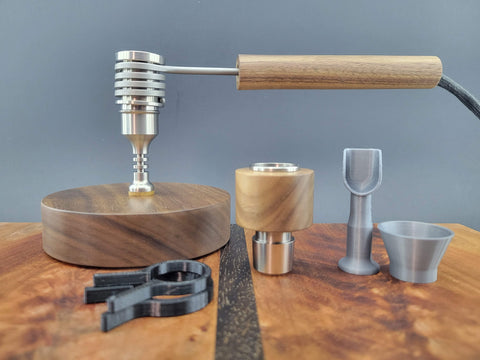 Superb Flavor & Performance
Metal Bowl for added thermal performance
Injector Compatible w/upgrades
Best Overall Flavor/Extraction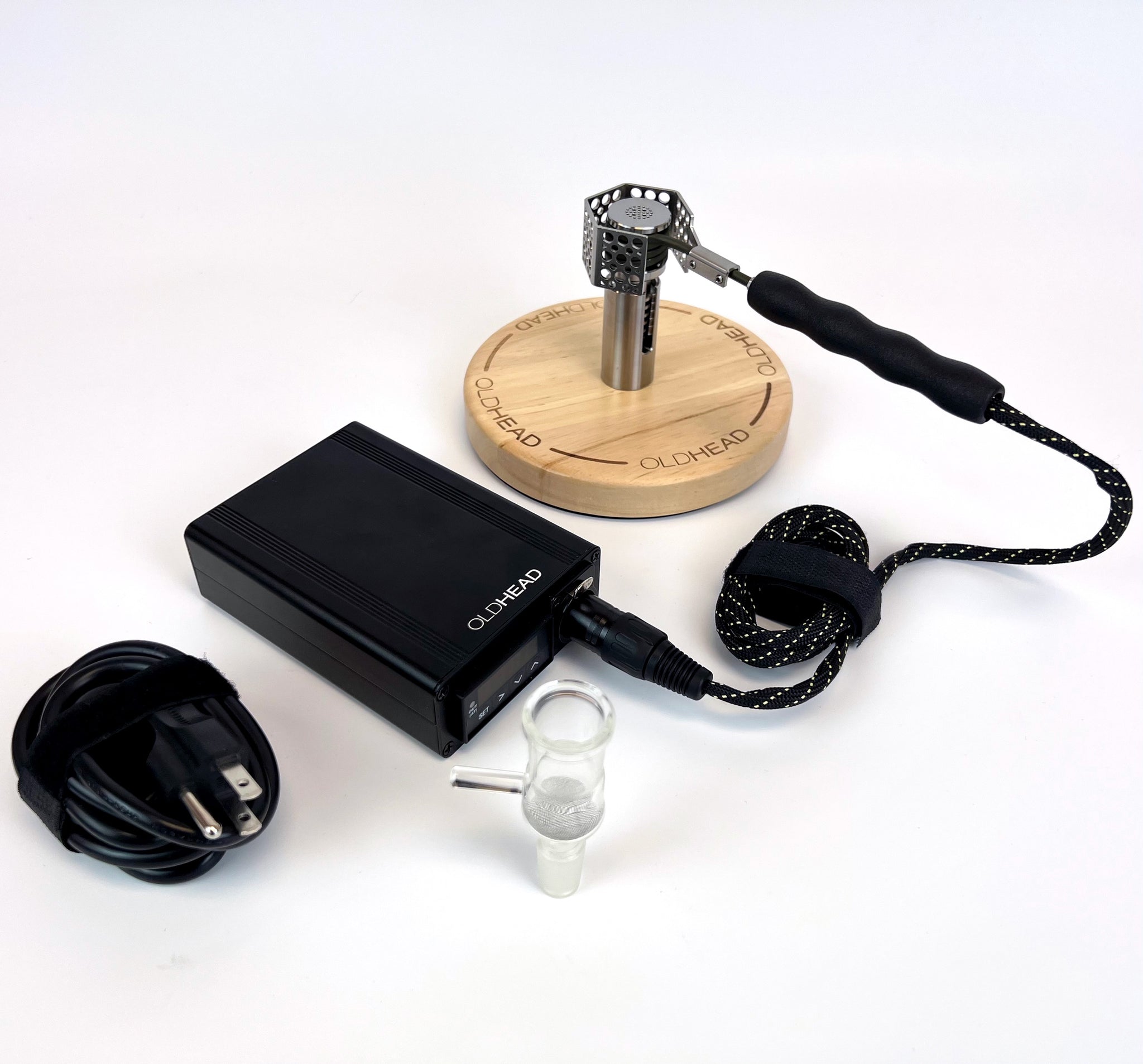 High airflow & Performance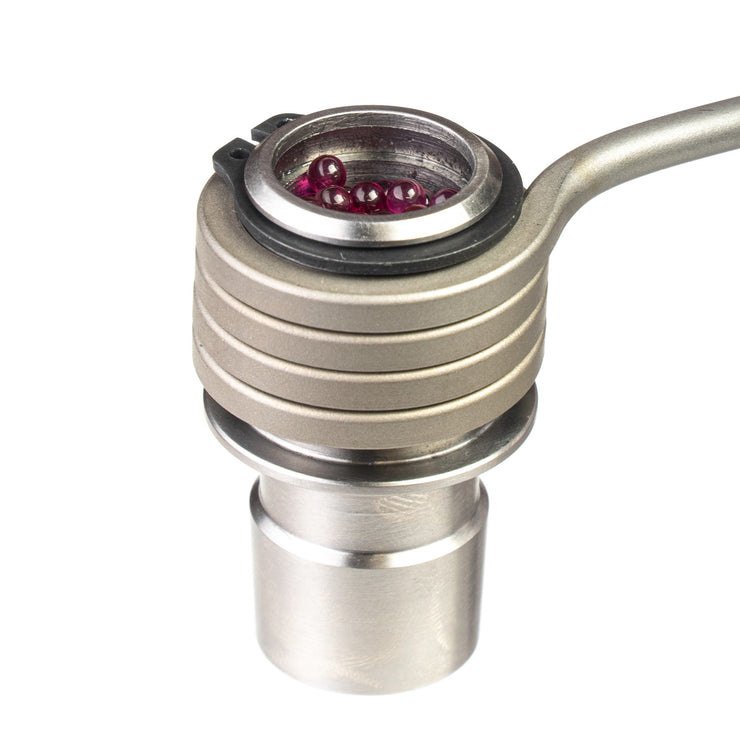 High Airflow & Performance
Hardest Hitting Ball Vape Flowerpot B2 – Dabs + Dry Herb at the SAME TIME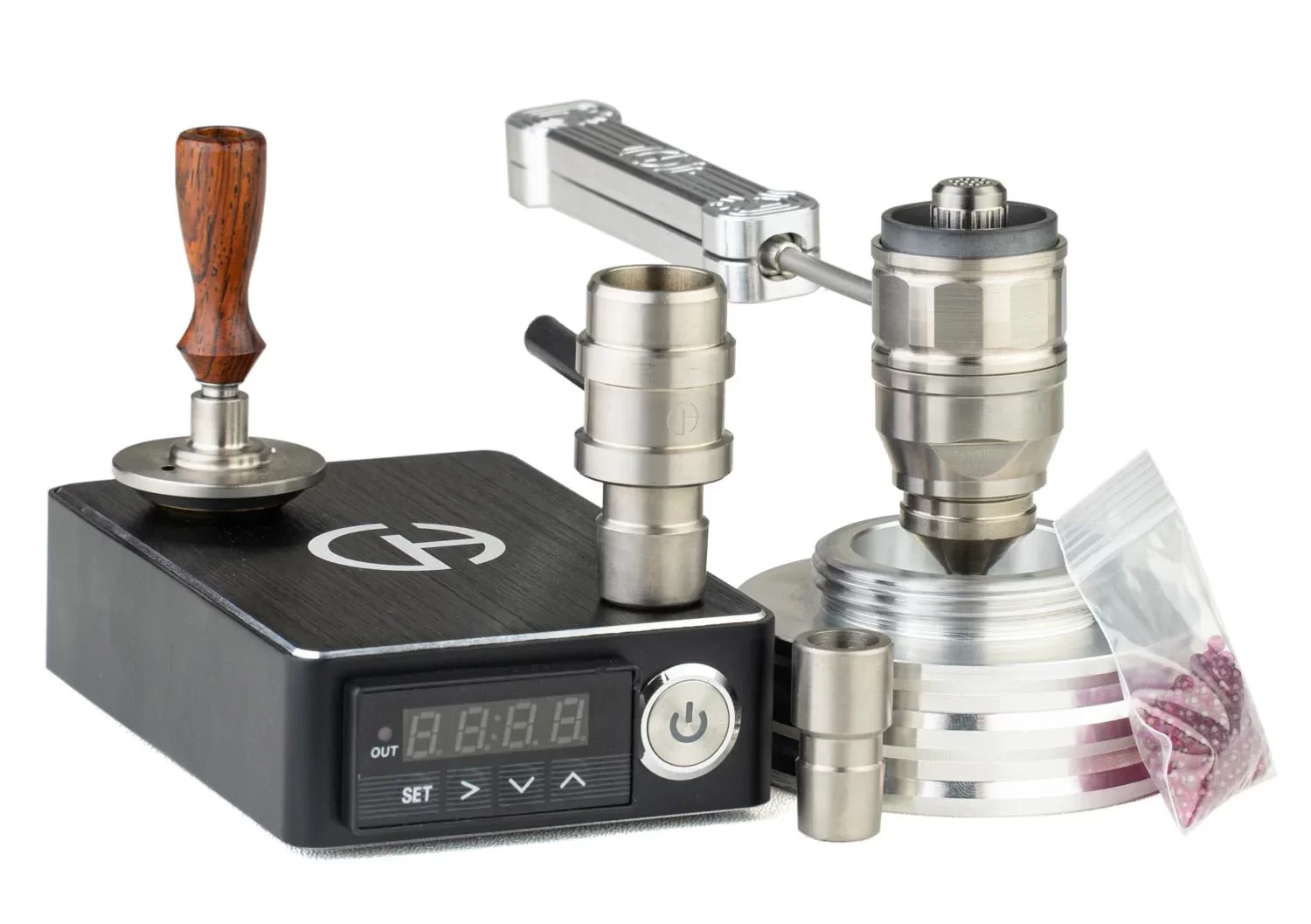 No other vape can do it like the B2 – Dabs and dry herb vapor at the same time. THIS IS NOT FOR BEGINNERS.
The B2 Flowerpot is still one of the absolute hardest-hitting dry herb vapes., regardless of dabs and double-deckers. Its airflow is open and free-flowing with the perfect amount of gentle restriction from the 3mm balls inside. One or two-hit flower extraction is no problem with this beast.
The SIC or Sapphire dabbing surface on top means you can have a traditional dab while also vaping your dry herb – this intense vaping experience is known as the Double Decker and produces a considerably longer and stronger high than a normal dab or flower bowl alone.
Features: US Made Medical Grade Titanium – SIC or Sapphire Dab Dish – PID / Enail powered – Fits 14mm/18mm glass
Our Recommendation – If you're starting fresh, pick up the essentials bundle and don't look back. It comes with everything you need to end Vape Envy once and for all.
If you already have a 20mm e-nail at home, you may be able to save some money by re-using your coil and controller. The B2 requires a 20mm clockwise coil. Don't skimp on the stand though, the head of this device is 500F+ and will burn or melt anything it touches.
Pros
Dabs + Flower Together
Will Last Forever
Hardest Hitting Vape
USA Made
Injector or Diffuser
Cons
Dab Temps and Flower Temps don't align for perfect double deckers
Dabs are somewhat muted through balls
I have a lot more info in my latest Flowerpot vaporizer comparison which features a comparison between the new F16 and F22 ball heads vs. the B-Zero, B1, and B2 models. The Flowerpot B2 Essential Bundle retails for $565 and you can click here to check it out directly from Cannabis Hardware. Don't forget to use coupon code TROYTIME to save 5%.
Vgoodiez has a cheaper B2 bundle with some alternative configurations. You can use code TROYTIME5 at Vgoodiez to save 5% on Flowerpot vape bundles.
Flowerpot B-Zero – Budget Ball Vape
The Flowerpot B-ZERO is Cannabis Hardware's budget ball vape. With an exposed coil and injector only lower half, this vape head is secured in the coil using a snap-ring, and the balls are held in with double-woven titanium screens that will not budge.
The B-Zero wins me over for daytime use 100% of the time. I get "less stoney" from its full convection power. This was my #1 vape until the Terp Hammer came along and cut the cords.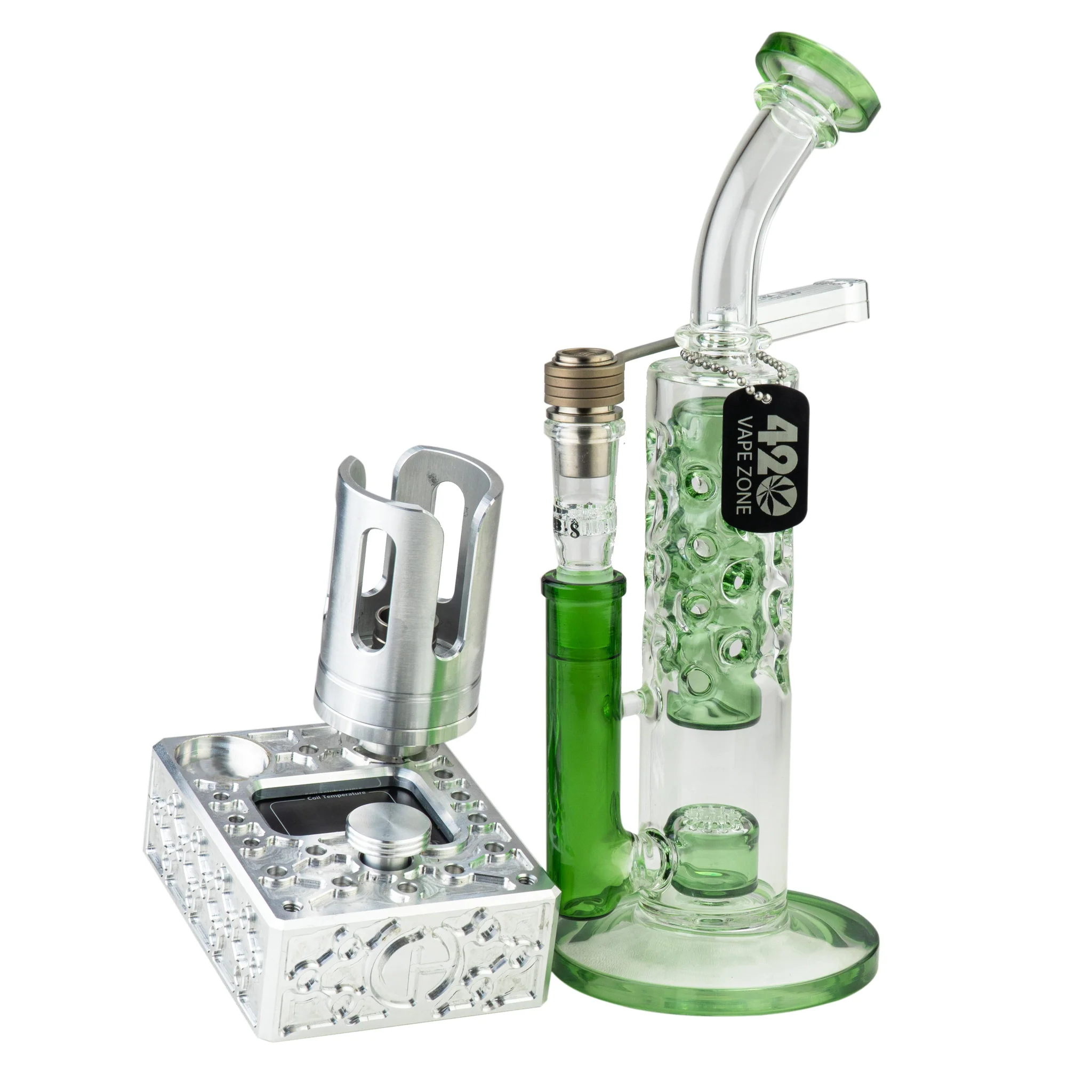 The B-Zero is a full convection injector that hits as hard as the B2 but without the added conduction of the shovelhead bowl.
The B-Zero can be used with the titanium shovel-head bowl or with 18mm female glass bowls.
The B-Zero has equal or greater airflow than the B2
Flowerpot B-ZERO 420 Vapezone Bundle
B-Zero Flowerpot Pricing – Starting at $40 without balls. I recommend the $309 Essentials bundle. They'll fill it with balls and install everything for you. This is important because it requires a snap-ring and not everyone has the special tools. Of course,
Do you want to vape just like me? Cannabis Hardware offers the 420 Vapezone Signature BZERO Bundle ($746) (pictured above in green) which includes quite a few extras. Don't forget to use coupon code TROYTIME to save 5%.
Vgoodiez also has a budget-friendly B-Zero bundle available for 265. Code TROYTIME5 will work on Vgoodiez bundles.
Features: US Made Medical Grade Titanium – uses 3mm or 4mm balls – PID / Enail powered – Fits 14mm/18mm glass – injector only
High Airflow & Performance
100+3mm or 4mm balls
Screen secured balls
Affordable ball vape
USA Made Titanium
Our Recommendation – If you don't mind some assembly and piecing things together you can build this vape out any way you like it. I like using the B-0 with 3mm ruby balls and I use it with a glass injector bowl that has a metal screen.