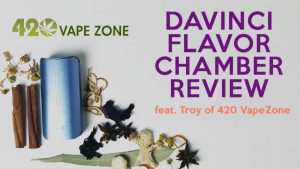 I met with the Davinci team back in February. They're headquartered in Las Vegas and I was already in town for Champs. They have an amazing environment and I love their company culture.
Davinci asked me to help them explore a variety of herbs in the Davinci IQ flavor chamber. So I hit up the nearest ethnic grocery stores and went ape-shit. Seriously. The guy at the counter asked me if I was restocking my kitchen.
I chose Jack Herer as my strain. It's consistent and I am VERY familiar with its flavor. Plus it was the closest jar.
My favorites were Hibiscus flower, cloves, ginger, and chamomile. I vaped 4 bowls in a row to test all of the herbs. It's a good thing I dressed appropriately.