Storz & Bickel is just a few weeks into the launch of the Venty – their newest portable dry herb vaporizer.
Early Venty reviews have been overwhelmingly positive and early adopters have been flooding the forums, and my inbox, with praise for this new $449 device. My review is still in progress as I test this device extra thoroughly, but spoiler alert – I'm in love with it.
Last week the buzz started to change tone when the Venty availability status changed. Days prior the status was In Stock, but with expected delayed shipping due to high demand. But on Thursday it changed to "Out of Stock" and unavailable to order. Internet vape geeks lost their shit and the rumor mill exploded with conspiracies.
Vapezone community members who purchased their Venty several days prior have been reporting that their Venty has yet to ship, and they've received no communication from Storz & Bickel about the delay. Many who are still waiting for their Venty to ship are concerned that their orders will be canceled, while others are frustrated and concerned enough to cancel their order.
S&B Wants to Check Your NEW VENTY
On Friday, Venty owners received a really interesting email directly from Storz & Bickel. They've contacted everyone who purchased or received a new Venty vaporizer and are requesting a diagnostic check on their vaporizer to confirm that their vape is within specification.
The email admits that some of the early Venty vaporizers may have a problem and they've launched a special app to run the diagnostic test from home, without having to ship your vape back to the factory.
Storz is sending each Venty owner a unique link and the software does not display the results. Instead, results are saved by Storz & Bickel and they will contact you if your Venty has problems.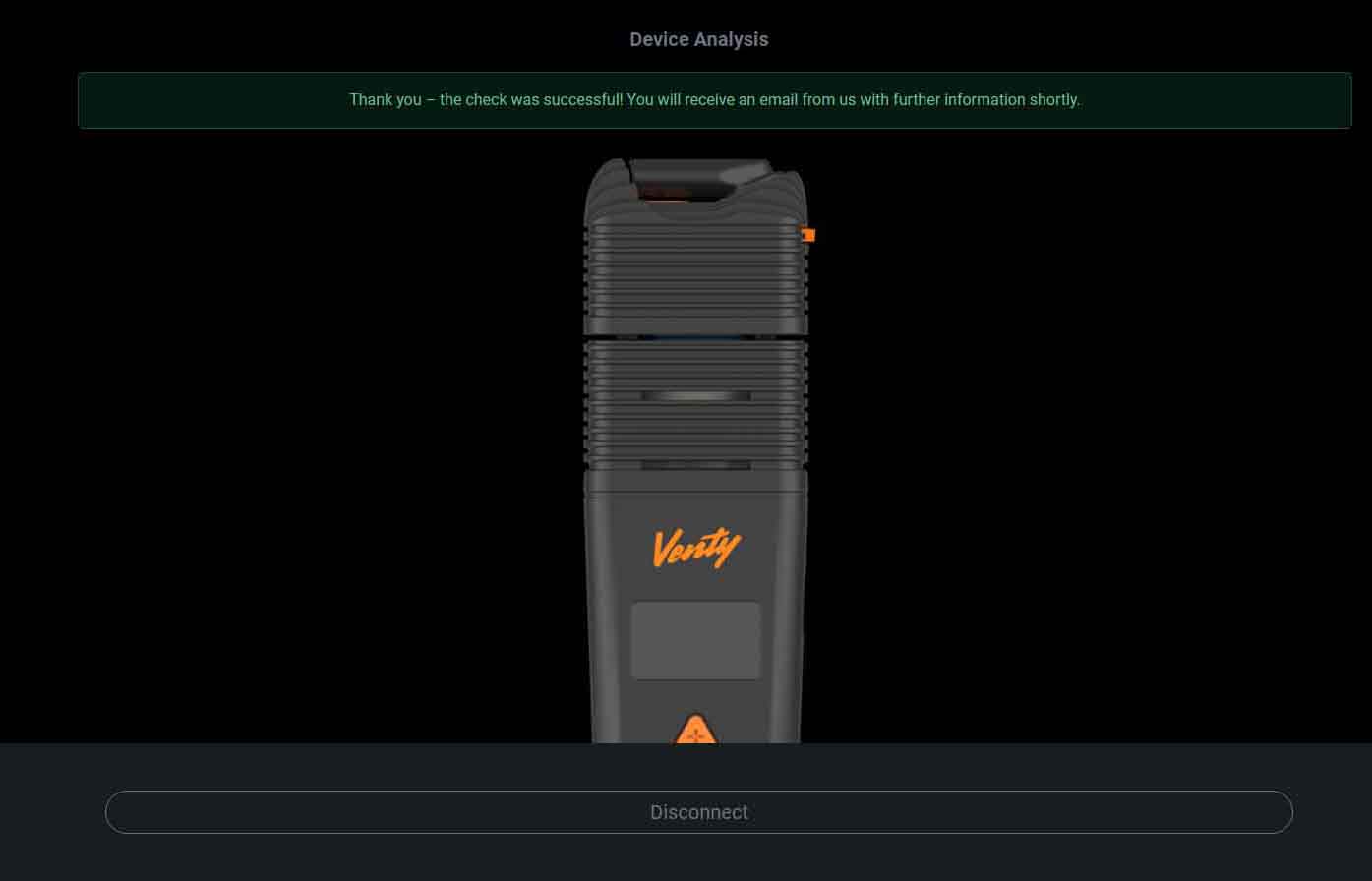 The email also asks Venty owners to reset their vaporizer to factory settings before running the analysis software. To reset the Venty, hold the Power button for 10 seconds. The vape will vibrate and flash some things on the screen to let you know it's been reset. If you changed your Venty from Celcius to Fahrenheit, resetting the Venty will put it back into Celcius.
Parts Problems, Product Problems, or Production Problems?
Internet vape enthusiasts are tin-foil hatting the hell out of this situation with all sorts of speculations and spin-offs. Many are angry that they can no longer get it and some are just mad they couldn't get it in the first place. Sour grapes make the loudest wines.
Regardless, the halt of shipping is a clear indicator of some sort of issue
The Venty Vaporizer is manufactured by hand at the Storz & Bickel factory in Tuttlingen Germany. The individual parts for their vaporizers are often sourced from other manufacturers right in that same town.  Any shortage of parts this early in production would be highly unlikely from a company of Storz & Bickel's stature.
We do not know for sure that the halt in shipping is even related to the Venty diagnostic recall test.
I *do think* they're related, but without confirmation, this is purely an assumption.
Tell me what you think
Leave a comment down below and let me know what you think of the whole Venty situation. I'm still in love with the vape and working actively on my review. Mine's been working great and I haven't heard directly from *anyone* with problems.