What's the best grind for the Pax 2 or 3? Internet wisdom claims FINE grinds are best for all things conduction.
I'm not a big fan of swallowing information without evidence, so I decided to test.
Grind Comparison Test
To make things as scientific as possible, the grind consistency needed to be the ONLY variable.
I vaped 3 sessions, one for each grind. Each session consisted of thirteen 10-second draws at the 3rd temperature setting. The Pax 3 started fully charged. I used the Pax 3 in normal mode.
Hypothesis
I believe the Pax 3 doesn't require a powdery fine grind to produce good vapor. Tightly packed medium grind should perform just as well.
Materials Used:
Pax 3
Sunset Sherbert from Fyre Haus Irvine
Phoenician grinder (for coarse grind)
New Vape coarse grinder
Santa Cruz Shredder (for medium grind)
New Vape Fine (for fine grind)
Test Results
I scored the vapor quality and flavor of each hit on a scale of 1-10, with 10 being the perfect hit that a Pax is capable of producing.

Coarse Grind
The entire coarse ground session took 13 hits. It started off okay. Flavorful, but not very satisfying. The flavor started to decrease each hit. The average score per hit came out to a whopping 3.9.
Medium Grind
After finishing the entire bowl packed with the medium grind, the medium grind was definitely more enjoyable than the coarse grind. Slightly less airflow, but the vapor was more robust. The average vapor quality per hit came out to 6.7.
Fine Grind
With a fine grind, you can really pack more material into the Pax 3 oven, but the draw resistance is dramatically increased. Packing too tightly with a fine grind dramatically increases draw resistance. The VQPH of the fine grind averaged out to 7.6.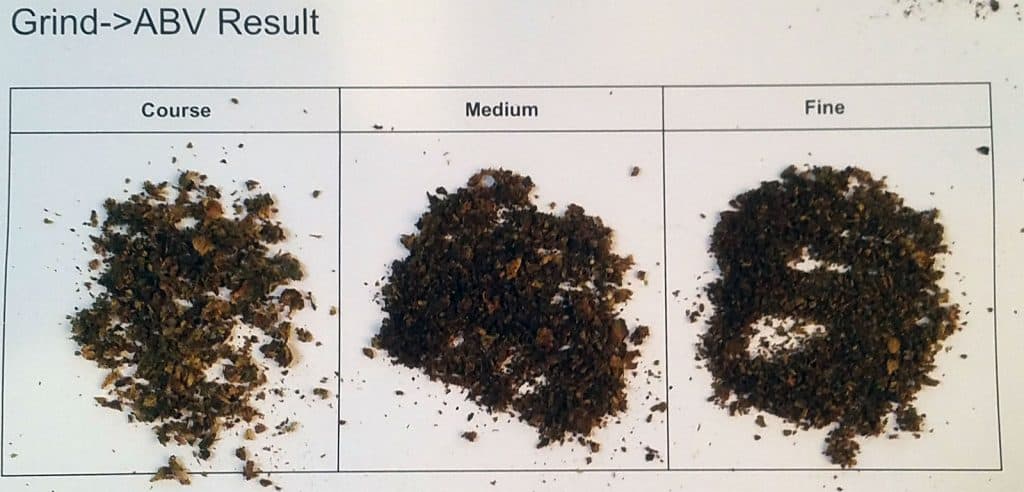 Conclusion
Although the course grind started off very flavorful, it performed the worst out of the three. The fine grind produced the best vapor overall, but the added draw resistance made it the vaping experience less enjoyable.
My favorite is the medium grind with the Santa Cruz Shredder, as it provided the best balance between airflow and flavor.
Let us know which grind you prefer with your Pax 3 in a comment below. Thank you for checking out our guide.