Why Choosing the Right Dab Thermometer Matters
Dab rig thermometers are specially designed temperature sensors with customizable alerts. These high-tech cannabis smoking accessories make dabbing easier and more accessible. There are currently only a handful of thermometers for dabs on the market and each offers a unique approach.
These are game-changers! Get the PERFECT DAB TEMP every time with a dab rig temperature gauge.
Dabrite Pro & Dabrite Thermometer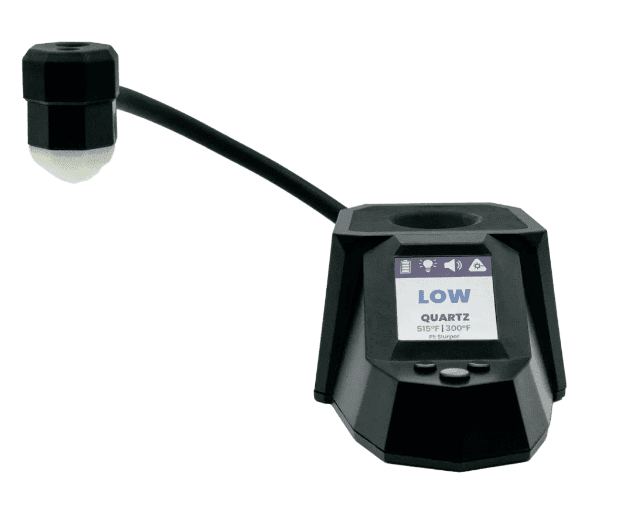 The Dabrite came out in January of 2021 and almost immediately set the standard for dabbers looking to perfect their dab temps.
The Dabrite uses a non-contact thermal sensor on a long flexible neck that can be positioned practically anywhere. I freaking LOVE my Dabrite and would replace it IMMEDIATELY if I ever lost it.
Terpometer V1 w/Dab Tool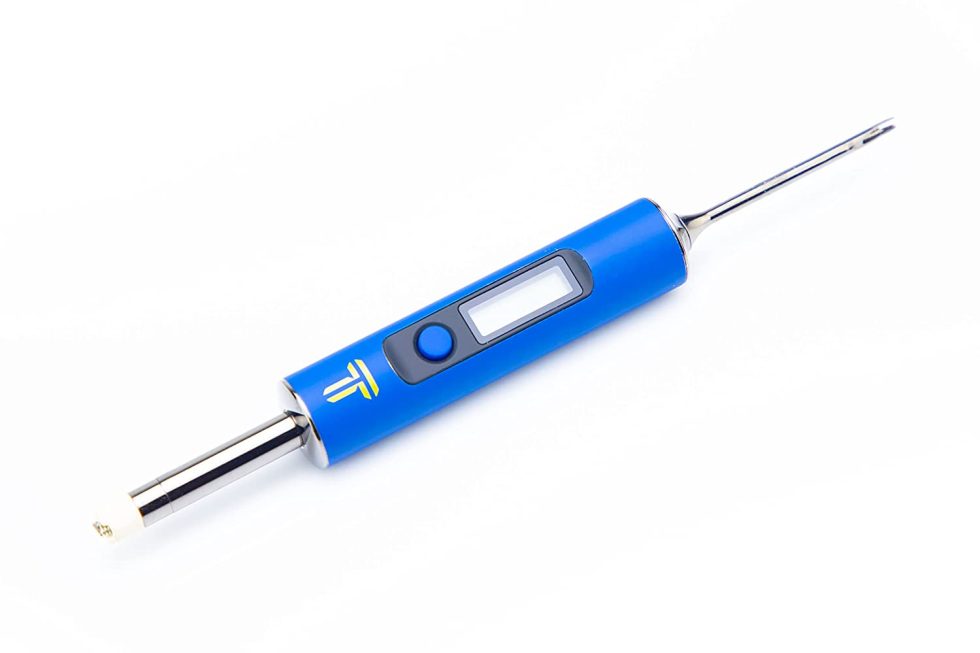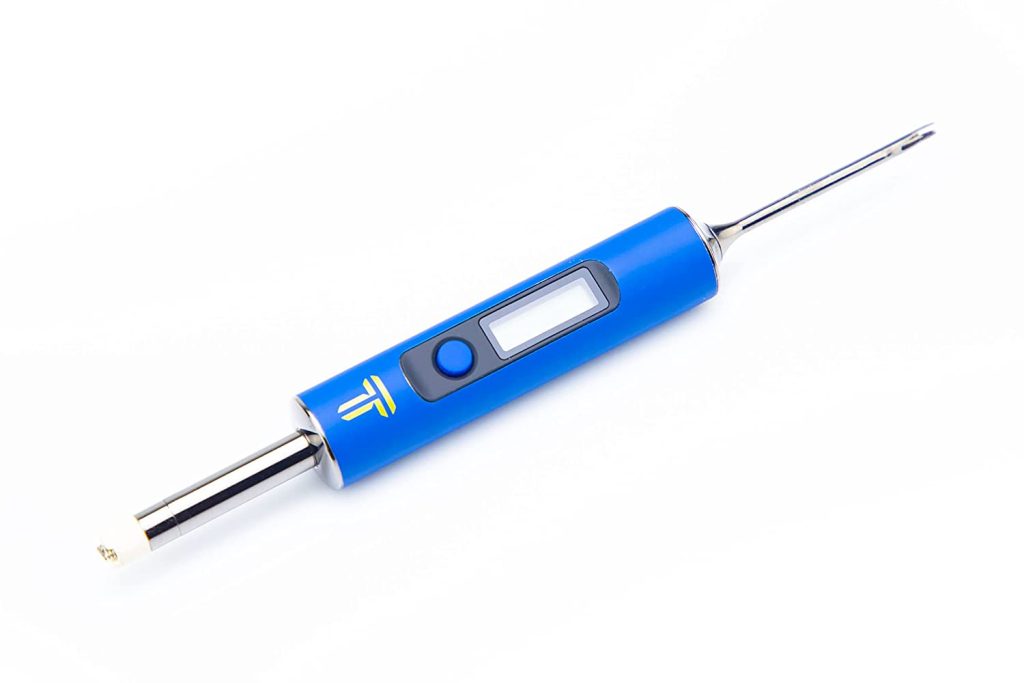 The Terpometer (v1) came out in November 2020. It's a dab tool with a built-in thermometer. The V1 Terpometer relies on full contact with your hot banger, which isn't quite as easy or graceful as the touch-free infrared thermometers.
Use code VAPEZONE to save 20% off at Terpometer. The Terpometer Dab Tool is also available on Amazon
Temp Tech Dab Thermometer v.2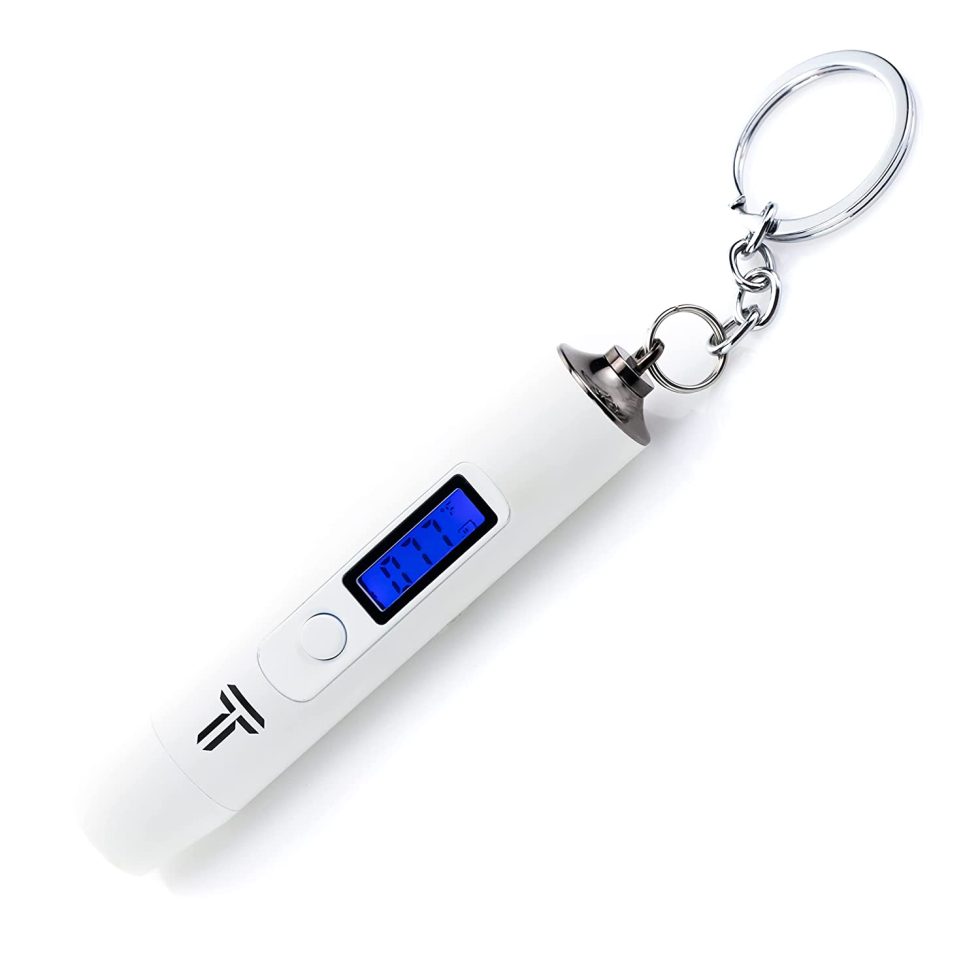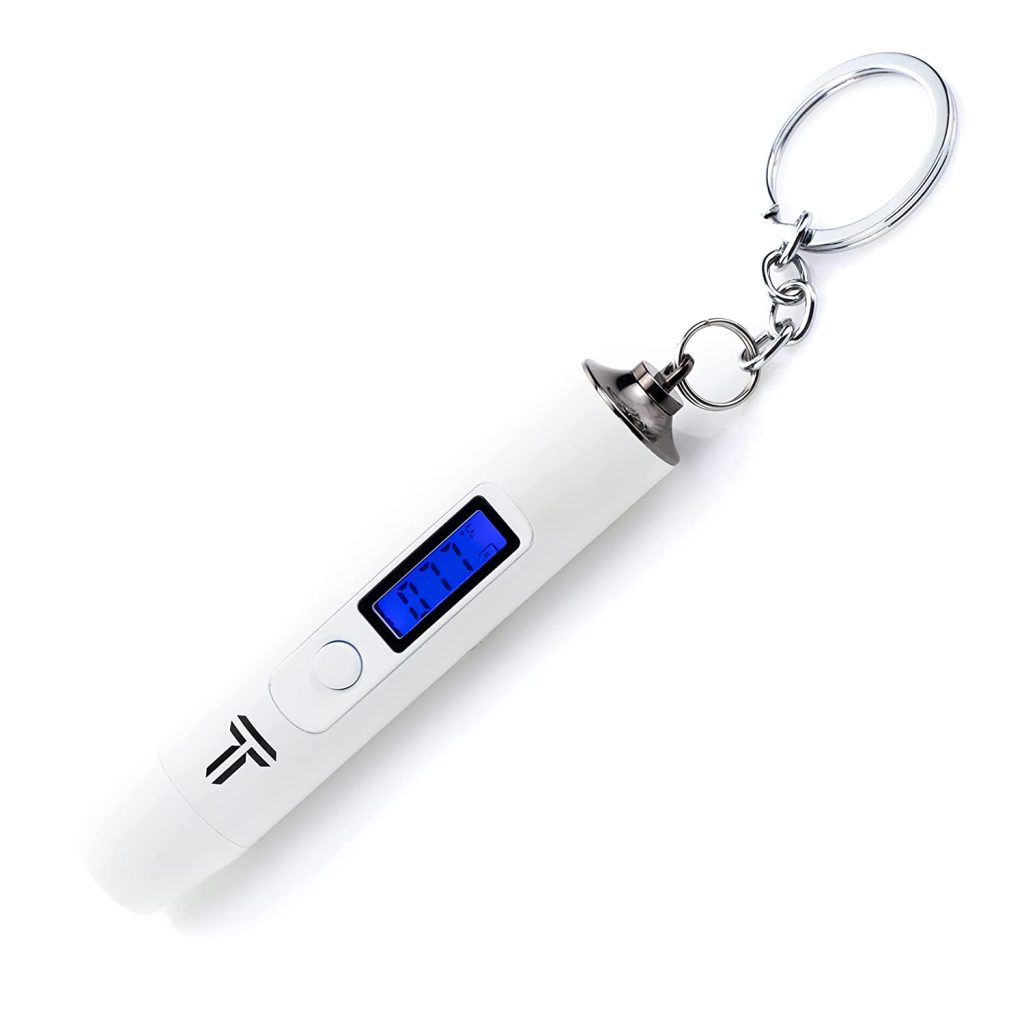 Terpometer 2.0 Dab ThermometerTemp Tech was the first dab thermometer to hit the market way back in 2018. Their temperature sensor sat under your dab rig and banger in a 3d printed housing.
The Temp Tech has since been updated to use an IR thermal sensor on a flexible neck. The Temp Tech is one of the OGs, if not THE OG.
Dabrite VS Terpometer
The Terpometer v1 is a full contact dab thermometer, requiring you to press and hold a temperature probe against your nail to measure the temp. With torch dabs, a hot quartz banger will stay hot for more than a minute, which is a long window of time to be holding a probe against your dab rig.
The Dab Rite is infrared and doesn't require any contact. The thermal sensor is on a flexible neck that can be positioned precisely underneath or directly next to your banger – no matter how big or small your dab rig is.
In terms of ease of use and interface, the Dab Rite CRUSHES the Terpometer v1 and leaves it borderline useless in an abandoned Amazon shopping cart.
The updated Terpometer V2 uses non-contact IR like the DabRite, but comes in a basic keychain format that, oddly enough – still requires the user to hold and point at their dab rig. Terpometer v2 has an optional stand that can convert the interface to be more like the Dab Rite.
Meanwhile, DabRite has launched its PRO version, which includes several upgrades like banger profiles, multiple alarms, and a sesh light!
Current Winner: Dabrite and Dabrite Pro
Octave Terp Timer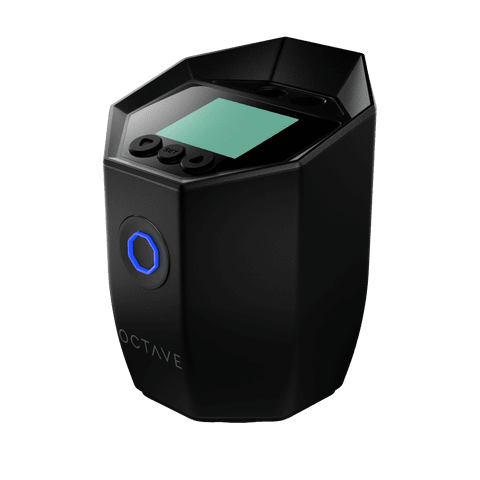 The Terp Timer came out in September of 2020 and is one of the more affordable dab thermometers. The Terp Timer doesn't have a fancy flexible head and may require some special configurations depending on your dab rig. It's only $119 on Amazon and it has a 10-year warranty! Also available on octavehightech.com
Terpometer (IR) Infrared Thermometer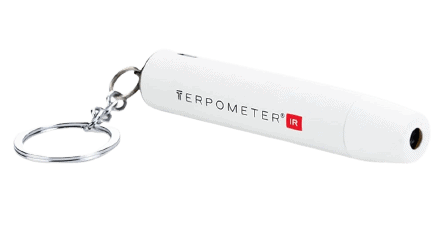 Released in 2022, the V2 Terpometer uses a non-contact infrared sensor to scan your banger temperature. The Terpometer IR starts in a portable keychain format that can be hand-held and pointed at any banger or nail. An optional stand adds a flexible neck with a cool multi-function base. I don't have the Terpometer IR yet, but I plan to review it as soon as possible.
The newest Terpometer is $180 on Amazon, or you can use coupon code VAPEZONE to save 20% at theterpometer.com.
There are no stand options for the IR Terpometer YET, they should be out soon.
Pocket Temper Dab Gauge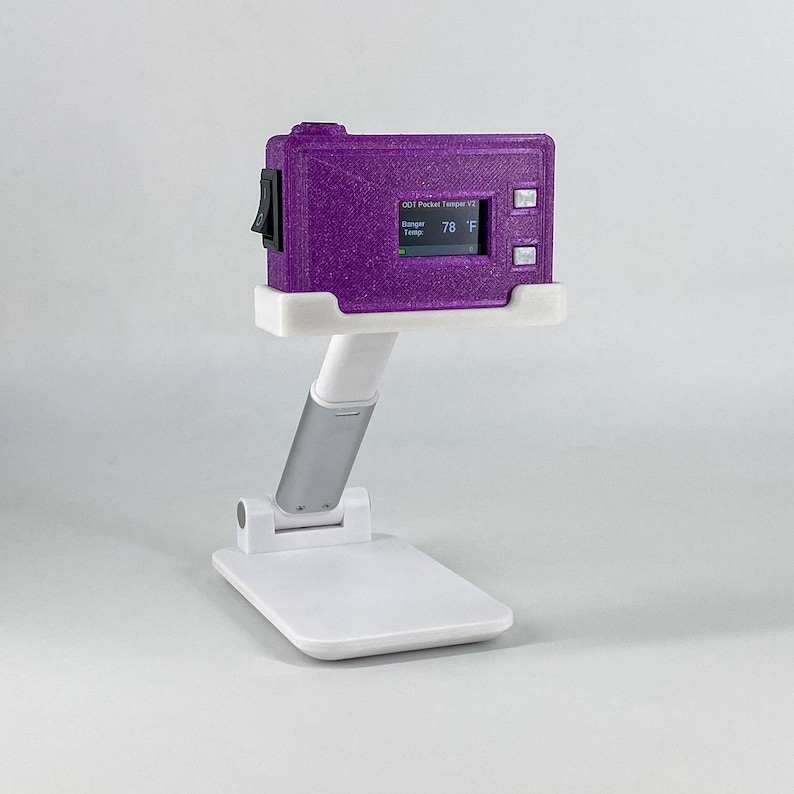 This Arduino-powered dab temp reader is handbuilt in a 3d printed housing and, quite appropriately, sold on Etsy.
I don't have any experience with this, but it's on its second version and it's been on the market for a year or so, and the reviews are super positive!
This one doesn't come with a stand, so you either need to make one yourself or buy another accessory.
Yellow IR Temp Gun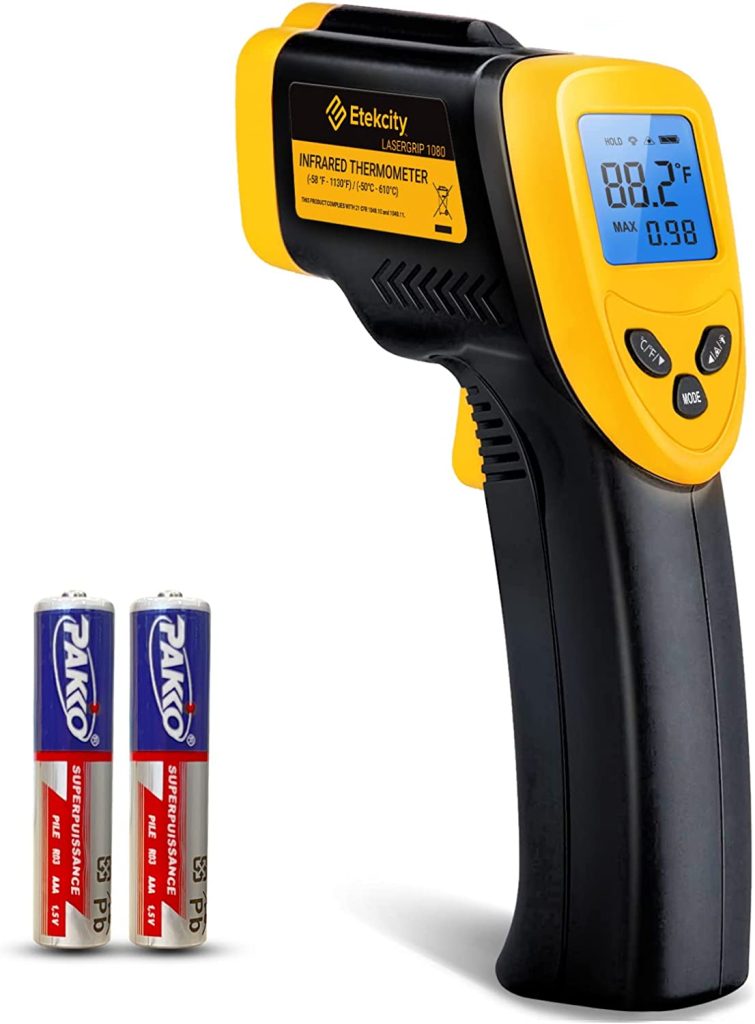 IR Thermometer – Some people will want to head to Harbor Freight and pick up a basic infrared thermometer to test the temperature of their dabs, but these can be inconsistent and unreliable.
Most of these basic devices use 5+ points of measurement spread out over 12+ inches and require several feet of distance – not ideal for dabbers.