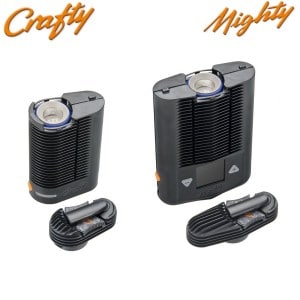 Here's a question that I see asked fairly often. Is the extra money worth it for the Mighty? Is it too big? I myself wrestled with these questions for a full year before finally seeing a deal too good to pass up. The Mighty is currently available for $296 at POTV.
Crafty – Battery-life Gets Bad
Before I talk about the Crafty's battery life, let me preface it by saying my Crafty was purchased June of 2016. Since then the Crafty has been upgraded to have 20% more battery life.
I've been using the Crafty almost every day since June of 2016. Unfortunately, the battery life has taken a nosedive. When I first bought the Crafty I was either getting 3 or 4 bowls per charge. A year and a half later and I'm down to 2 bowls per charge.
Whether you have a high tolerance and tend to medicate all throughout the day, or plan on going on an adventure… you might want a power bank. Luckily they're fairly cheap.
Crafty – Not As Compact As You Think
The size and price were what attracted me to the Crafty. Although I still enjoy using the Crafty… it's not as compact as you think. For starters, it doesn't have a display screen. Meaning if you want to know the battery life or adjust the temp you will need to bring your smartphone along. Your Crafty just got 50% larger (to unlock all the features).
Using the Crafty Everyday
Quick recap of what you can expect to carry with you when daily using the Crafty:
Your smartphone
Charging Cord
Case to hold everything… (in case you need help choosing a case – I like the burrito case!)
Is The Mighty Worth It?
After using the PotV code (S&B15) the Mighty comes out to $296 and the Crafty comes out to $237. The Crafty is $58.85 less than the Mighty. If you plan on using the Crafty every day, you're going to need a power bank ($10-$25) and a case ($20). That $58.85 difference suddenly shrinks down to only a $13.85-$28.85 difference.
So although the Mighty is roughly 28% taller and about 45% wider. In reality, the Mighty becomes far more convenient to deal with every day, and the price difference is not really as big as it first seems.
We Want to Hear From You!
Which vape did you end up going with? Which feature won you over vs the other? Seriously, nothing would make me happier than hearing from anyone who took the time to read the blog. Tag us on IG or Twitter (@420_vapezone) or if it's easier, leave a comment below.