Stainless steel is a much harder material than aluminum and is often considered a better option for herb grinders. Aluminum grinders often show signs of dulling teeth and other wear and tear that Stainless Steel grinders don't suffer from.
Vaporizer users are often more health-conscious with our cannabis consumption than smokers, that's why we vape instead of smoke. We care about what goes into our lungs, and we also care about what goes into our herb and how it's handled along the way. 
#1 Reason to use a Stainless Steel grinder instead Aluminum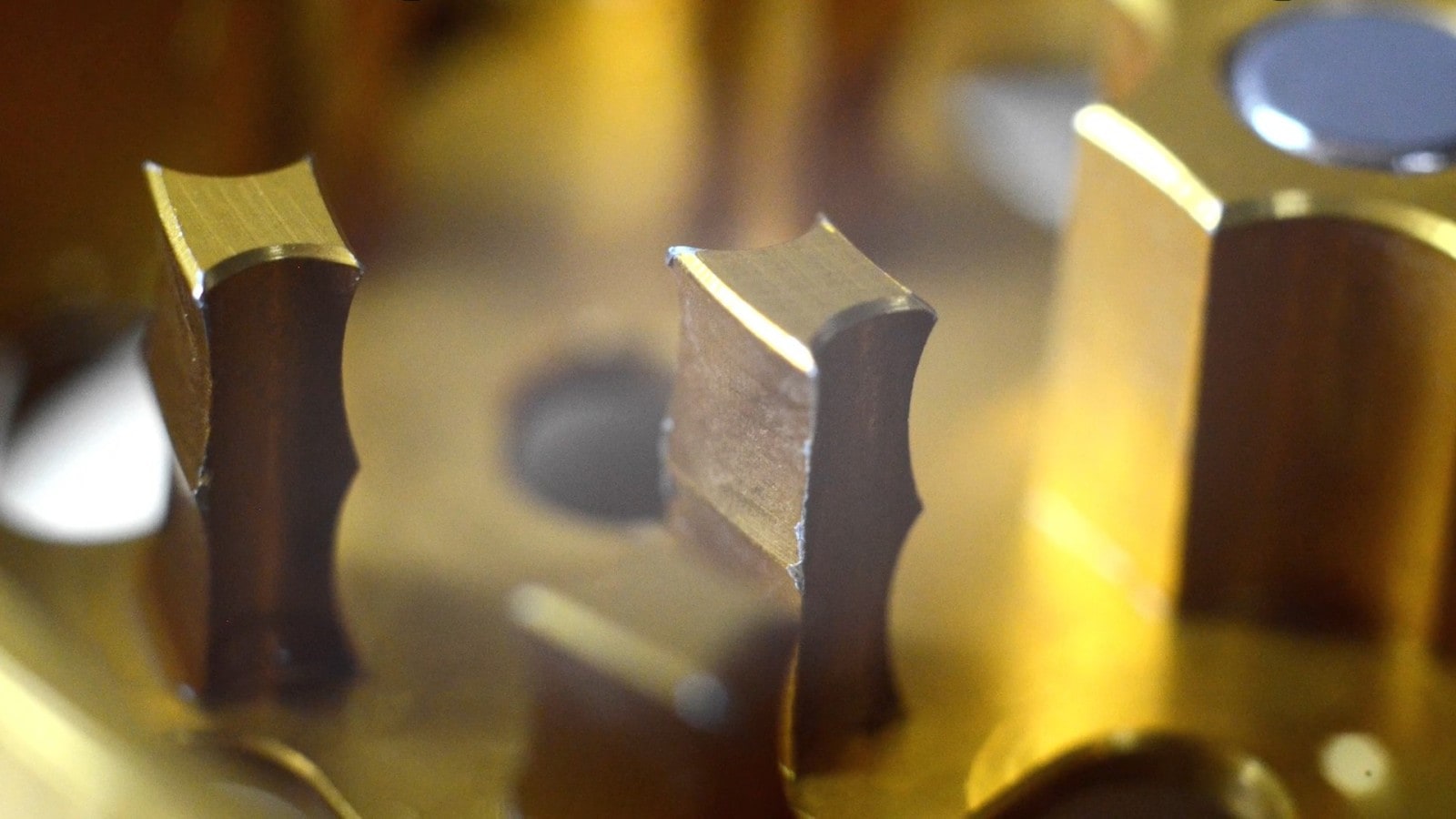 Aluminum is soft and malleable. Over time the teeth gradually become dull and lose their anodization. Some users have even found tiny flecks of aluminum in their ground up herb!
Pictured above is the Santa Cruz Shredder, an aluminum weed grinder, after several years of use.
Stainless Steel is Much More Durable than Aluminum
The teeth in a Stainless Steel grinder won't dull, dent, or chip over time as they do in an aluminum grinder. Stainless Steel is a much harder metal than the Aluminum alloys used in cheaper weed grinders.
The added durability of stainless applies to more than just the teeth, too. The threads and the exterior body of stainless grinders will withstand much more abuse than any aluminum grinder can handle.
Because Stainless Steel is harder, it also requires different tools and machines to mill. This, along with the actual cost of Stainless Steel,  is why stainless grinders are more expensive than soft aluminum grinders.
Stainless steel grinders are also more expensive than aluminum grinders.
Recommended Stainless Steel Herb Grinders
Here's a list of the best stainless steel grinders that I think are good enough to recommend.
Cheapest Stainless Grinder: The Odin 4 Piece Grinder
The Odin Grinder is a large grinder. It's 2.5 inches in diameter and rather basic. The Odin is a 4-piece grinder that can also operate as a 3-piece with the removal of the middle section.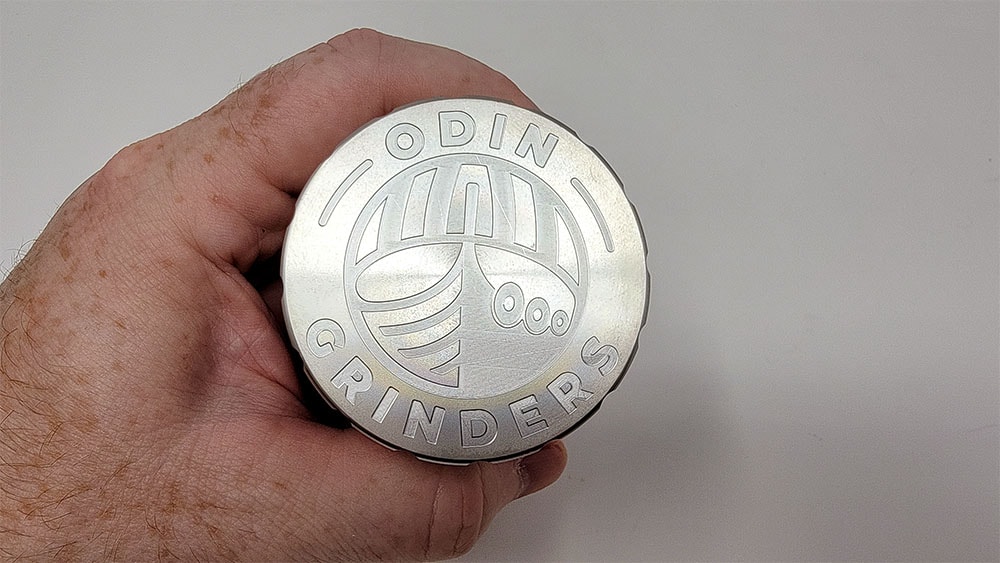 The Odin is a 4 piece grinder with a screen and kief separator, but like most 4 piece grinders it can easily be converted to a 3 piece by simply removing the screen section.

The Odin Grinder is the most basic Stainless Steel grinder available. It's simple and affordable with pretty standard features. It's not a thread-less grinder like many new weed grinders, the pieces still screw together using threaded pieces.
Stainless Teeth Stay Sharp Longer
The Odin grinder has pretty basic Z-shaped teeth and round holes for the herb to fall through. The grind consistency is medium, which is perfect for most vaporizers and smokers too.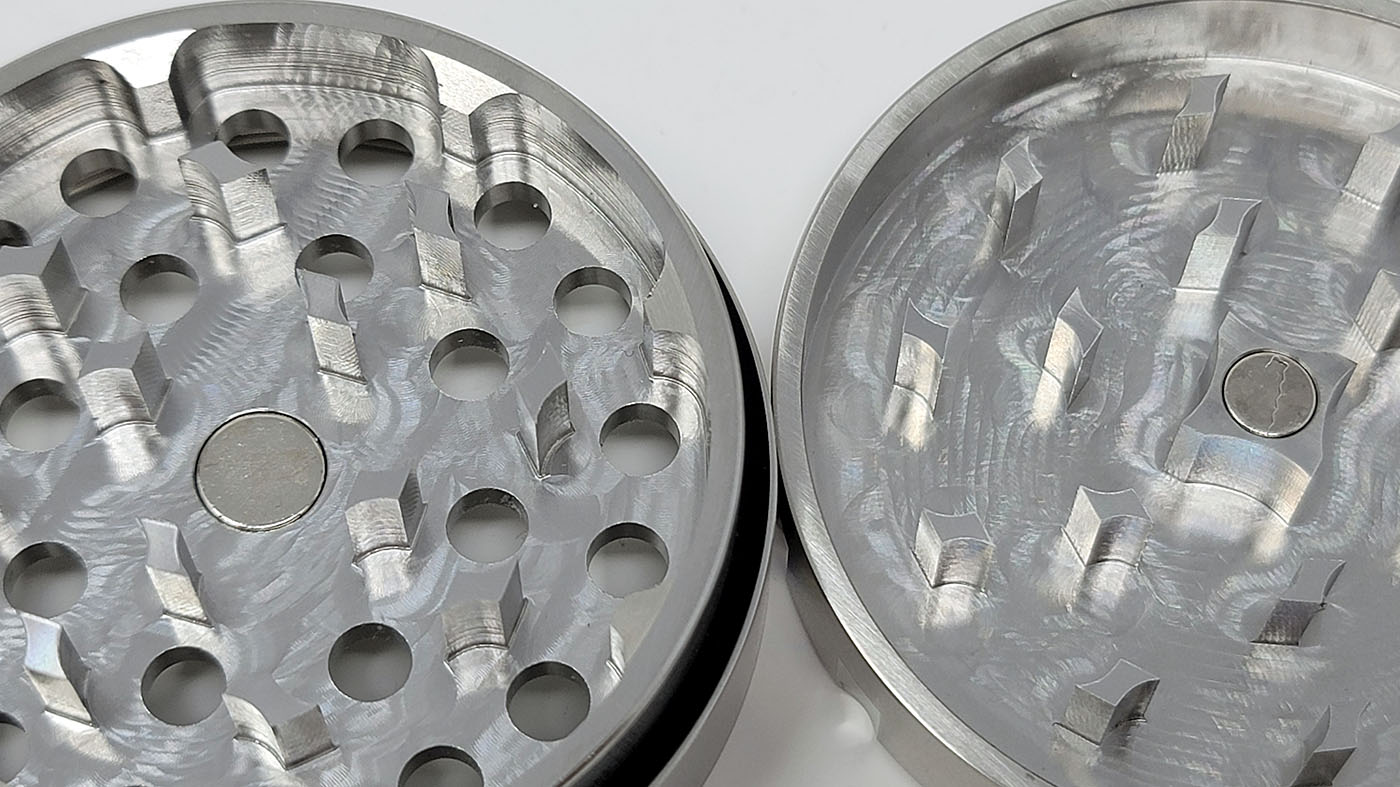 To Catch the Kief or Not to Catch the Kief
The Odin can be used as a 3-piece or a 4-piece, allowing you to use the screen and build up a collection of kief, or keep it all together and have a more potent herb.
While I prefer a 3-piece typically, I find that the Odin functions better as a 4-piece. The Kief catch threads just aren't as smooth as the main threads.
Also available in Gold Stainless Steel
The Gold Odin grinder is still Stainless Steel, but with a PVD coating that gives it a beautiful golden hue. I'm slightly concerned that the PVD coating could chip off and fall into my herb over time.
The Golden Odin is still only $79 and currently on sale for $59.
ZAM Stainless Steel Grinders
The ZAM Stainless Steel grinder is available in 3 different sizes: 1.8″, 2.1″, and 2.5″.
ZAM grinders are also a 4-piece design that can easily convert to a 3-piece.
The Original ZAM grinder is made out of Aluminum and is a tall and slender portable grinder. The Original ZAM is still available and considered a good grinder for pocket carry and usage with the Dynavap.
I'll have a full review of the Zam Stainless Steel grinder coming soon. Buy a ZAM Grinder in 3 different sizes, starting at $69 for the small and $129 for the Large.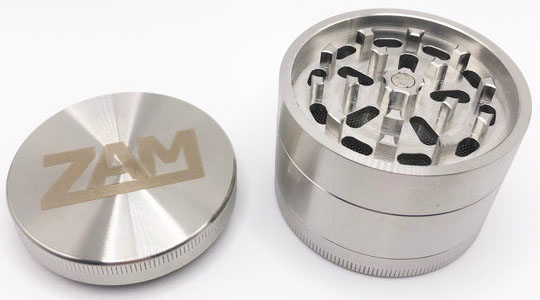 The Zam Stainless Steel grinders are popular and affordable. They offer 3 different sizes to accommodate your various weed grinder needs – a small one for travel and tuck-away usage, a large one for at-home users and daily smokers, and a medium one for those that can't decide and want the best of both worlds.
Brilliant Cut Grinder in Stainless Steel
The Brilliant Cut grinder is widely accepted as the absolute best weed grinder. The original Brilliant Cut was one of the first thread-less grinders available and set the bar for all other herb grinders to chase.
The Original Brilliant cut is Aluminum, but they've recently released a premium Stainless Steel version of their luxurious grinder.
The Stainless Steel Brilliant Cut offers the same buttery smooth operation as its anodized aluminum precursor, as well as a completely threadless design and faceted exterior.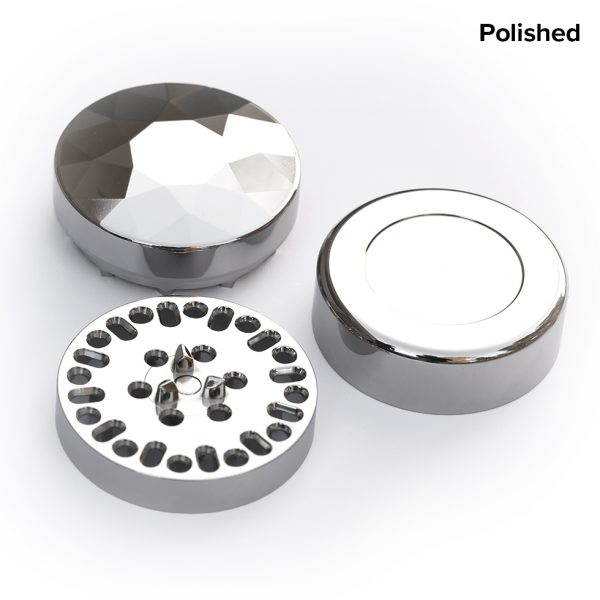 Polished or Matte Finish
The Stainless Steel BCG is available in a matte or polished finish. Unlike the Original Aluminum BCG, the bottom of the Stainless version is flat – not faceted.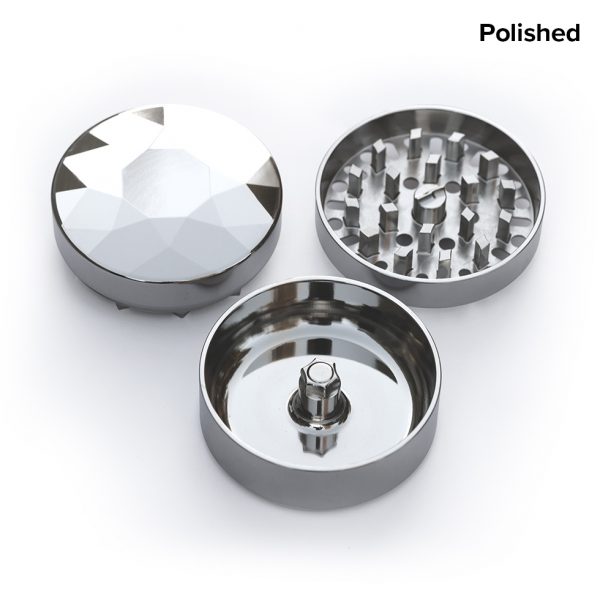 Nicest Grinder Available
Brilliant Cut Grinder is one of the nicest weed grinders available and is an absolute marvel to look at and a joy to hold and use.
The Brilliant Cut Grinder rarely goes on sale and they're often 3-6 weeks behind on orders. Good things come to those who wait and the Brilliant Cut is well worth waiting for.
They're made in Canada and ship directly from their factory.
Stainless Steel WITH BALL BEARINGS: Spinny and FUN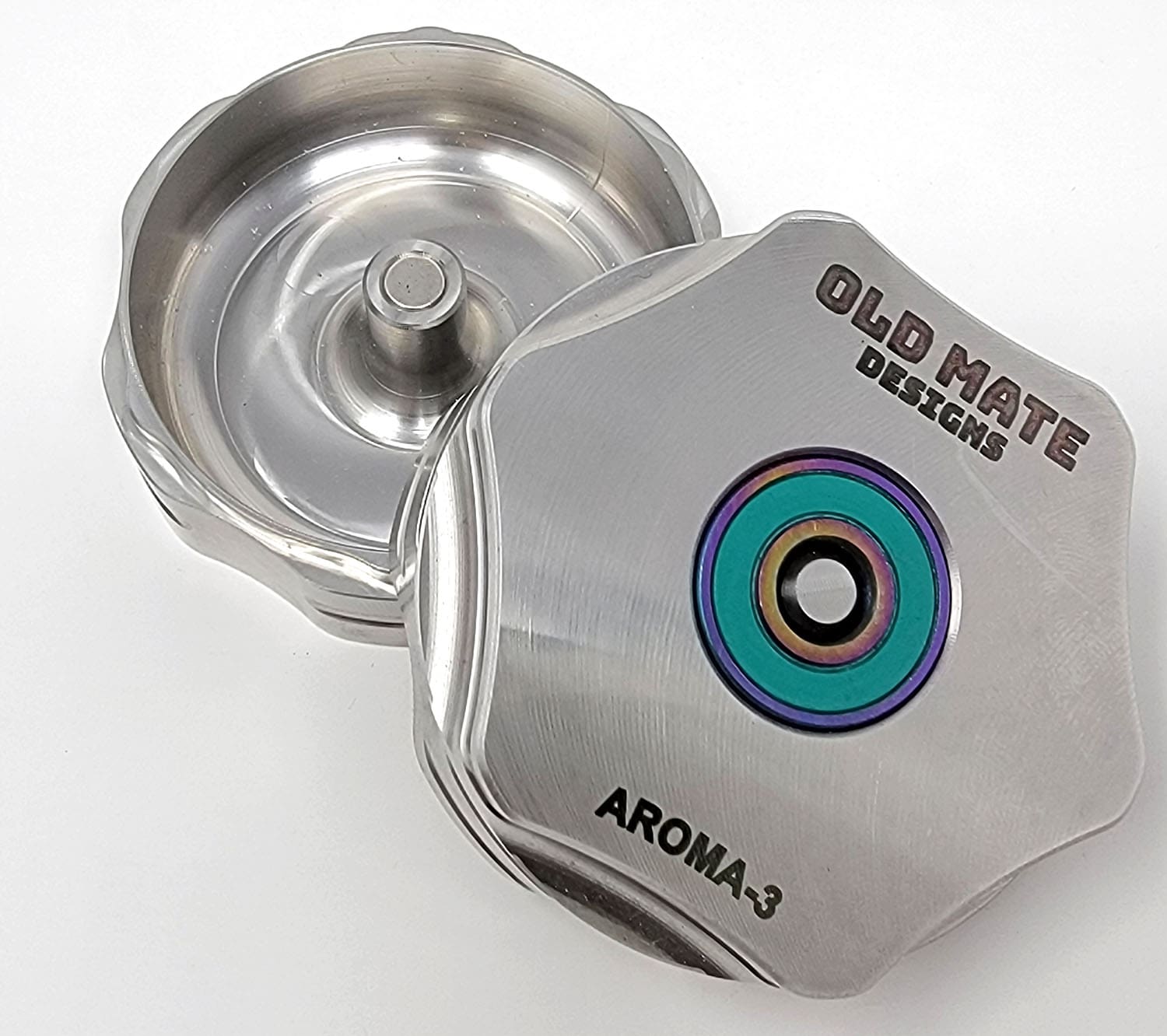 This grinder has a functional ball-bearing holding it's top-piece. There's no metal-on-metal contact around the teeth and the top teeth float in perfect alignment on its free-spinning ball-bearing.
The Aroma 3 grinder by Old Mate Designs is an Australian-made grinder with some really cool features.
It's a threadless design that opens with a gentle squeeze/pivot action to release the strong neodymium magnet. The 3-piece design is 100% stainless steel and the teeth are extremely sharp and capable.
My Aroma 3 grinder with PEEK bearings and nano-tech lubrication will spin for nearly 3 minutes.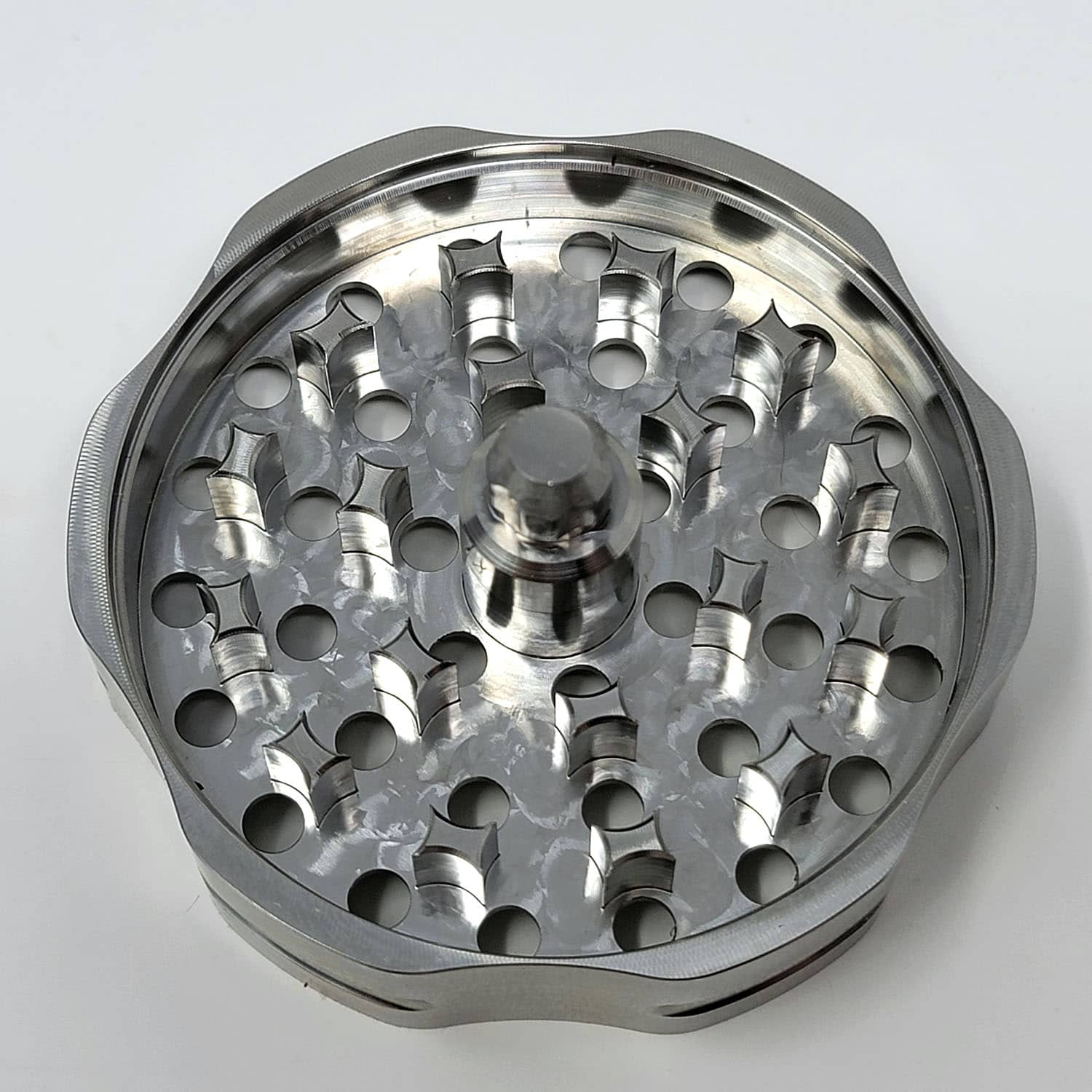 Functional Ball Bearing
The Ball Bearing is fully functional, in addition to being ridiculously fun.
The top half spins freely on the center post while grinding.  The teeth don't touch any other metal surface.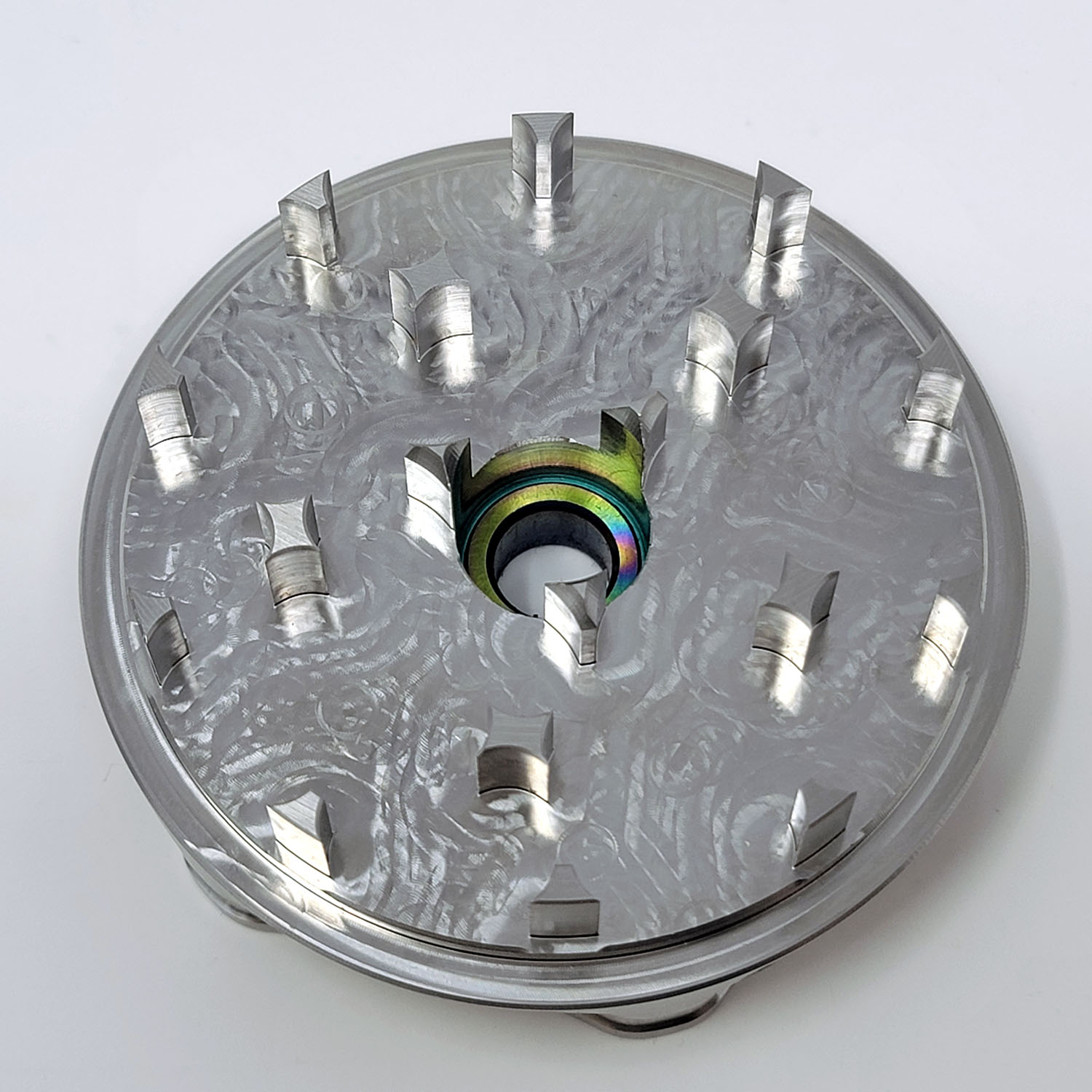 Super Sharp Teeth
The Top Teeth are viciously exposed when the grinder is open. They're extremely sharp and make fast work of even the stickiest nugs.
When the top spins freely, your grind is ready.
Old Mate Designs Aroma 3 WINS the REACH TEST
The Old Mate ball-bearing grinder quickly became a mainstay on my desk. It's incredibly fun and satisfying to spin and play with – and it functions great as a grinder.
Its teeth are super sharp and it grinds up super sticky nugs quickly and easily.
The threadless design is easy to open and close and the magnets are strong without being obnoxious.
My only minor complaint is the OMD Aroma 3 can send bits of kief and herb flying from the centrifugal force if I spin the top too fast while grinding. It's purely a 'user error' – but spinning the top freely is hard to resist.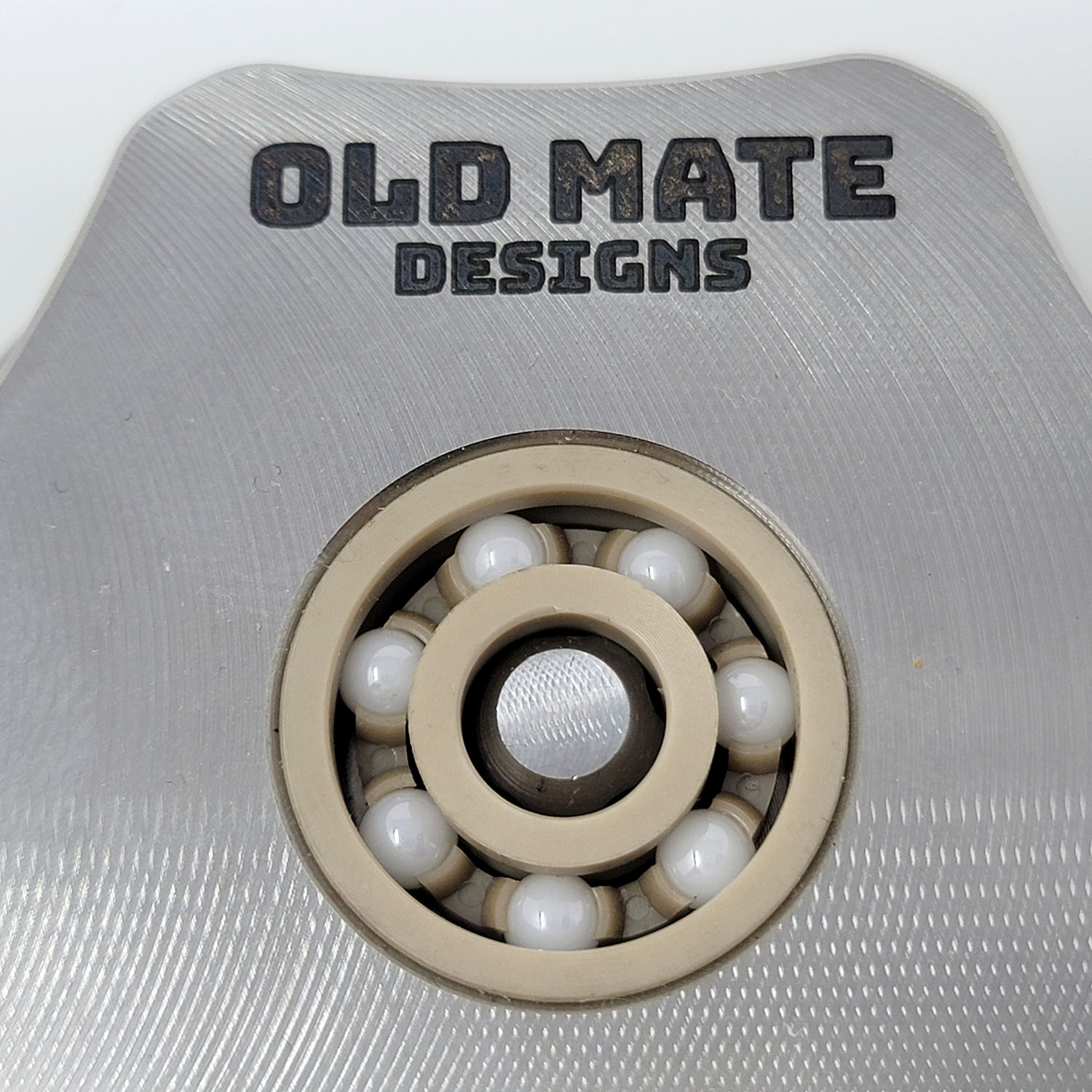 The newest version of the Aroma 3 uses  PEEK ball bearings instead of stainless steel. These bearings are nano-tech lubricated and will spin for nearly THREE MINUTES.
It's not a Gimick. It's GREAT
Not only is this grinder sharp and durable stainless steel, it's also incredibly fun and easy to use.
It's amusing and pleasurable to grind and use. The free spinning top of this grinder is FUN and FUNCTIONAL.
The fidget-spinner element of this grinder is great. At first glance, I thought it would be gimmicky, but it has provided my ADHD brain with many benefits.
The Aroma 3 stainless steel grinder from Old Mate Designs will remain on my desk and serve as my primary grinder.
Herb Ripper Stainless Steel Grinder
The American-made Herb Ripper is one of the original Stainless Steel weed grinders. It's gone through several major revisions over the years and continues to get better and better with each iteration.
In 2019 I personally helped the Herb Ripper test several different finishes to determine which surface performs the best.
Testing and reviewing weed grinders is part of my job and I'm always happy to help other passionate makers in the cannabis space.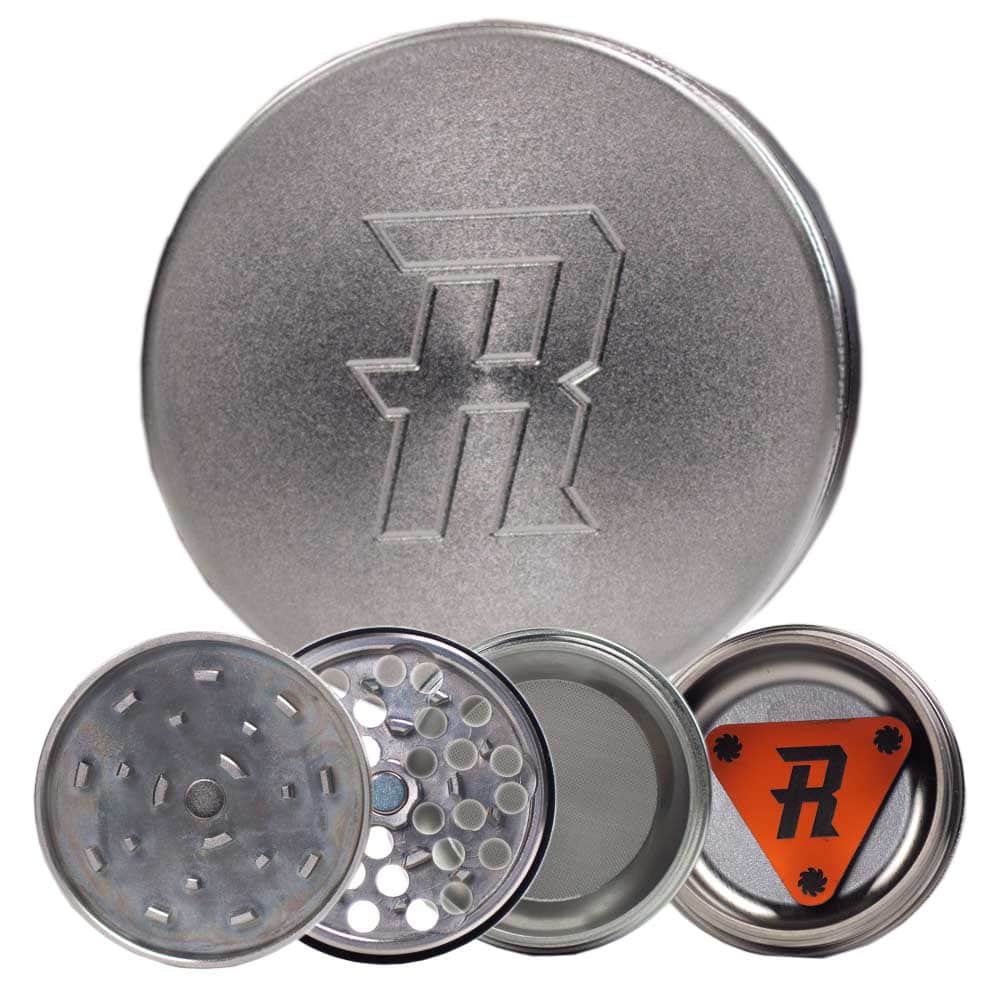 Why Herb Ripper is a Great Grinder
The Herb Ripper is made in-house by a small family-owned operation. The designer is a cannabis user who set out to make a better weed grinder many years ago, and he's still focused on improving.
The Herb Ripper uses high-quality stainless steel and has a thinner, sharper tooth design that produces a nice medium grind.
It's a threaded grinder, but the threads are 1/4 "firemen" threads. It's super quick to open and doesn't require any excessive motion or energy.
The Herb Ripper is a 4-piece grinder. The included orange kief scraper is a badass triangular guitar pick with the R logo.
Which Stainless Steel Grinder is BEST?
These grinders are considered the best stainless steel grinders available and they are all high-quality and worth recommending. The best aluminum grinder is the Brilliant Cut, so it may seem natural that the Stainless Steel Brilliant Cut inherits the title in the stainless category. 
The Brilliant Cut Stainless grinder with a polished finish delivers the nicest grinding experience out of all the stainless steel grinders, although the wait is long and they're currently not even offering pre-ordering of the polished version. $135 for the matte version is asking a lot, considering the bottom is flat and it's a matte finish and a LARGE Brilliant Cut (Aluminum) is only $110. I *really* like the Large Aluminum Brilliant cut and I'm bothered that the Stainless Steel version has a flat bottom instead of the signature gem cut pattern. The dual-sided faceted gem-cut is one of the characteristics that make the Brilliant Cut Grinder so special, but the stainless version only has the gem-cut pattern on the top half.
Both the Odin and ZAM stainless steel grinders are perfectly good high-quality grinders, just without any frills or fancy features. They're affordable, but they're not cheap. 
After using the Odin for several months, I have absolutely zero complaints. It's a perfectly good enough stainless steel grinder.
The Old Mate Designs Aroma 3 wins my reach test and I'm in love with it, but it's not perfect and it's not for everyone. The ball-bearing top is super fun and it's a functional part of the grinder's smooth interface, but it's also susceptible to dirt and debris.  After testing my grinder for several months, it still turns freely enough to be fun, but it's nowhere near as fast and smooth as it was when it was new.
The Aroma 3 ball-bearing grinder also presents a few unique problems! The spinning top can easily fling kief and other small weedy particles flying if you spin the grinder too fast as you're grinding up your nugs.  The fast-spinning top also makes the grinder more challenging to hold and carry compared to other grinders. The top turns very easily and it's caused at least a dozen drops as I've shared it with friends. The stainless steel shows no signs of damage from any of the drops though!
What about the Flower Mill Grinder?
The Flower Mill uses stainless steel grind plates and is a toothless grinder.  I find the whole toothless grinder a bit gimmicky, but it certainly works better with certain types of weed.
Moist sticky nugs tend to tumble and smear until forcefully smooshing the Flower Mill together hard enough to crush them. Dryer nugs tend to break apart nicely.
Toothless grinders aren't my favorite. I've compared the difference under a microscope and the differences aren't easily discernible.