June 1, 2019
The Firewood 6 has been announced and the Firewood 5 is now officially discontinued!
The Firewood 5 is the latest hand-made dry herb vape from Marc over at Firewood Vapes.  The Firewood 5 is dry herb vaporizer with simple push-button controls and an on-demand convection heater. Hold the button, take your hit, put it away or pass it to the left.
This dry herb vape has several upgrades over the Firewood 4:
Firewood 5 is truly on-demand
Easy to load, no more tiny capsules
5 bowl dosing tray
new exotic woods
Firewood 5 Review Video
ONLY at FirewoodVapes
Firewood 5 Features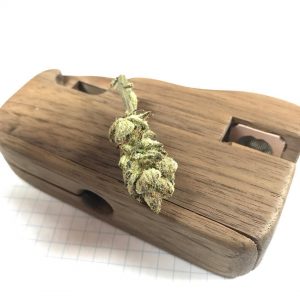 On-Demand Vaporizer – Press the button 2-4 times to choose your temp and then hold the button down to start taking your hit. You're always 5 seconds away from vapor with the Firewood 5. I like to feel for the button and set my temp while the vape is still in my pocket. It's perfect for vaping weed inconspicuously in public.
Removable 18650 Battery – This is a big win for a dry herb vape. Having an extra battery or two always ready means this vape never dies! The bottom portion with the mouthpiece detaches to reveal the removable battery.
Full Convection Vapor – The Firewood 5 heater doesn't heat up until you push the button and your material doesn't start cooking until you take your draw. This provides the purest tasting vapor while also being incredibly efficient!
5-Dose Dry Herb Loading Tray – The ceramic dosing tray holds 5 individual little bowls of dry herb or cannabis. The tray itself is moved in and out of the Firewood 5 to position the selected bowl under the heater. There are small marks on the tray to assist with alignment.
Vapor Taste & Quality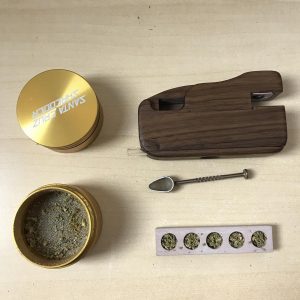 The vapor from the Firewood 5 is very good! The draw feels open with minimal restriction and the vapor has a very pure and clean taste. The long vapor path consists of glass, wood and ceramic cool the vapor and add a slight wooden undertone to the vapor.
The Firewood 5 has three heat settings and each is customizable. With higher heat and a slow steady draw speed, the Firewood 5 can fully extract .05g of cannabis in a single, rich and tasty hit. #drinkyourmilk
Carrying & Sharing
The Firewood 5 is a great conversation piece. If you're tokin' up with other stoners chances are you're going to get called out and questioned. With minimal instructions needed any new user should be able to get a great hit without any prior experience.
The vape itself carries exceptionally well in the pocket. It's less than 1″ thick and flat so you don't even feel it in your front pocket. Plus with its 5-bowl dosing tray, you don't need to carry a grinder or additional weed.
Firewood 5 Dislikes
There's not a lot to hate on for this vape. It's a hand-made functional piece of art and I have to give it more respect than the mass-produced vapes that normally cross my bench. That said, here are the complaints I've heard:
Bowls are too small. Yeah but there's 5 of them. .05-.9g seems to be the right amount of dry herb per bowl.
Ceramic tray gets hot. That's because I just vaped 4 bowls in a row. If you plan to marathon session this thing, expect it to be hot.
It looks like a stapler. And then? A wooden stapler that vapes weed. Fuck yeah that's my kind of stapler.
No micro-USB charging port. Ok, I can kinda get this one. There have been times where I needed to charge but didn't have a 18650 or a 18650 charger handy. I also like the simplicity of the design and wouldn't want to negatively affect that.
Firewood 5 VS Other On Demand Vapes
There are several great on-demand dry herb vapes available now. The Firewood 5 is currently my favorite on-demand vaporizer to carry. Five micro bowls are extremely convenient to carry and the Firewood 5 is the easiest and most reliable on-demand vape I own.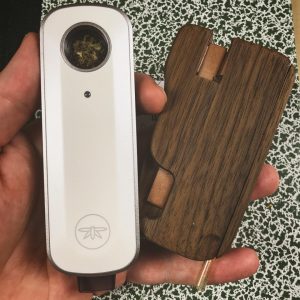 Firewood 5 vs Firefly 2
A lot of people are asking for this comparison. The Firefly 2 has more potent and flavorful vapor, but the bowl is nearly twice the size of the Firewood 5. The Firefly 2 wins on flavor but loses its ass on convenience and carry-ability.
My Firefly 2 has been shelved for months and the Firewood 5 is always in my pocket.
The Firefly 2 is also $100 more than the Firewood 5.
Firewood 5 Review: Final Thoughts
I loved the Firewood 4 and carried it often. The Firewood 5 captures that same charm and woody charisma that the FW4 won me over with, but it also adds more power and more capabilities.
The Firewood 5 is a serious dry herb vape with some amazing abilities. It's made by a dude in his garage and it's curb-stomping vapes with millions of dollars of backing.
At $224 I consider the Firewood 5 the best on-demand vape on the market.
It's ONLY available at Firewoodvapes.com, starting at $224 for the Walnut and going up for the more exotic woods.
The links on this page are affiliate links. Thank you for supporting 420vapezone.
Summary
Reviewer
Review Date
Reviewed Item
Author Rating