Video Chapters:

00:40 – This is my job
I review weed stuff
01:49 – Brilliant Cut Sponsorship
02:46 == Baseline B-Rod hit @ 711F
05:00 – Removing balls from B-rod
06:00 – Difference between balls / no balls
07:00 == V-rod (no balls) hit @711F
08:00 – Preheating Flowerpot Bowls
09:50 – DC Elev8r intro
11:00 – Elev8r Coil / PID Compatibility
11:50 – Elev8r @ 606F
12:30 – Exorcism
13:10 – Flowerpot in Freezer
15:20 – New Baller Head Assembly
16:20 – Loose Ball Incident
17:50 – One. Ball. At. A. Time.
18:30 – Queen of the Balls
20:10 – Ball Tongue
21:40 – Elev8r Combustion Whoopsie
22:50 – Scared of Baller 711
24:00 – Blackened Elev8r Bowl
25:20 – HOT BALL DANGERSSSSSSSSS
28:20 == Baller Head @ 711F
29:50 – The Demons are bac k
31:30 – Nomad II Preview
33:00 – 2nd Bowl in Baller
(for science)
34:30 – Pulling out early
Double Sneezes
36:00 – SSV43 / DCE
37:20 – Why Balls Matter
38:30 – Getting high 2x, Eat ABV
40:00 – I Still Owe a Dab
41:XX – Baller Head + Double Decker
= Hardest Hit I've Ever Had
Cannabis Hardware, formerly NewVape, has released a major update to its heavy-hitting line of desktop enail vaporizers.
The bleeding edge of vaporizer development is currently round – as in balls. While traditional heater technologies fail under a high-speed inhale, ball vapes are known for producing thick tasty vapor with even the fastest and hardest draws.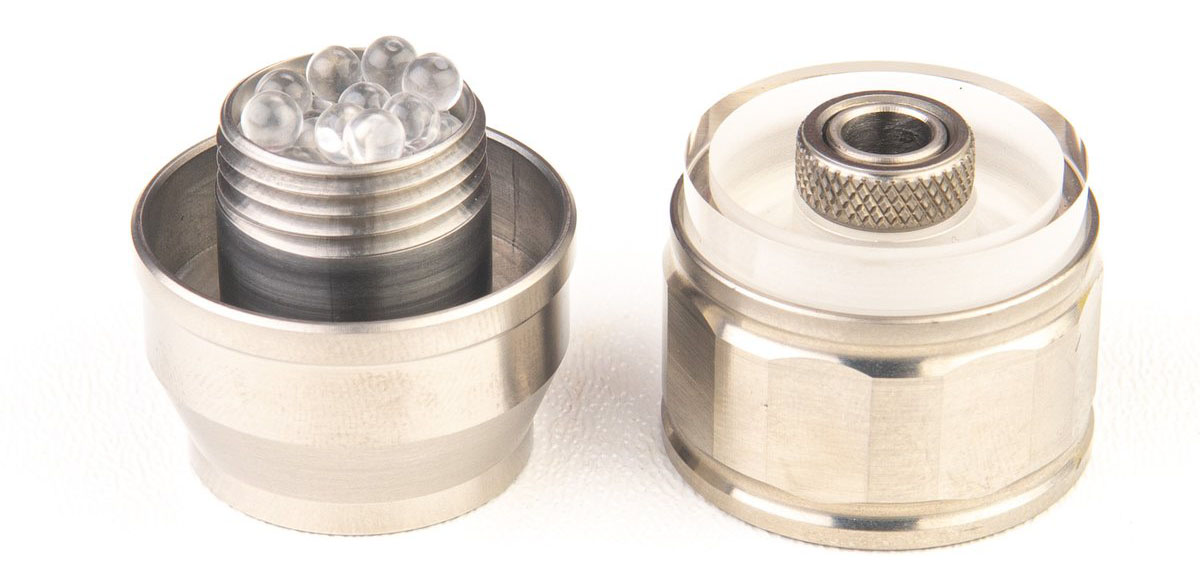 A few months ago 420vapezone community member Joey JXJS created the B-rod mod by filling his Flowerpot V-rod with 3mm rubies. It unleashed a new potential power from within the Flowerpot's core and the modification became popular almost overnight.
Edwyn over at Cannabis Hardware has been busy!
Upon seeing the b-rod mod that people were doing to their Flowerpots, Cannabis Hardware got busy doing it even better. They made a hollowed-out head that will hold even more balls.
This new head holds 60+ 4mm balls and performs similarly to the SSV43 – the hardest-hitting dry herb vape in existence.
They've rolled out a new Prototypes section of their store and they're selling prototypes at a 30% discount.
Flowerpot Baller Head vs V-rod vs B-rod mod
As seen in the video, the Flowerpot Baller Head is significantly more powerful than both the V-rod and the B-rod modded Flowerpot heads. The addition of balls dramatically increases the amount of convection power at faster inhalation speeds, which means more vapor and more extraction.
The original V-rod is very capable of producing thick vapor from dry herb, but requires a moderate draw speed. Inhaling fast will overpower the thermal release capabilities of the V-rod heater.
With the addition of balls to the V-rod, performance is increased on faster and harder inhales due to the increased thermal surface area of the heater. The balls form a mesh network, each coming in contact with the heater and other balls, to increase the thermal potential and the available surface area.
The B-rod mod only holds 15 balls though. The full Baller Head holds about 75 – and the difference in performance feels like it went from 15 to 75.
Flowerpot Baller vs DC Elev8r & Other ball vapes
The Elev8r is a glass/quartz nipple vape from Elev8 (formerly 7th Floor Vapes). It's natively driven by a torch and originally came with a WPA-style bowl and a handheld bowl.
Thanks to the rise of the ball vapes and support from Scott over at Vgoodiez, the Elev8r has been ball-modded and converted into an enail coil heated dry herb vape – the DC Elev8r.
The DCE has been the hardest-hitting vape on the market since the Terp Torch has ceased production.
The DCE reaches a level of performance that increases as draw speed increases. Comparing these devices is challenging and subjective, because my draw length and intensity may be different than yours.
Ball to ball (hah) – the convection power of the two vapes is likely very similar. But the Flowerpot bowl is Titanium and it gets hot very quickly – resulting in conductive heat transfer and a hybrid vaporization experience.
More testing is needed – but right now the Baller Head hits harder than the DC Elev8r, without even dipping into the double-decker dabs.
The DC Elev8r has a taste advantage and a price advantage over the Flowerpot, but it's also significantly less refined and more of a hacker vape.