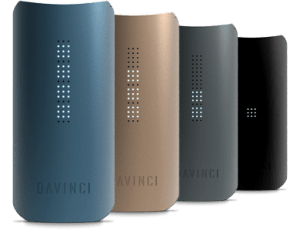 Davinci came out of nowhere in September and announced a complete rebrand and a NEW cannabis vaporizer.
The Davinci IQ promises to be the "world's best little vaporizer with best-in-class battery life" – that's a pretty big promise! Following the smartphone app trend, the IQ will also have a dedicated app and bluetooth connectivity. The airpath is 100% ceramic and the unit is powered by a removable 18650 battery (3500mAh).
The Davinci IQ boasts precision temperature control, a whopping 10 year warranty, and 23 second heat up time. It's a dedicated conduction heated dry herb vaporizer with no mention of concentrates. The herb chamber is 1500 micro-liters… which is apparently up to .4g.
The IQ is available in four colors: Stealth (black), Gunmetal (silver), Copper, Blue. The outer material is sandblasted anodized aluminum.
Each unit ships with:
– 10 year warranty
– one 18650 rechargeable battery (3500mAh)
– a micro-usb cable
– a flavor chamber
– 10mm water pipe adapter
– 2x Davinci Tool
– Davinci tool keychain
– cleaning kit