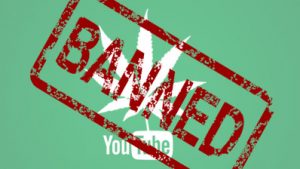 As of Monday, May 8th, 2018 – Youtube has banned my account of 10,877 subscribers. All 88 videos and 1.5 million views have been deleted. This has been part of a major anti-cannabis sweep.
I'd like to formally thank everyone who subscribed and supported the channel. The outreach from fans has been eye-opening and overwhelming.
This is by no means an end. This is just the start.
How To Subscribe
If you would like to be notified every time a new video gets published ->  SUBSCRIBE.
My video collection and weed vape reviews are currently being uploaded to my site where you can watch the 420 Vape Zone videos.
One Request
Please help get the word out that 420vapezone is still here. Tell a friend or two! Tell your social media followers! Open a window and yell, "I'm mad as hell and I'm not going to take it anymore!" Okay, maybe not the last one, but seriously any help in getting the word out would be tremendously appreciated.
Please stay in touch! I read all DMs, comments, and tweets like I did my YouTube comments:
Follow @420vapezone | Facebook | Twitter | Instagram |
I want to thank each and everyone of you from the bottom of my heart for your continued support and for all the positive energy!