As the grip of prohibition slips from the throat of medical marijuana. Australians celebrate their victory Wednesday as their parliament voted to legalize medical marijuana.
This victory in Australia is another example of how grassroots organizations can get the truth out there to their neighbors, community leaders, and politicians. One of the groups whom championed the cause of medicinal marijuana within Australia is United in Compassion. The organization started by Lucy Haslam after her son passed away from cancer at only 25. Lucy's son Daniel used medical marijuana to ease the nausea and pain caused by the chemo.
Australian Senator Richard Di Natale tells Daniel's story, and how medical marijuana helped eliminate the negative effects of the chemotherapy.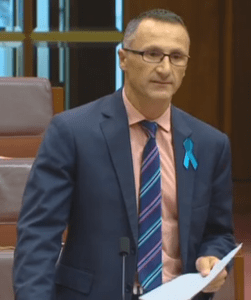 Senator Richard's Tribute to Dan and Lucy Haslam
"The effects were profound.. the nausea settled, he had more of an apatite, and it helped to give him some quality of life in those final few years. Today marks 1 year since Dan's passing… so it is incredibly fitting that we're here, today, marking the passage of this bill. Standing in support of legislation that Daniel and his family helped to drive forward."
Full Tribute:
Dan Haslam was 20 years old when he was diagnosed with stage 4 bowel cancer. He had everything ahead of him. Dan went through hell. He spent years enduring chemotherapy that made him nauseous, he lost weight, he was unable to eat. Dan developed something called 'anticipatory nausea.' That's when just the thought of going in and getting chemo was enough to give him nausea. He was so unwell, he lost so much weight that it appeared that the chemotherapy would be no longer be used. Then quite by accident Dan's family found out about medicinal cannabis, and like any desperate parents they did what they could and the effects were profound. His nausea settled and he regained some quality of life in those final few years. Today is one year since Dan's passing. It is incredibly fitting that today we are passing this Bill which is one step towards making medicinal cannabis accessible to people like Dan. Thank you to Lucy for everything you have done. Please know that your family's grief, pain and suffering has not been in vain and this is a legacy that Dan will leave here in Parliament.

Posted by Senator Richard Di Natale on Tuesday, February 23, 2016
As people across the world see time and time again their loved ones, pastors, and friends experience the miraculous benefits of medical marijuana. Society as a whole is coming together and demanding the freedom over their body and consciousness back!