Introducing the Puffco Proxy: A Game Changer for Dry Dabs
The Puffco Proxy is a revolutionary portable dab device that offers a unique dry dab experience. Shaped like a common pipe, it's designed for convenience and versatility, making it a must-have modular accessory for cannabis enthusiasts. The all-glass vapor path and mouthpiece double as a unibody for the Proxy, featuring USB-C, a control button, and a removable 3-D atomizer. The device can easily adapt to any glass rig with the addition of glass add-ons and bong accessories, making it a versatile choice for those who enjoy customizing their vaping experience.<
When comparing the Puffco Proxy to the Puffco Peak Pro, it's essential to consider the differences in their design and functionality. The Puffco Proxy is designed for dry dabs, while the Puffco Peak Pro is a more traditional dab rig with water filtration. Both devices feature the 3D atomizer, which heats from the sides instead of the bottom, resulting in a smoother and more efficient vaping experience. The 3D chamber is a significant upgrade from the standard Puffco atomizer, as it greatly improves vaporization performance.
The Puffco Proxy's modular design allows for a wide range of customization options, including glass banger adapters, full rigs, and even wooden accessories. This adaptability caters to users who enjoy personalizing their devices and exploring new ways to consume cannabis. Terp pearls can also be added to the Puffco Proxy for an enhanced vaping experience, although this is not officially recommended by the manufacturer. Users have reported improved vapor production, taste, and mouthfeel when using terp pearls in the device.
Although the Puffco Proxy offers a unique and enjoyable vaping experience, it may not deliver the intensity some users desire, especially those accustomed to using a torch and banger. Quartz banger dabs still provide a more comprehensive demonstration of terpenes and cannabinoids than electronic devices like the Proxy. However, the Puffco Proxy is an excellent option for those seeking a portable and versatile dab device that can be customized to their preferences.
In conclusion, the Puffco Proxy is an innovative portable dab device that delivers a unique dry dab experience while allowing for a high level of customization. Its modular design and compatibility with various accessories make it a must-have for cannabis enthusiasts who value convenience and personalization in their vaping experience.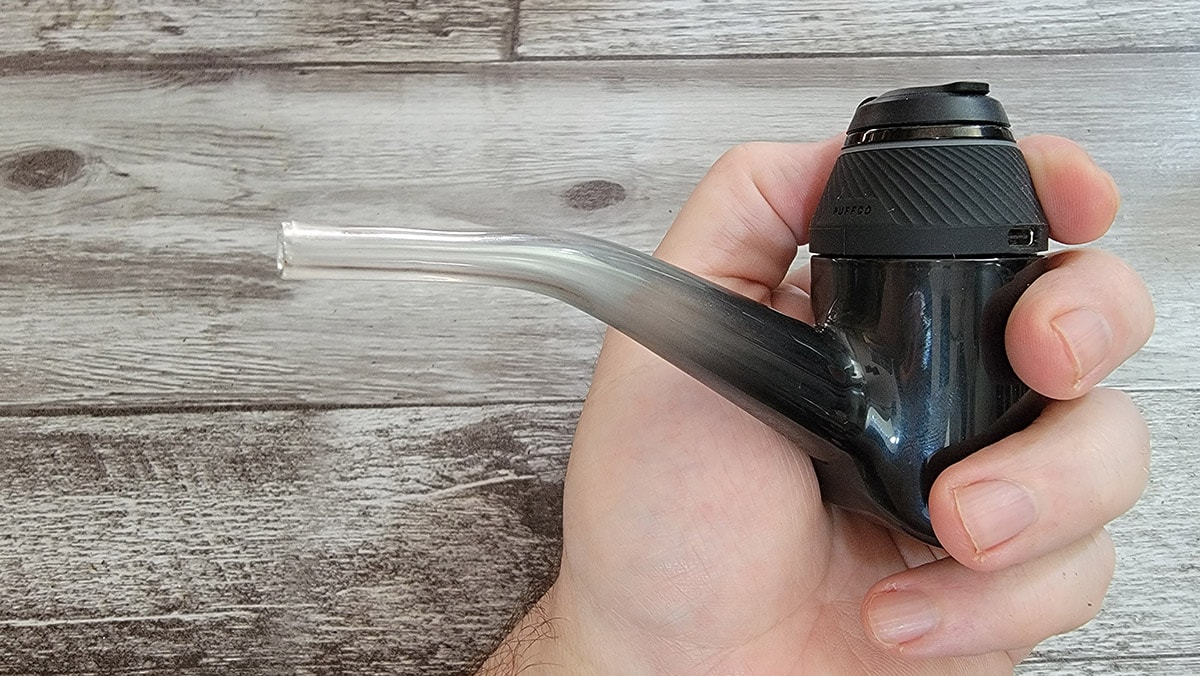 The Puffco Proxy is a palm-sized portable dab device shaped like a common pipe. The all-glass vapor path and mouthpiece double as a unibody for the Proxy itself – a modular device featuring USB-C, a control button, and a removable 3-D atomizer. 
By separating the device from the dab rig, Puffco places the Proxy into a powerful position as a future must-have modular accessory. It starts with a super convenient and easy-to-carry dry pipe, it's simple and it serves up wonderful dabs that are easy. But with added glass add-ons and bong accessories, the Puffco Proxy can quickly adapt to any glass rig.
Heady glass culture when they embraced and encouraged glass artists to make killer custom Puffco Peak glass tops. Now in 2022, the Puffco Peak is so popular that there are hundreds, if not thousands of dedicated glass blowers out there creating custom glass for the Puffco products.
The Puffco Proxy Will Create the SAME RESULT
Modularity is badass. I love it when I can take a small piece of something that works and make it work in other ways, methods, or locations. The Puffco Proxy caters to that mindset.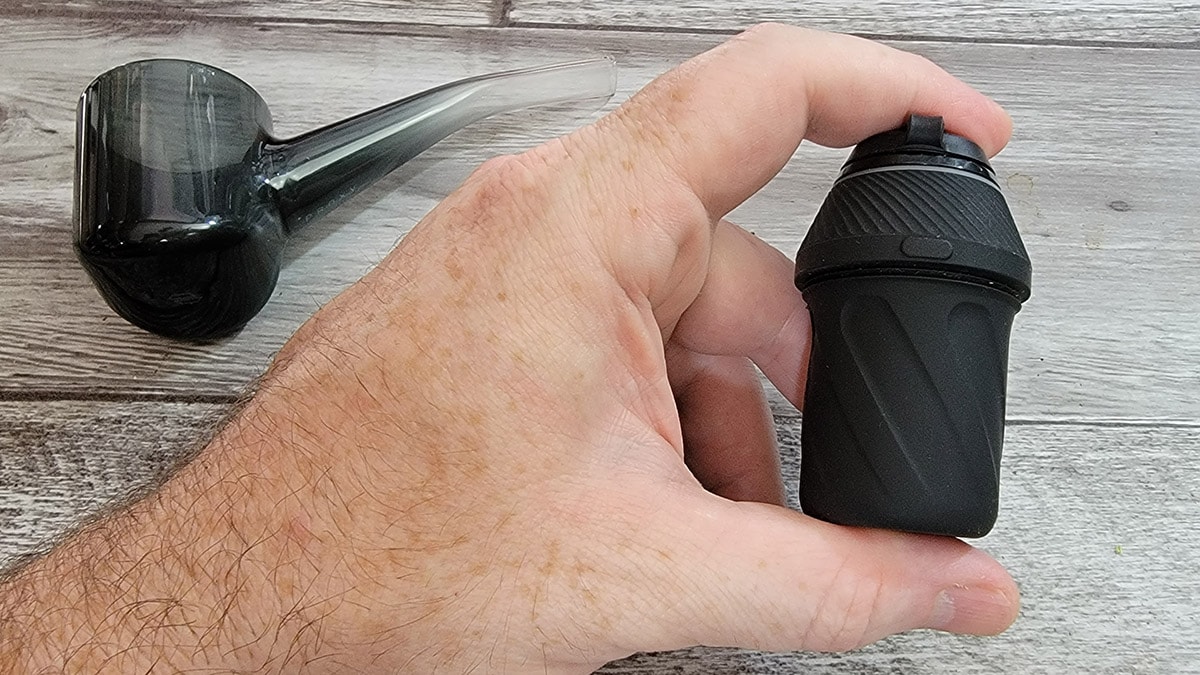 There are already several variations of glass Puffco Proxy banger adapters to fit your Proxy onto a 14 or 18mm bong and turn your Proxy into a full dab rig. Other glassmakers are making full rigs that adapt to the Puffco Proxy natively without any other adapter.
Glass isn't the only option either – 3D printed, injected, and even WOODEN Puffco Proxy adapters and accessories will be rolling out and flooding the market soon enough.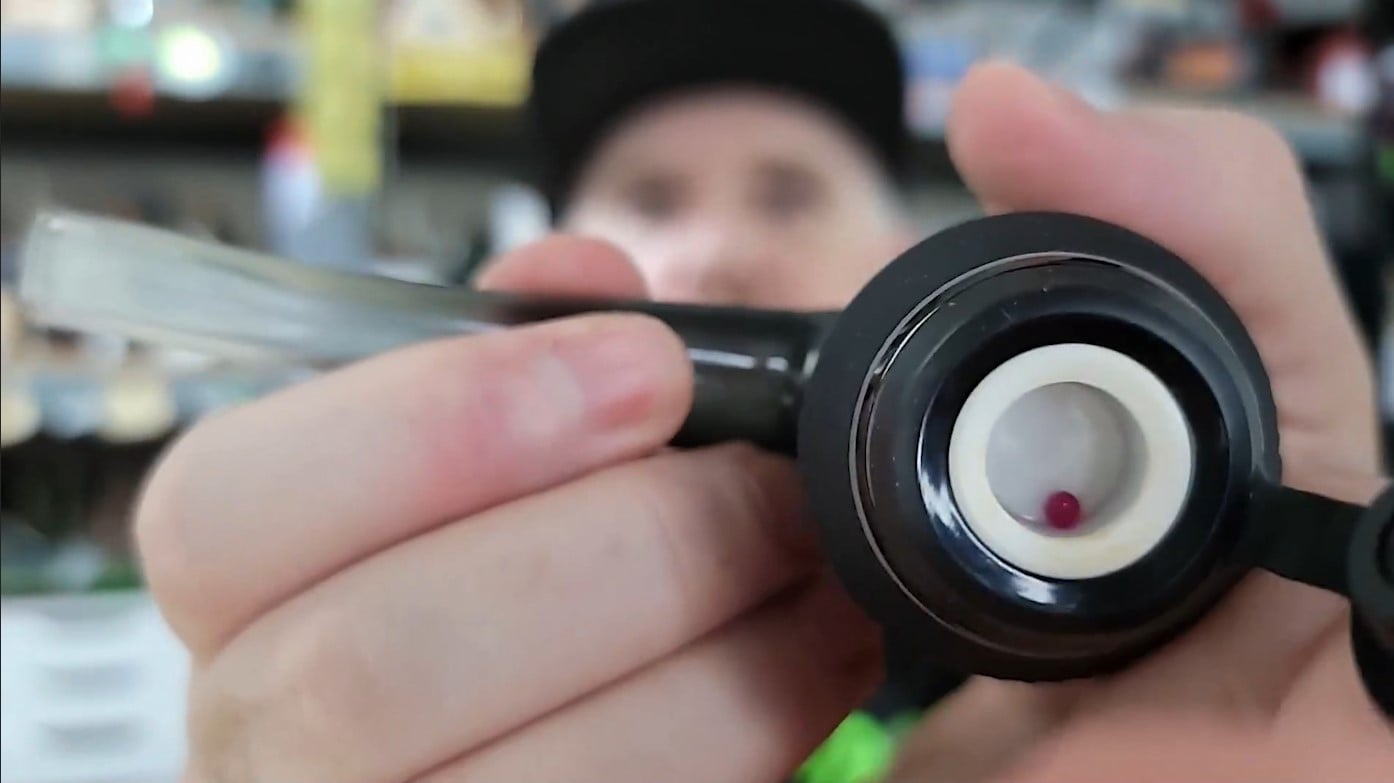 Terp Pearls in the Puffco Proxy
 The Proxy doesn't come with any terp pearls and Puffco does not sell any terp pearls on their website. I'm told Puffco upper management's wife had an affair with a terp pearl and now no one in the company can talk to terp pearls anymore.
 Seriously though, I don't know what the drama is about – but several people have warned me to not put pearls in my Proxy, and if I do to not make any videos about it because blah blah blah.
 That's pretty much guaranteeing that I'm going to make a video about it.
 I added a 3mm ruby to my Proxy and I'M NEVER TAKING IT OUT.
 The Proxy performs 10x better with the pearl in there. There's more vapor, the vapor tastes better, the vapor has a better mouth feel, and there is less oil to clean up after. It's 100% more effective and more efficient.
 I haven't pumped enough grams through my Proxy to see if the ruby will damage the walls of the atomizer long-term. It's entirely possible that the ruby will cause premature atomizer failure – right now that's a risk I'm willing to take because the dab performance is so much better.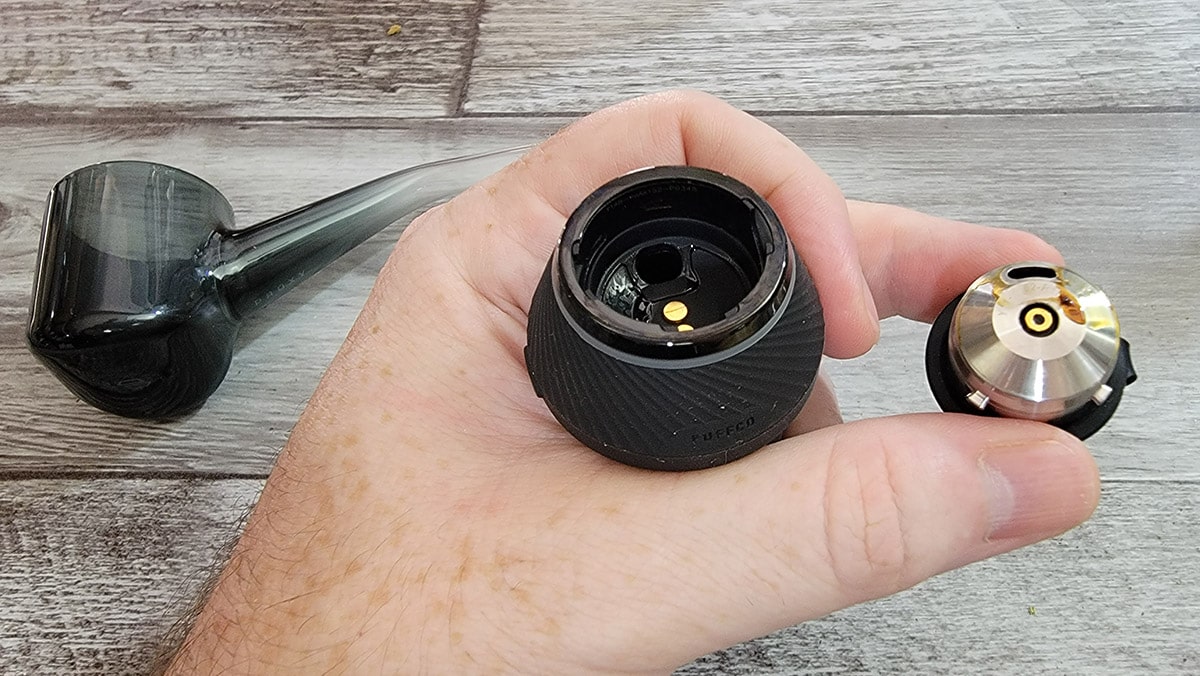 Puffco Proxy vs Puffco Peak Pro
 One of the major selling points of the Puffco Proxy is the 3D atomizer that it includes. The Puffco Peak and Puffco Peak Pro DO NOT INCLUDE the 3D chamber.
 The 3D Chamber heats from the sides instead of the bottom, leaving the bottom slightly cooler so your oils only vaporize while you're actually inhaling. The 3D chamber is great and performs much better than the standard Puffco atomizer.
 While the Puffco Peak Pro dabs just fine on its own – the upgrade to the 3D chamber increases vaporization performance.
 The Proxy's 3D chamber hits smooth and efficient and it's hard to tell the difference between the Peak Pro 3D and the Proxy 3D – obviously one is dry and the other has a longer vapor path.
 Comparing the dabs between the original Puffco Peak and the Puffco Proxy produces a more discernable difference. The original Peak doesn't hit as smooth and has a kiss of ceramic vapor signature. The Puffco Proxy also cleans up much nicer than the original Puffco Peak, because the Proxy 3D chamber has a quartz coating while the original Peak is pure ceramic.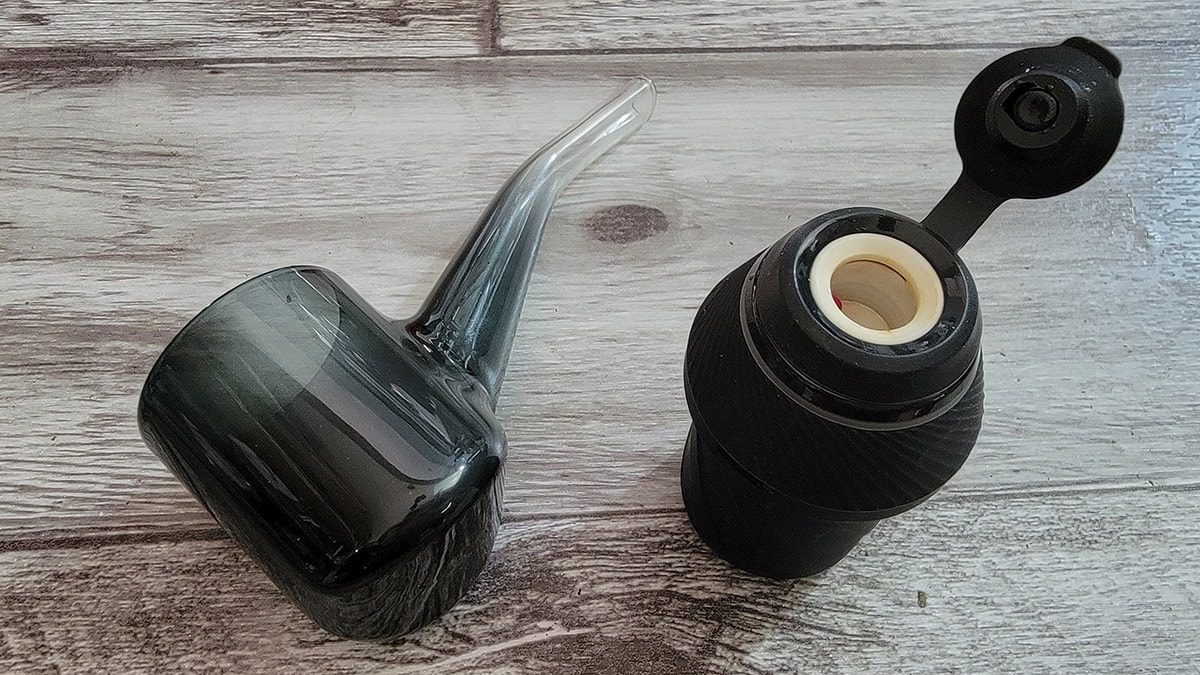 Puffco Proxy vs Real Dabs
 If you're coming from a torch and a banger, the Puffco Proxy may not deliver the intensity or impact you're looking for.
 Quartz banger dabs still deliver a more thorough demonstration of terpenes and cannabinoids than any electronic device.
 With the Puffco Proxy on white, its hottest dab setting, it can deliver a pretty good slap – but this device is tuned for smaller dabs and conservative temperatures.
Other Wax Pens & Devices
 Puffco makes higher-end products at higher-end prices. The Proxy is neat as hell and functional as a firetruck, but it's $300 and that's a lot.
 Let's not pretend that there are alternatives to the Puffco Proxy because there are not – at least not yet.
 But if all you really need is portable dabs – there are a lot of really good vape pens and wax atomizers that can absolutely compete with the Puffco Proxy and Puffco Peak Pro experience.