The Arizer Extreme Q is such a classic desktop vaporizer! The EQ is a full convection dry herb vape similar to the Storz & Bickel Volcano. The Arizer EQ actually does more than the Volcano, though, as the EQ also functions as a whip vape instead of only bags and balloons.
The EQ is also considerably cheaper at $135. That's $365 LESS than the 20-year-old Volcano. The EQ even makes it to the budget category for my best desktop vaporizers guide.
For $135 the Arizer EQ is a fantastic value. The EQ can sit dormant and stealthy in a home and family environment without looking suspicious. It can even be used as a potpourri warmer or aromatherapy device.
The Arizer EQ has a small footprint while serving up big vapor. With the included whip, the Arizer Extreme Q can easily serve a large crowd. The whip set up is also wonderful for daily continual use and microdosing.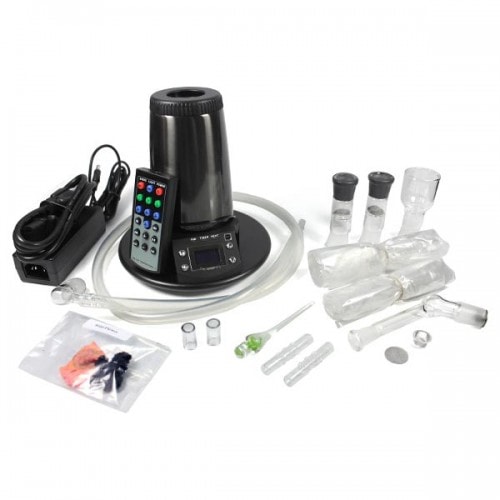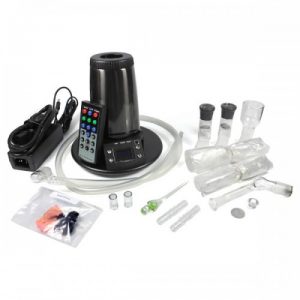 What's included
– Arizer EQ Vaporizer
– remote control
– food grade whip/tubing
– 2 glass mouthpieces
– 2 bags/balloons
– 2 balloon mouthpieces
– balloon fill adapter
– extra screens
– aromatherapy/potpourri dish
Arizer EQ vs Volcano
Let's be real here, the Storz & Bickel Volcano is a nicer device with a better warranty. Storz & Bickel is a German engineered brand that stands as the best. The Volcano is heavier, it's easier to use, and produces better vapor with larger amounts of weed. However, the Volcano is also a unitasker – it's a full-time bag vape without any other special features.
Is the Volcano worth $500 compared to the Arizer Extreme Q at $150? The Volcano is overpriced when compared to the Arizer EQ. The EQ can do everything the Volcano does and more. However, If you're a bag-vape lover and dream of 10-foot vape bags, chances are the Arizer EQ won't satisfy your demands.
I'm a casual bag-user. I chose the Arizer EQ over the Volcano many years ago after rigorous testing and I have no regrets.