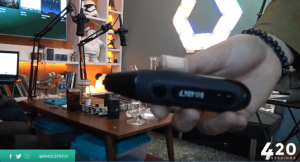 In today's livestream, the Boundless crew (now in Oregon) broke out the unreleased CFC2 for a session.
The original CFC is an ultra portable dry herb vape that packs a half dozen stoner sessions in an easily pocket-able format.
The CFC was originally all convection, but the new iteration brings convection as well removable batteries.
The crew pulled some massive clouds through glass using the new device. I will be reviewing the Boundless CFC 2 when I get the chance..