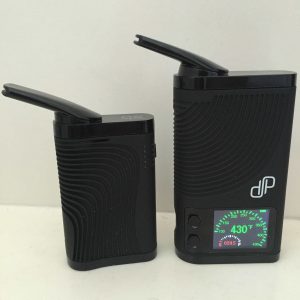 We know how hard it can be to choose the perfect vape. Some websites may list the weight, and highest temps while failing to mention half the features either of these vapes poses. We got tired of having to cycle through 7 different tabs while trying to piece together all the bits of information. For those readers that have narrowed their next vape down to either the Boundless CF or CFX we've compiled as much data as possible about both these vapes.
Below is a full side-by-side comparison of each vape and their specs:
                            CF                                         CFX
| | | |
| --- | --- | --- |
| CHARGE PORT | Micro USB | DC Port + Micro USB |
| DIMENSIONS | 4″ x 2.4″ x 1.2″ | 5″ x 2.5″ x 1″ |
| PRICE | $129 | $179 |
| HIGHEST TEMP | 415 F | 430 F |
| WEIGHT | 141.748 grams | 206.952 grams |
| LAST TEMP MEMORY | Yes (as of July 2016) | Yes |
| SESSIONS PER CHARGE | ~10 | ~10 |
| STEALTH MODE | Yes (as of July 2016) | No |
| SHUTOFF TIME | 5 minutes | 5 minutes |
| DISPLAY | 5 LED Lights | LCD Screen |
| VIBRATION ALERT | No | Yes |
| PROS | Compact | Screen + Quick Charge |
| CONS | No Quick Charge or Screen | Slightly Bigger |
CF vs CFX Features
The CFX has a ton of great features. It has a very easy to read screen that indicates both battery life and vape temps. The CFX can also reach higher temps compared to the CF. Not only does the CFX have 50% more battery life than the CF it can also get a full charge in 45 minutes! These added features come at a cost; $50 more to be exact. These features also add weight and an extra inch to the overall length of the CFX. If you want a more detailed breakdown, check out our review of the Boundless CFX.
Although the CF doesn't have all the bells and whistles of the CFX it is easier on the budget, and to be honest the CFX's features are luxuries not necessities. The CF's compact and lightweight design makes it a far better choice for your everyday carry. For a much more detailed breakdown check out our full review.
CF vs CFX Airflow
With bigger size comes bigger airflow! The CFX has a bigger air intake compared to the compact CF. We were able to get decent sized rips from the CF, but if we were to use a car metaphor… the CF was the v6 and the CFX the v8.
Conclusion
Both the CF and CFX are great vapes; they just shine in different areas. The CF is those on a budget looking for a sleek, compact vape, with a super fast heat up time. The CFX is the perfect vape to have lying around the house. It has amazing battery life, beautiful screen, and can get a full charge in a fraction of the time it takes the CF. In the perfect world Boundless would combine the two vapes and give us a CFX that's the size of the CF… until they do we're happily enjoying both our CF and CFX.
If size and price are a factor for you the Boundless CF will be the vape for you. If size isn't an issue and you want a vape with more features the Boundless CFX will be the right vape for you. Now to break down exactly what the differences are between these two vaporizers.