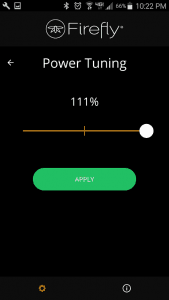 FireFly put out a firmware update for the FireFly 2 vaporizer today. The firmware update is handled within the smartphone app, which was also updated for both Android and IOS.
The firmware and app update bring us POWER TUNING.
It's not exactly clear what the Power Tuning is actually tweaking. Is it temperature? Voltage? Power Tunning is adjustable down to 89% or up to 111%, in single percent increments.
Testing Power Tuning Variations
I set out to compare the FireFly's new Power Tuning. I tested 89%, 100%, and 111% power tuning on the HIGH setting. Below are the ABV scans and draw notes. Click each image to see the larger photo.
Power Tune 89%
Draw 1: Very Light
Draw 2: Very Light
Draw 3: Very Light
Draw 4: Nothing visible
Draw 5: Nothing visible
Power Tune 111%
Draw 1: Medium cloud
Draw 2: Medium
Draw 3: Med/light
Draw 4: Med/light
Draw 5: light

Notes
The 89% seemed really weak. Similar to the medium. I can't imagine using this, unless I use the concentrate setting at 89%…
The 100% seemed just like it was before. I don't think the firmware changed normal operation.
At 111% it's a night and day difference. So much more enjoyable like this, and so much easier… Even the 5th draw produced decent vapor.
How these tests were performed
I chose a single, uniform nug of Master Cookies and ground it to a consistent medium/course grind.
Each test was performed with .12g. Material was handled with two small spatulas, no compression applied.
The FireFly 2 unit was completely cleaned and fully charged between each test. Cooldown time between each test was exactly 2 hours.
The room temperature was a consistent 73 degrees throughout test period.
Each test case:
– 8 second heat up time
– five 12-second draws, with the unit activated through the duration of each draw
– 10 second break between each draw
FireFly 2 PowerTune Test Results
The Powertuned 111% session toasted the material more evenly, and more thoroughly than the lower settings.  Vaping an entire bowl on this setting only required one or two stirs, and the stirring seemed easier because there was more toastiness. Under normal operation I would need to stir 3 to 5 times before finishing a bowl.
Power Tuning just made the FireFly 2 a really fucking awesome vape. If you don't have one, go get one now.  Use coupon PUFFEDUP to save 15%, and Randy will even throw in a free 4-piece grinder.
Final Thoughts
It was only 8am when I saw the reddit post, but I had to give it a try. I initially loaded it with Sour Diesel – my normal daytime strain. I cranked the power tuning up to 111% on the HIGH setting. I normally use the HIGH setting because I like to see some vapor. With the power tuning at 111%, the first draw was visibly more dense than the usual first draw. The 2nd draw was the thickest and tastiest cloud I have ever produced with my FireFly 2. I was shocked. Awed. The third draw was still really nice, although not quite as amazing as the 2nd. Under normal operation the FireFly 2 needs to be stirred after the 3rd draw, but with the Power Tuning maxed I was able to get a 4th and 5th draw. When I stirred, it seemed that it was more toasted than normal – and more EVENLY toasted as well.
This update is definitely going to keep my FireFly 2 off the shelf. My wife has already stated that it's now her favorite vape.
September 12 Update [9]:
I've fallen in love with this vape all over again.  I'm normally a session vape guy, but the convenience of on-demand really shines through with the flavor and experience of the FireFly 2. This unit just earned a spot on my desk, retiring the MFLB and Grasshoppers to the shelf.