Best Grow Lights for 5×5: Mars Hydro LEDs
For maximum yield in a 5×5 grow tent, these are the best Mars Hydro grow lights and this is how they compare.
I've done a couple of grows each now with these massive LED lights from Mars Hydro. They're all great lights and extremely capable of fully lighting a 5×5 grow tent. These grow lights use 650-800 actual watts and will produce more than enough full-spectrum light for a healthy canopy of nugs.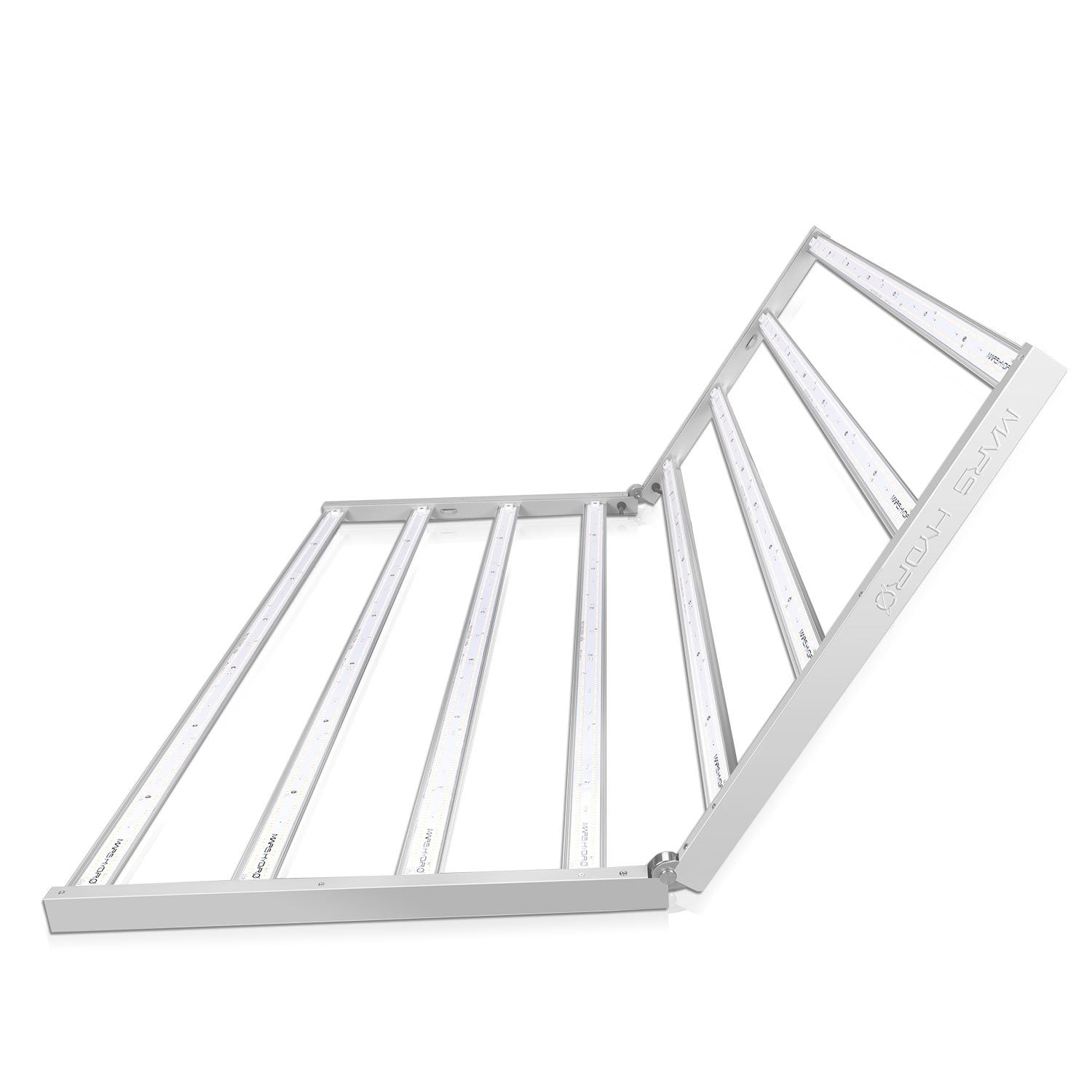 Coolest Temps / Lowest Heat Emitted
Dimmable & Daisy Chaining
5yr Warranty / 50,000 hour life expectancy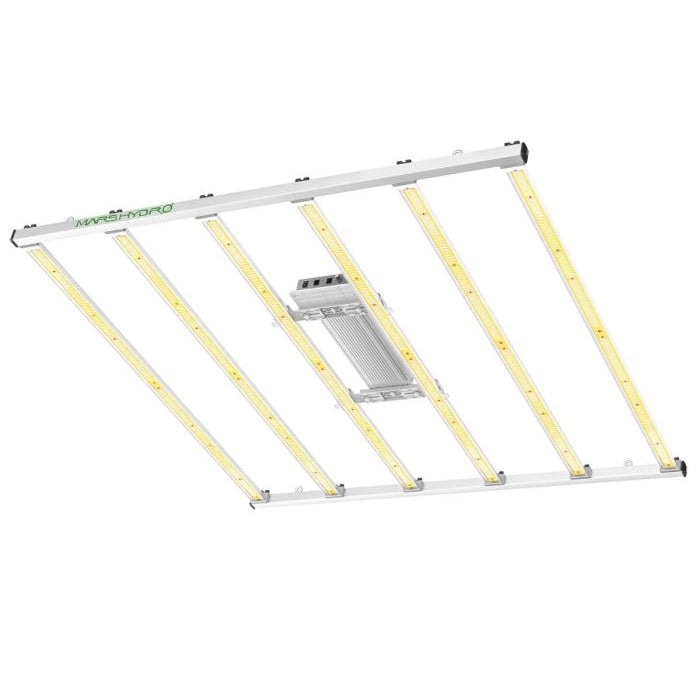 Hottest Temps / Highest Heat Emitted
5 year warranty / 50000 hour expectancy
Samsung LM301B & Osram Diodes (2968 total LEDS)
3g/w yields (expect pounds)
Adjustable bar positioning
Dimmable / Daisy Chainable
5yr warranty / 50,000H Life Expectancy
FC-6500 vs FCE-6500 vs FC-8000
All three of these full-spectrum LED lights are capable of thoroughly lighting a 5×5 grow tent and producing high-quality home-grown cannabis.  Their differences come down to power, LED efficacy & brand, heat output, and type of frame.
The FC-8000 boasts the highest actual power and the highest efficacy of the series. This light puts out so much light power that supplemental CO2 is recommended to use this light at full power.
But is the difference between 800 watts and 730 watts substantial?
The FC-8000 spreads its 800 watts over two different types of diodes. The Samsung LM301b LEDs are highly regarded and often considered the best-in-class for full spectrum grow lights. The FC-8000 has a mix of Osram diodes as well as Samsung.
The FC-6500 and FCE-6500 both pull 730 watts – just 70 watts less than the bigger FC-8000.
In the actual grow tent – the difference in power is marginal, especially for a relatively amateur grower like myself. All of these lights need to be turned down before your plants are in flower or they'll burn the leaves.
The FC-8000 can crank out more power than cannabis can efficiently photosynthesize without supplemental CO2!
As a home grower, I haven't used CO2 in any of my grows. Yet. In my two FC-8000 grows, I kept the power of the light dimmed to 90% at its highest.
One thing that stands out as a difference between the FC and FCE series of lights is the brand of LEDs or diodes.  The FC series exclusively uses a Samsung LED, which is highly trusted in the LED grow light industry. The FCE series uses Bridgelux LEDs.
What's the real difference?
The Samsung LEDs have the highest efficacy available, which means they do the best job of efficiently converting electricity into usable light energy.
Other LEDs have lower efficacy and will produce less usable light and more non-usable light and or heat.
Samsung LEDs are the most efficient and most effective while running cooler than other brands of diodes.
Heat Output
This is subtle compared to the heat non-LED lights would be putting out, but the heat management was enough of an annoyance factor during my grows that I wanted to explain the differences here for you.
I tested all of these lights in the same tent and location. The FC-6500 ran notably cooler than both the FCE-6500 and the FC-8000.
When I first noticed the difference, I actually had both lights going at the same time in two different tents – each 5×5. The FCE was running 5-10 degrees (F) hotter than the FC-6500! 
To confirm, I moved the FC6500 out of its tent, replaced it with the FCE6500, and put the FC6500 where the FCE was. The temperature differences carried with the light and the FC-6500 reliably ran cooler at similar power levels.
I later did the same side-by-side heat comparisons with the FC-6500 and the FC-8000 and achieved very similar results. I did not have the patience to test the FCE-6500 against the FC-8000 but the temp fluctuations seemed similar.
Folding Frame vs Adjustable Bars
If you don't plan to move the light, this may not be a big factor for you – but I've moved twice since acquiring these lights, and moving grow lights can be a major hassle.
The Folding Frame of the FC-6500 makes packing this light up and moving it quick and easy. The fragile LEDs are facing inwards, protecting their fragile surface from damage while in transit.
This light could even be partially folded while hung and in-use to concentrate the light more directly downward instead of onto a flat canopy!
The FCE-6500 and FC-8000 use two metal side rails as a frame and the individual light bars connect to the frame with thumb screws.  The spacings on the sidebars are marked, but the hardware is not pre-installed. 
Light bar positioning can be adjusted for more ideal PAR-mapping. This could be important if you're using these lights in a commercial environment and want to optimize the light output where your plants are concentrated.
All of these lights can be daisy-chained together using a simple RJ-25 phone cable. Lights daisy-chained to each other all respond to a single on-off and dimmer switch, making it easy to control a grow room full of lights.
Can these lights be used in a 4×4 grow tent?
These lights do fit, uncomfortably, in a 4×4 grow tent – but I don't think I'd want to commit to a full grow with all of the tent-light contact. The light frame will be in contact with the tent on all 4 sides and that's probably a fire hazard – even though LED lights run pretty cool.
These lights are made for a 5×5 tent or a commercial grow – consider using the FC-4800 or FCE-4800 instead.
Or upgrade to a roomier and higher yielding 5×5.
Can the TS-3000 light a 5×5? Absolutely!
I did my very first marijuana grow with the TS-3000 in a 5×5 using Autopots. My six-plant grow produced exactly one-pound of quality nugs after everything was trimmed and dried.
The TS-3000 performed similarly in both a 4×4 and 3×3 grow tent.
The TS series is Mars Hydro's lowest tier of LED grow light and the TS-3000 is the largest of that line. It's capable of lighting a 5×5 but works best in a 3×3 or 4×4.
Torn between downsizing my tent to a 4×4 or upgrading my light – I opted to try TWO SP-3000s in my 5×5. This grow was a phenomenal success and the Mars Hydro SP-3000 commercial bar-style lights proved to be extremely capable.
I later did a grow with these two lights in a 4×4 and watched several autoflowers produce 12 ounces each under two SP-3000s. That's a wonderful yield!
A unique advantage of running two SP-3000 instead of one larger light is height flexibility – having two lights instead of one means half of your tent could be taller or shorter than the other half and your lights can be hung at different heights to accommodate your different plant heights!