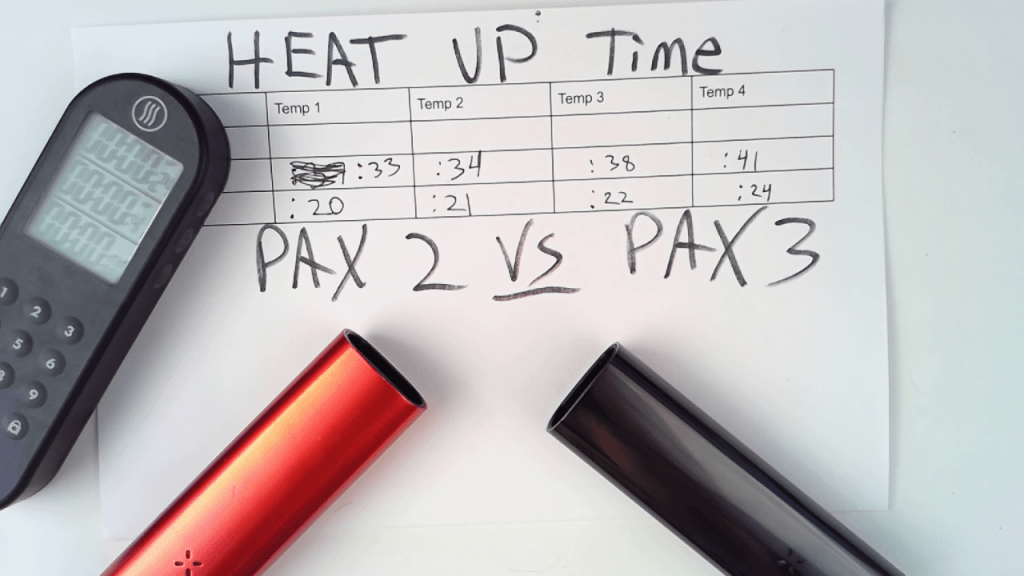 The first test we'll be doing to compare the new Pax 3 with the Pax 2 is heatup time comparison. Heatup time is important when you're on the go or your smoke break is only 10 minutes.
The Pax 2 was no slouch when it came out in 2015, but 2016 vapes really raised the bar on heatup time. Lets see how the Pax 3 compares.
Temp 1 (360F)
Pax 2: 33 seconds
Pax 3: 20 seconds, a 39% improvement
Temp 2 (380F)
Pax 2: 34 seconds
Pax 3: 21 seconds, a 38% improvement
Temp 3 (400F)
Pax 2: 38 seconds
Pax 3: 22 seconds, a 42% improvement
Temp 4 (420F)
Pax 2: 41 seconds
Pax 3: 24 seconds, a 41% improvement
For the most up-to-date info regarding the Pax 3, please see the Pax 3 official review.
The Pax 3 heats up in 20 seconds. That's fast! I feel better knowing a cloud of cannabinoids is just 20 seconds away.
The full Pax 3 review is coming soon. So far I'm impressed. It heats up quickly and it cools down if you stop taking draws. Plus it handles concentrates relatively well, but it's a high-quality vape with a 10-year warranty, great battery life, and one of the stealthiest form factors of any weed vape available.
Check back soon for the full pax 3 review!
Until then, see you guys on the moon!