When the Pax vaporizer was new, it was a pretty revolutionary little vape. There weren't many portable dry herb vaporizers capable of getting you stoned on the ski slopes – the Pax was really your only option.
Fast forward to 2022 – The Pax 3 is still very popular, but there are dry herb vapes that are both smaller and better than the Pax.  Some are cheaper. Some are nicer. Most of the dry herb vaporizers on this list even have better vapor than the Pax!
The vapes on this page are sorted into 3 groups based on your needs in comparison with the Pax vaporizer.
These vapes are currently the best portable herb vapes on the market.
No restrictions on size or vapor type – all of these vapes are better than both the Pax 2 and Pax 3.
Size is important, especially if you're sneaking this vape into prison. AYOO.
There are plenty of Pax-sized or smaller vaporizers for dry herb and concentrates.
Pax vapes are expensive.  There are vaporizers cheaper than Pax 3 that perform similarly or better.
Save some cash and spend it on hash.
Listen, the Pax is a wonderful device. Great hardware in a durable package. But anyone calling it the "Best Portable Vaporizer" is more interested in affiliate commissions than good vapor.
Bigger & Better Than Pax 3: Portable Vapes
This first group of vaporizers all CRUSH the Pax 3 in terms of VAPOR TASTE and VAPOR QUALITY, but they may be larger or more expensive.
Percentage Better Than Pax

95%

95%
Benefits: Fast heat-up, easiest to use vaporizer, smooth fluffy terpene-rich vapor
Features: convection hybrid heating, dual battery for 8+ bowls per charge, LCD temp display, full temp control, medical grade materials, USB-C
Pax 3 vs Mighty+ Comparison
The Pax is a metal body, has a 10-year warranty, and will fit in an anus.  The Mighty is the size of 2 iPhones stacked screen to screen and will mostly fill a man's front pants pocket.
The Pax oven holds .2g-.5g of dry herb and uses a conduction contact oven to vaporize and extract.
The Mighty oven holds .15g-.25g of dry herb and uses convection and conduction to vaporize.
The Pax 3 will vape a full bowl in 10-12 minutes and produce a few minutes of bright terpy vapor followed by 8-10 of roasty robust vapor.
The Mighty+ will vape a full bowl in 5-8 minutes, clearing the bowl in 6-10 full inhales. The vapor from the Mighty is full, fluffy, and flavorful.
The Pax vaporizer is used with a Mouth-to-lung technique while the Mighty Vaporizer is often used Direct-to-lung.
If you plan to vape all day or vape exclusively (stop smoking) – the Mighty+ is a much more usable and enjoyable vape.
If you still smoke or are trying to quit, the Pax vaporizer may provide that stoney conduction high you need – but I'd look into a ball vape or a Sticky Brick as better options for quitting smoking.
Percentage Better Than Pax

93%

93%
Benefits: Same great vapor as the Mighty+, but in a smaller package. Still larger than Pax 3.
Features: convection hybrid heating, single battery for 4-6 bowls per charge, medical-grade materials, USB-C, Bluetooth app integration, 3 customizable temp settings
Percentage Better Than Pax

93%

93%
Benefits: SUPER tasty, potent vapor in a feature-rich sexy design. The Airvape is ON-DEMAND with a built in session mode.
Features: full convection, gold plated herb chamber, removable battery, zirconia mouthpiece, wireless charging
Percentage Better Than Pax

91%

91%
Benefits: tasty, potent vapor from a vaporizer hidden in a cup.  Take this vape seriously, it's a fantastic option for smoking discreetly.  
Features: full convection, near-instant heat-up, dosing system/pots, metal body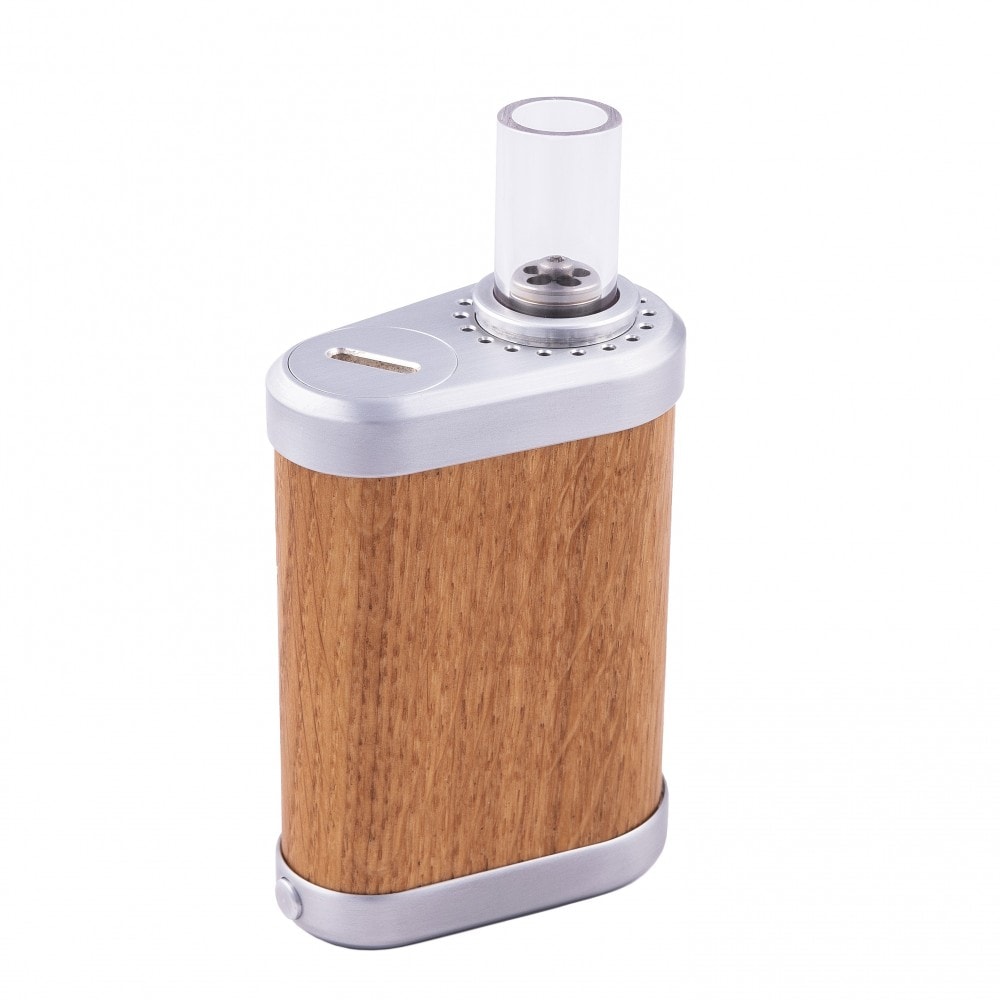 Percentage Better Than Pax

91%

91%
Benefits: The TinyMight 2 is agile and powerful. Full convection on-demand vapor with a removable battery and glass vapor path. 
Features: full convection, near-instant heat-up, metal/wood, glass vapor path, on-demand or session mode, made in Finland
Here are some other dry herb vaporizers better than the Pax Vaporizer.
Davinci IQ
 This is my favorite ultraportable weed vape. The shape is sexy and sleek. The lights and interface are hip, modern, and easy. The vapor is fantastic while being 100% conduction. Bonus points for the removable 18650 battery. At $279 now $229, it's more expensive than the Pax 3 – and rightly so.
>> See my Davinci IQ Review
Arizer Go
 Another luxury unit at $220 $150 The Argo is the cutest of the bunch, while also having the best overall vapor purity and vapor quality. The glass stem makes carrying a 2nd packed bowl super convenient. This device is a pleasure to use and carry. Available at Planet of the Vapes.
Xvape Starry
The Starry is very similar in size and shape to the Pax 3. It has a magnetic top cap and small conduction oven. The vapor is better than the Pax 3 vapor, although it is similar. The Starry has a full digital display with temp control and a removable 18650 battery. $99 at PoTV is a screaming hot deal.
 Xvape Fog
This is the big brother to the previous vape. The Fog utilizes hybrid heating to vastly improve the vapor quality and flavor. The Fog has 5 heat ranges instead of exact temp control, but for $99 you're still getting BETTER vapor than the Pax 3 AND a removable 18650 battery.
Vapcap M
 The Vapcap M is a unique vape. It's without battery, powered by the flames and heat of a butane torch. The M is a great on-demand personal vape. It's not for everyone, but if you are NOT immediately turned off by carrying a small butane torch lighter and love the ability to get high as shit in less than 3 minutes – go pick up the Vapcap M. It will be the $70 you've spent on a weed vape today.
Is the Pax 3 Worth It?
The Pax 3 is a solid product. It's well made, rugged, durable, and dependable. On paper and in my Pax 3 Review the vape is still one of the better vapes available.
It just doesn't fit the needs in the vapor department for many – which is why this list of Pax alternatives exists :)