The Puffco Peak is still the most popular electronic dab rig on the market. Its worldwide success has led to an array of aftermarket accessories and upgrades – like these new Puffco Peak inserts from Cream City Vapes!
Cream City Vapes sent me their selection of Puffco Peak inserts to test and compare. They sell the FadeSpace SIC insert, as well as their own line of Quartz, Ceramic, and Titanium. CCV also sent over a badass Vision Peak to test the new inserts with.
Puffco Peak Inserts: Ti vs Quartz vs SIC
Puffco Peak SIC Insert by FadeSpace
The SIC insert for the Puffco Peak has the best flavor without sacrificing thermal performance. It heats up faster and more thoroughly than the quartz, while tasting every bit as pure and clean. $150 is a steep upgrade cost, but SIC is easy to maintain and it's a highly respected dabbing surface.
Titanium Insert
I expected to hate the titanium insert option in the Peak. Titanium enails are usually trash and the twangy taste from most titanium is totally not my thing… But this titanium cup doesn't have that nasty twangy tingle!
The titanium insert is only $12.50 and heats up faster and more thoroughly than the stock ceramic insert. My Puffco Peak produced the biggest clouds with the Titanium upgrade. If you prefer big clouds over purest flavor, choose the titanium.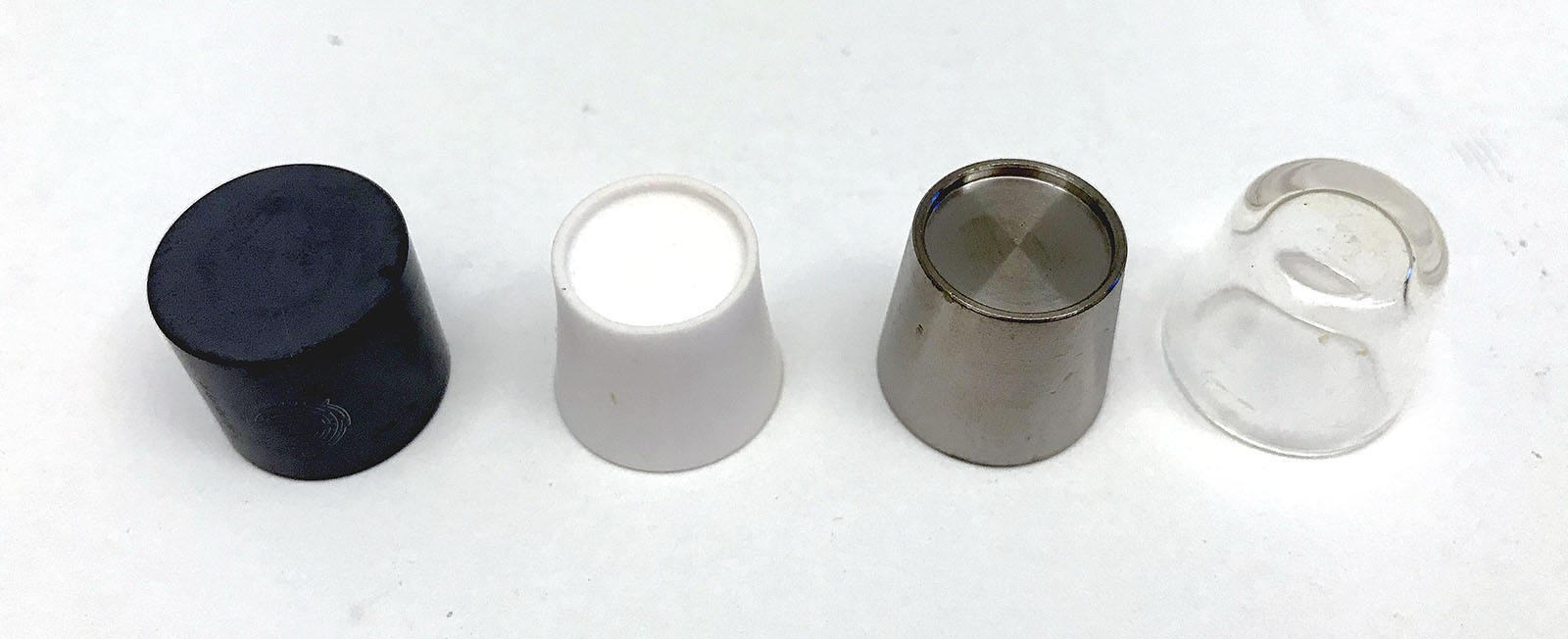 Puffco Peak Quartz Insert
I've dabbed a few Puffco Peaks with quartz, both high-end and low-end inserts. These budget quartz inserts can perform wonderfully in the Peak as long as you're willing to deal with their quirks. Higher end quartz inserts will hug the atomizer much tighter and heat up much faster.
But the budget quartz inserts for the Puffco Peak are $12.50 instead of $150. The budget inserts may not sit perfectly on the heating element and often work better with hot-start dabs instead of cold-start dabs.
Cream City Vapes Ceramic Insert
The ceramic replacement Puffco Peak insert from Cream City Vapes is nearly a dead ringer for the OEM. It's a little bit shorter, but it makes a perfect fit and performs very similarly.
If you've lost your Puffco Peak insert or just need a few extras, these replacements are perfectly affordable at $10

Puffco Peak Cheap Replacement Glass Top
Cream City is also offering an alternative replacement glass bubbler in several colors. If you buy directly from Puffco you'll end up dropping 80 bucks for plain glass or 100 for color. Cream City has all of the cool colors for $45.
Which Puffco Peak Insert is Best?
It's hard to say which is best, as it really comes down to personal preference. If you care more about taste than the SIC or Quartz will deliver the best flavor.
If you're into busting fat dabs and massive vapor clouds, the Titanium insert produces the biggest clouds and most vapor.
There is also a Ruby Insert for the Peak, as well as the S-Tier insert from FadeSpace. I've heard great things about both, but do not have them to test at this time.