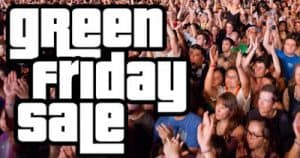 The Puffitup.com Black Friday sale is LIVE NOW. They coined the term Green Friday several years ago and now several other online vape stores are following suit.
Way to be a leader Randy!
The deals this year are fantastic. Especially the Mighty for $319 (normally $400) and the Crafty for $271 (normally $339). Both of these vapes are top of the line and produce top-notch vapor with excellent ease of use. $319 is a hell of a great deal for the Mighty vaporizer. I almost want to buy a 2nd one at that price.
The puffitup deals on the Boundless products and Arizer Air are great as well. NOW is the time to buy vapes. There are a ton of great Black Friday vape deals, but the ones below at Puffitup are the hottest and they're all live right now.
Boundless CFV at 25% 25% off with code: (CFV25) while supplies last. This will sell out fast
Odin at 25% off with code (Odin)
Arizer Air for $155 ($100 off!) and a FREE water pipe adapter (code: AAGF), sweet deal on a tasty vape!
Flowermate SWIFT Pro for $142 (35% off using code SW35), that's $77 off a $220 vape. Cheapest pure convection you'll find.
The classic Flowermate 5.0s for $69 using code FM69 – great stocking stuffers!
X-Max V2 Pro for $59 with a FREE water pipe adapter Code: XMWPA. Decent little vape with replaceable battery.
All StickyBricks are 20% off with code SSB. These things are awesome. The hydro maxx in walnut is on my christmas list. *HINT HINT*
Mighty and Crafty at 20% off with code GF7, that's a big discount on the best portable vape available.
Focus Adventurer is $127 (normally $169) That's 25% off with code FCA. This unique vape has a bubbler integrated into the mouthpiece.
MFLB Combo #5 for $99 (Save $20 with code MF99) Or pay full price and use code FG to get a free finishing grinder ($40 value).
Get a free Firefly 2 case with purchase of a Firefly 2. Use code FFC
First 100 orders will receive a free Dragon Chewer Shredtainer. These are gone already.
Use code PUFFEDUP to get 15% off most other things on puffitup.com.
Are you buying this year? Let us know in the comments!