Troy and Jerry recently spent two whole live streams dedicated to the Mighty – and they could easily spend two more.
We covered all of the best, and the worst Mighty accessories in the stream, here's a cut video highlighting just the portion where we talk about accessories.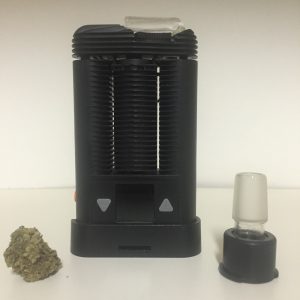 The Mighty is the best weed vaporizers available. If you're like us you use your Mighty every day. After using it every day we've had a chance to test a variety of upgrades for the Mighty. Here's a list of the 7 best upgrades you can make on your Mighty:
Mighty Water Pipe Adapter
The Mighty is one of the best-tasting and harder-hitting vaporizers available. Vaping the Mighty through a bong gets me to a solid 11 out of 10. The water cools the vapor even more and I can take giant bong rips with the Mighty.
I use this Glass WPA. It's rigid, free-flowing, and absolutely perfect. There are other Mighty bong adapter options available here.
Mighty Glass Mouthpiece
This is my favorite upgrade to the Mighty. Replacing the mouthpiece seems like such a trivial modification, but the glass mouthpiece vs plastic mouthpiece is a night and day difference. It feels so nice on the lips and the vapor seems to flow more cleanly.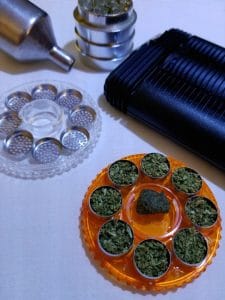 Mighty Dosing Capsule (pods)
If you're looking for convenience and hassle free bowl reloading, the Mighty dosing capsules (pods) are perfect for you. I recently tested these while snowboarding in Mammoth and they were perfect for quickly reloading a bowl on the slopes without having to take off my gloves.
Screens
How often do you change the screens on your Mighty? I normally wait until the sides start to splinter metal pieces. I've always been worried of one of these strands dislodging and getting stuck in my throat. On my last order from Puffitup I decided to order 6 screens for $3.90 and now I change them routinely.
Oil Pads
If you're still using the oil pad that came with your Mighty, it's time to order replacements. Puffitup has them for less than $7.
Mighty Car Charger
– The Mighty has a unique problem I've never encountered with other weed vaporizers: the battery is TOO good. So much so that I sometimes forget the Mighty actually needs to be charged. The Mighty doesn't use Micro USB, so power banks aren't an option. Fortunately there's a Car Charger available. I don't recommend vaping while driving.
Case
– Need a case to keep your Mighty and accessories in one place? I wrote this article outlining the 14 (ish) best weed cases.
Stand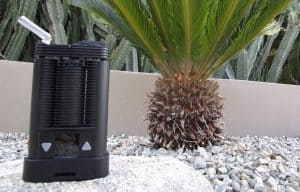 – For whatever reason, the Mighty was never manufactured with the ability to stand upright. Luckily there are more than a handful of third-party Mighty stands that will keep your vaporizer standing vertically when not in use.
Extra Cooling Unit
– This accessory isn't so much an upgrade as much as it's a time saver. Want to share your Mighty without sharing or swapping mouthpieces? How about when you want to vape a bowl, and haven't cleaned it in a very long time? What if you need a new screen or o-ring and ran out a month ago and forgot to reorder one? Having an extra cooling unit solves all of these problems!