This page is a piece of shit. If you want, email me or hit me up on twitter or instagram and I'll help you pick the perfect vape for you.
troy at *ahem look up*.
Weed Vapes for Every Budget
Choosing the best weed vaporizer is an impossible task. Every user is different. It depends on your budget, on how often you plan to use it, and WHERE you plan to use it. I've personally found that I rely on a few different vapes of varying sizes and power levels.
I'm a vape geek. I've put together this list of the best vapes for every budget and for every type of cannabis user.
#1 Best Weed Vape: Mighty
The Mighty is the reigning champion. It's not ultra portable, but it's pocketable for people that weigh more than 150 pounds.
Its Vapor is smooth and delicious and the Mighty is incredibly easy to use. The Mighty is powerful enough for fat bong rips while being gentle enough to microdose.
You can pick it up right now after coupon "PUFFEDUP" for $296
If the Mighty is too big for you, or if you cannot afford it…..
Best Weed Vapes for Less than $300
The Solo 2 is a luxurious and sexy vape with clean and tasty vapor. $240 – Read Solo 2 Review
The RBT Milaana is an amazing vape at $220. It's wood, it's a beast. It's primal. It's perfect for me, but it may not be for everyone. Watch my video first.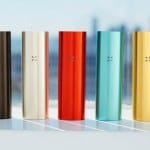 Pax 3 – $279
The Pax 3, the sequel to the popular Pax 2, is pretty much the iPhone of the pot vaporizer scene. And for good reasons too! The Pax 3 is sleek, sexy, easy to use, and ultra stealthy!
This tiny little vape is perfectly concealed in the palm of your hand. It's easy to load and clean. You get about 90 minutes of use per charge, which is solid for such a tiny unit. We love the flat mouthpiece and the magnetic charger. It has 4 heat settings. Use the lower settings for a longer, tastier session – or use the higher temps for quicker lifts. The Pax 3 carries a TEN YEAR warranty! Wow! The Pax 3 will set you back
$279 from a trustworthy vendor
.
Read our full Pax 3 Review
and explore other buying options.
Best Vape for less than $200
Two hundred bones can get you several really kickass vapes. And they'll all pay for themselves in weed savings over smoking. Here's our  favorites
Boundless CF – $129
The Boundless CF is a sleek little vape with a huge bowl, super fast heat up time, and killer battery life. It puts out some fantastic vapor and is easily chargeable with any micro USB power. It's a conduction/convection hybrid unit and it's hard to beat at this price. Despite owning all of the high end vaporizers, I still find myself using the CF every other day. Pick it up at PuffitUp and they'll include a free 4-piece aluminum grinder – PLUS FREE SHIPPING.  Boundless CF Review
Boundless CFX – $179
The bigger brother of the CF. Same sexy feel, same crazy fast heat up time. Here's what the extra $50 gets you: A bitchin LCD screen with a cool gas gauge speedometer whizbang design. Precise temperature control from 100F to 430F (15 degrees hotter than the CF).  A slightly larger bottom vent (improved bong performance), 2500mah battery, and an wall charger that can rapid-charge the CFX from dead to full in about 30 minutes.  Add on the WPA for $15 and this beast will milk up your favorite bubbler. Get the CFX here. Add the water pipe adapter and this thing is a vaporbonging machine! Boundless CFX Review
Best Weed Vape less than $100
Flowermate 5.0s – $79
This is a simple and affordable vaporizer. The glass mouthpiece gives a nice clean flavor and stows away in the bottom of the device for ultimate portability. The oven, or bowl, holds enough flower for 2 or 3 bake-offs for low tolerance users. High tolerance users will still find satisfaction by utilizing the hotter of Flowermates 3 temperature settings, or by vaping 2 or more sessions in a row. The 5.0s rechargeable battery holds enough charge for several days, at several sessions each day. It heats up quickly, is relatively efficient, and produces great vapor flavor. Additionally, it's easy to modify for easier pull and larger clouds, as well as adaptable to your favorite bong or whip. I love it because it looks like a portable hard drive or external battery. It's available at puffitup.com right now for $79 with coupon code FM5. Don't forget to pick up a couple extra capsules, for fast and easy hot swapping.