In case you missed Boundless Vape's livestream, here's a quick recap of all the action.
Boundless CFV
Yesterday (10/1/2016) was unfortunately the last day to Pre-Order a CFV. Everyone that pre-ordered one will receive a FREE CFC, Boundless Shirt, Water Pipe Adaptor, and Loading Cap (we can't wait to get ours)
One of the unique features about the CFV are chamber rings. Chamber rings allow users to customize their session.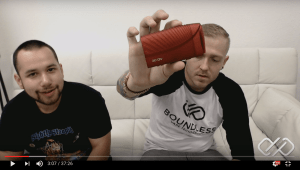 Different types of chamber rings:
Rosewood – Enhances the flavor
Bamboo – Masks the flavor of weed
Quartz
Boundless stated they tried stainless steel, and walnut with unsatisfactory results. They plan on bringing different types of chamber rings in the future.
More info about the CFV
2 Colors: RED & BLACK
2 Hours Rapid Charge Time
Be on the lookout for an updated user manual
Possible app in the future
CFV gives a smoother hit, CFX givesa thicker hit
CFV should require a stronger pull
Boundless CFC Vaporizer
During the livestream they also spoke about the CFC. Everyone that pre-ordered a CFV will be receiving a CFC so we would only hope the CFC will become available for individual purchase before the holidays. Here's some more info about the CFC:
Half gram chamber
Charge Time: 1.5-2 Hours (Rapid Charge Technology)
15 sessions on a full charge
4 min auto shut-off
BONUS NEWS – NEW Wax Device: They're working on a concentrate device, but it's 7 months away
What did you think of the Boundless Livestream? Which vape are you most excited about: CFV, CFC, or mystery wax device? Leave a comment below, or reach out to us on Facebook, Twitter, or Instagram (@420vapezone).