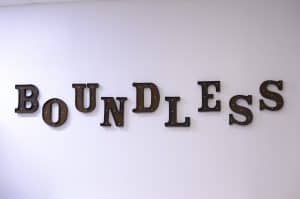 Last week we took a trip to the Boundless offices to meet up with the guys behind the popular CF and CFX vaporizers. Boundless launched their new vapes in February and they've already become a favorite in the cannabis community.
What better way to get to know each other than forming a circle and having a sesh? Eric, the VP of Marketing, handles all things marketing – and packing the vapes for today's festivities. We started things off with the CFX. The guys at Boundless like starting the session at 370 degrees. The first thing we noticed was how fast the CFX heated up. 22 seconds!
As we passed the CFX around, Randall, the owner of Boundless, explained how the company came to be and his history in the vaporizer industry. The other 7 or so people in the office didn't seem to mind. This is definitely our kind of work environment!
Eric packed a CF for a 2nd round as we discussed how the heating system was designed for convection, but functions as a hybrid conduction plus convection.
The discussion drifted into cannabis vaporizer history and how we all got introduced to it. It was refreshing and enlightening to connect with likeminded people. One thing stood out. These guys are passionate about their product and their customers.
I know what you guys are wondering, we wondered the same thing, what's the most popular strain in Boundless office? They're big fans of Cheese, Heavy OG, and Headband. We were too baked to ask which strain they packed us, but it was tasty.
But it's not all stoners and slackers at the Boundless office. These guys are hard at work. They had just finished up their Water Pipe Adapters and were shipping them to everyone that bought a CFX or CF through their site! How's that for kickass customer service? We got ours and have been loving it!
They've also been working on a 100% convection portable vaporizer. It's a 100% fresh design with totally new heating and airpath. It doesn't have a name yet, but its sexy and smooth like Jessica Alba – so that's what we're calling it. If all goes well, Jessica will be available in November.
To end the interview we broke out a VapCap, as the Boundless guys were intrigued. Eric was a natural, feathering the carb to pull a massive combustion free cloud. The rest of us… well we struggled a bit.
We'll definitely be connecting and hanging out with the guys from Boundless again, and we're looking forward to seeing what they come up with next.